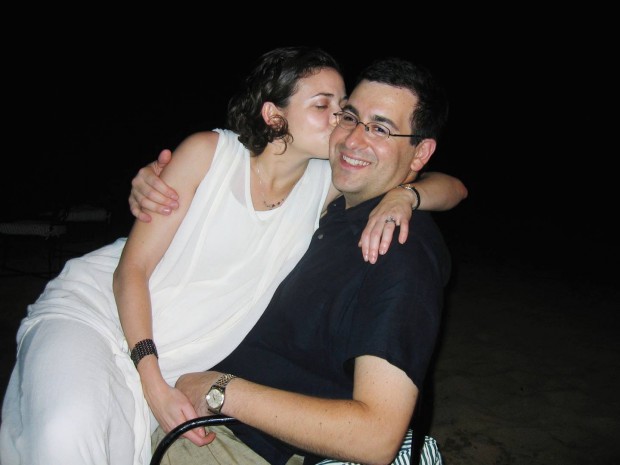 To make the end of her sheloshim, which "marks the completion of religious mourning for a spouse," Facebook COO Sheryl Sandberg opened up on her page about how her life has changed in the first month since her husband Dave Goldberg's passing.
In the touching tribute to the man who enabled the Lean In author and one of the tech world's most successful figures, Sheryl spoke about how she grieved in the first few days of Dave's death.
I have gained a more profound understanding of what it is to be a mother, both through the depth of the agony I feel when my children scream and cry and from the connection my mother has to my pain. She has tried to fill the empty space in my bed, holding me each night until I cry myself to sleep. She has fought to hold back her own tears to make room for mine.
She also addressed the difficulty she senses with those around her, particularly her co-workers who were unsure of how to comfort her.
Many of my co-workers had a look of fear in their eyes as I approached. I knew why—they wanted to help but weren't sure how. Should I mention it? Should I not mention it? If I mention it, what the hell do I say? I realized that to restore that closeness with my colleagues that has always been so important to me, I needed to let them in. And that meant being more open and vulnerable than I ever wanted to be. I told those I work with most closely that they could ask me their honest questions and I would answer. 
She also pointed out some societal issues that she still has trouble accepting, such as the cars who wouldn't give way to the ambulance that contained herself and Dave.
Although we now know that Dave died immediately, I didn't know that in the ambulance. The trip to the hospital was unbearably slow. I still hate every car that did not move to the side, every person who cared more about arriving at their destination a few minutes earlier than making room for us to pass. I have noticed this while driving in many countries and cities. Let's all move out of the way. Someone's parent or partner or child might depend on it.
And also touched upon the situation of women who are in her position, but have fewer resources available to them.
In the last thirty days, I have heard from too many women who lost a spouse and then had multiple rugs pulled out from under them. Some lack support networks and struggle alone as they face emotional distress and financial insecurity. It seems so wrong to me that we abandon these women and their families when they are in greatest need.
Of course, throughout this painful journey, Sheryl even more steadfast in her philosophy of leaning in, even though she no longer has a husband to lean on.
A colleague told me that his wife, whom I have never met, decided to show her support by going back to school to get her degree—something she had been putting off for years. Yes! When the circumstances allow, I believe as much as ever in leaning in.
She ends the tribute with a bittersweet farewell to Dave, and a promise that she and their children wouldn't falter in his absence.
I cried to him, "But I want Dave. I want option A." He put his arm around me and said, "Option A is not available. So let's just kick the shit out of option B."
Dave, to honor your memory and raise your children as they deserve to be raised, I promise to do all I can to kick the shit out of option B. And even though sheloshim has ended, I still mourn for option A. I will always mourn for option A. As Bono sang, "There is no end to grief…and there is no end to love." I love you, Dave.
Read Sheryl's post in full on her Facebook page.
Photo sourced from Sheryl Sandberg's Facebook page