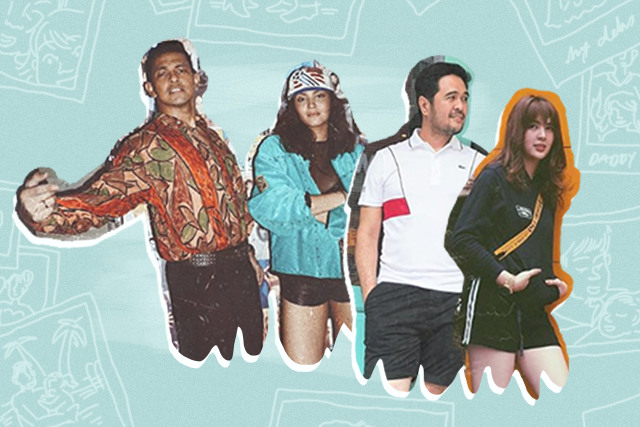 Starting yesterday up until this morning, my social media feed was flooded with Father's Day greetings. Some posted old photos, shared selfies, and of course wrote heartfelt messages for their dads. This included celebrities who wanted to honor their fathers. Some wrote long captions thanking their dad for their love and support. Others just posted photos with short but sweet messages. Someone even decided to celebrate their mother instead and we love that. In case you haven't seen these posts on social media, we gathered some of them below. Get some tissue just in case you tear up!
Coco decided to post a throwback photos to honor her late father Dolphy. The first was a baby picture of her sleeping and the second was of Dolphy in a similar pose, like father like daughter. In the caption she wrote, "happy father's day. c u in my dreams."
On Instagram Stories, Andi posted a few photos with her late father Mark Gil. On the first one she wrote, "Miss you dad!"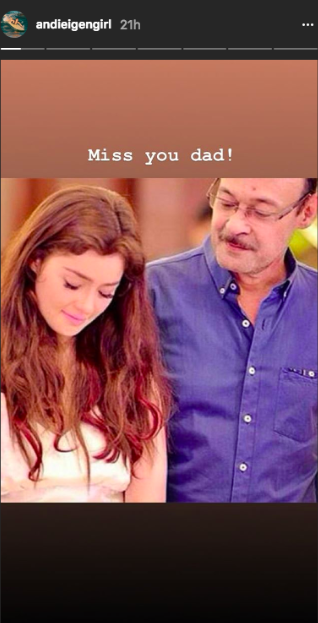 In the second one, you will see baby Andi with her dad. In the post she said, "It's always harder to miss [you] on occasions like these. But I'm happy to know that [you'll] always be there to guide us even all the way from heaven." She went on, "Hope [you] guys all got the chance to give your [dads] a tight hug today and everyday!"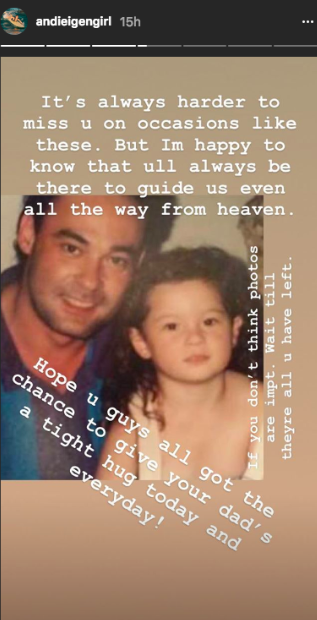 She also greeted her daughter Ellie's dad Jake Ejercito, "Thanks for being such an awesome dad to Ellie! Happy father's day!"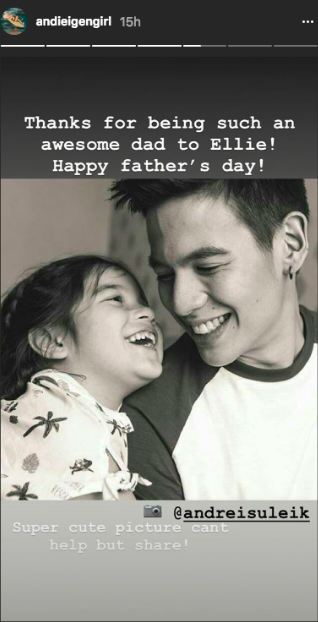 Yassi wanted to greet her dad in person, but not until posting this photo to Instagram. Her caption read, "Happy Father's Day Pogi. Really really sweet message I will tell you [to] your face, and it's coming right after I finish work with many many hugs and kisses."
Anne greeted her dad by posting a photo of them singing from her childhood. She shared how her dad always supported her, " Happy Father's Day to someone who always taught me to pursue my biggest dreams and made me believe I could sing like Olivia Newton-John. (Real talk though—I sing like my mama)."
Iza shared a photo with her dad and he is totally photobombing her singing moment. In the caption she got a little emotional, "I can still feel your loving and guiding energy from heaven. You are truly me angel. I miss you so much. Happy Father's Day, Daddy Yo!"
Sofia kept her greeting short and simple by posting a photo of her dad. Look at that pose, is that where she got her skills from? Her caption read, "Happy father's day padre."
Gary Valenciano might be the epitome of a cool dad and Kiana knows it. In the photo she posted, they're both dressed straight of the '80s or '90s. She also thanked him for a lot of things, "There's no one like you. Thank you for being the best, most supportive, most loving, coolest dad I could ever ask for. And for the seemingly never ending supply of awesome retro jackets and caps, like the ones we're wearing here. I love you so much! Happy Father's Day."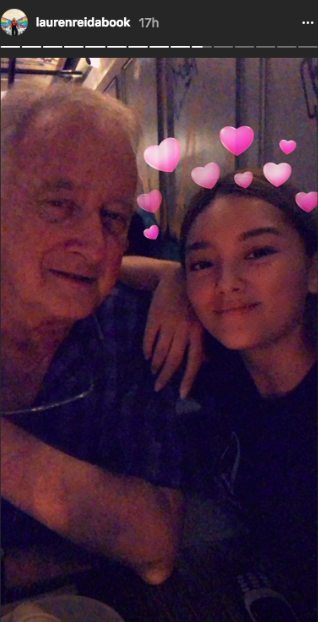 Lauren didn't have a special greeting for her dad on social media but she did have some quality time with him. On Instagram Stories she posted videos of her dad with the hearts filter. She also shared some selfies with her dad.
Lauren decided to honor her mom on Father's Day and posted a message for all the single moms. "Happy Father's Day to all the single moms out there! I'm lucky to have a strong, hardworking, and compassionate mother—thank you for raising us, loving us, and taking care of us. Our life may be different from others but it is our own little crazy world and I wouldn't have it any other way. I love you mom!"
Maxene posted a throwback photo with her late father Francis M. Here, he is seen carrying her on his shoulders. Her caption was a simple greeting that read, "Happy Father's Day."
Janno Gibbs greeted his father by posting this too cool photo on Instagram. It looks like the two are sitting in the back of a limo and posing for the camera. He captioned the photo, "Happy Father's Day to my Obi Wan! Labyu Papa."

Art by Marian Hukom
Follow Preen on Facebook, Instagram, Twitter, YouTube, and Viber
Related stories:
Why I'm honoring my mother on Father's Day
Hey, Dad: These women's conversations with their dads will make you laugh and cry
Why I'm thankful my dad never told me to "act like a girl"
My dad helped me find my confidence through music