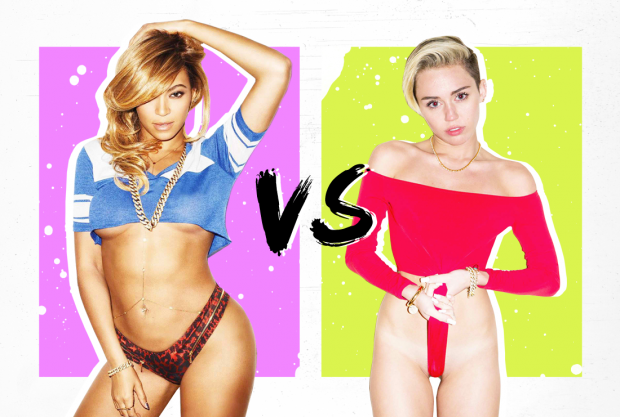 Instead of casting our gaze downward, we stare pointblank at firm derriéres, soft breasts, and the enticing secrets of open legs. Skin is no longer shocking—it's commonplace. Nudity hardly even arouses us anymore; it's almost like any other outfit. There's a lot to be said if indeed this empowers or objectifies women. The general consensus—at least in liberal parts of the world—is that it's a good thing that the Maria Clara days are long gone for women.
This is the age of Beyoncé, Miley Cyrus, and Emily Ratajkowski (of "Blurred Lines" fame, you remember). You don't have to be a celebrity to think being able to dress how you want to is empowering—and, to a certain extent, it is—but we can't help but notice that different women who bare the same amount of skin are seen differently.
Take Rihanna for example. Bad girl RiRi has been called every variant of "slut" for showing just the same amount of skin as Beyoncé, who is consistently revered and hailed queen. Emily Ratajkowski bared all in "Blurred Lines," and reaped all the rewards from it—not only was the world buzzing with praise for her figure, she landed a role in Gone Girl. Lindsay Lohan went topless in The Canyons, and everyone said she did it because she was desperate to have a career again. Nicki Minaj's asscheeks in her "Anaconda" music video got less screen time than Margot Robbie's whole naked body in The Wolf of Wall Street. Nicki—for all her crassness and, I hate to say it, ratchetness—was seen as the thirsty hoe, and Margot—for all her class and sophistication—was praised for being a great freakin' actress.
There's a double standard here, and it's an alarming one. Some women will be vilified for dressing how they want, and others will be praised. As ever, the body is a double-edged sword, and it holds women at knifepoint. Owning her body and presenting it how she wants to may mean praise or ire. Of course, there is a lot more nuance to this issue—the image the celebrity presents will have a lot to do with it; race and class, too—but the bottom line remains: Regardless of who she is, shouldn't a woman be allowed to dress the way she wants to?