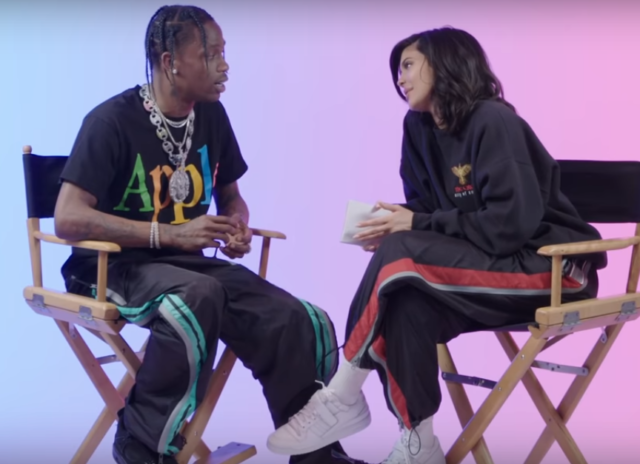 Kylie Jenner isn't just serious about makeup and her brand. (ICYMI: She's so close to becoming the youngest self-made billionaire.) She also prides herself on being a peanut butter and jelly expert and Travis Scott can confirm that.
GQ posted a video titled "Kylie Jenner Asks Travis Scott 23 Questions" aka "The Kylie Quiz." The questions ranged from elements from Kylie's personal life to her favorite snacks like a "pepperoni pizza with a little bit of oregano and salt and pepper."
When she asked Travis about his favorite late-night snack that Kylie makes for him, he says it's her PB&J sandwiches. "It's, like, facts. It's the way that the crust is cut off. Perfect," he says.
"I am a master peanut butter and jelly maker. He's not just saying that, I am the best," Kylie says. "It has the perfect lines and the perfect amount of peanut butter and jelly. I take it really seriously."
Travis admits that it's something that he eats before going to sleep, his favorite are the ones in diagonal cuts. Kylie offered to post a recipe video on YouTube but Travis doesn't want the world to know about it. If it's that good then we can't blame him.
But at least we got some tips from Kylie. BRB, going to make a few for brunch.
Screengrab from YouTube
Follow Preen on Facebook, Instagram, Twitter, YouTube, and Viber
Related stories:
How Kylie Jenner built her $900-M empire
Kylie Jenner is over lip fillers
This is what Kylie Jenner and Travis Scott are doing for their first family vacation
Kylie Jenner wins rookie hostess of the year