The first June wedding in the fashion world this year belongs to former Gucci creative director Frida Giannini and former Gucci CEO Patrizio di Marco. Their wedding was set mere months after Frida exited the brand in January of this year and after Patrizio was let go last December.
The ceremony took place in Rome, and Frida tapped close friends and Valentino creative directors Maria Grazia Chiuri and Pierpaolo Piccioli to design her custom blush pink haute couture wedding gown. They also created a matching dress for Frida and Patrizio's two-year-old daughter Greta. No word on who designed the groom's suit, but we're pretty sure he isn't wearing Gucci.
Frida had been designing handbags for Gucci since 2002. In 2004, she became head of women's accessories following Tom Ford's controversial departure from the brand. In 2006, she was appointed the sole creative director of Gucci after womenswear director Alessandra Facchinetti left in 2005, and menswear director John Ray left a year later.
In 2009, a floppy haired Patrizio, who was credited with driving sales at Bottega Veneta, arrived on the scene to replace Mark Lee as CEO of Gucci and six months later, he and Frida began dating. Not everybody was thrilled about their office romance, but they soon became known as one of the fashion industry's power couples.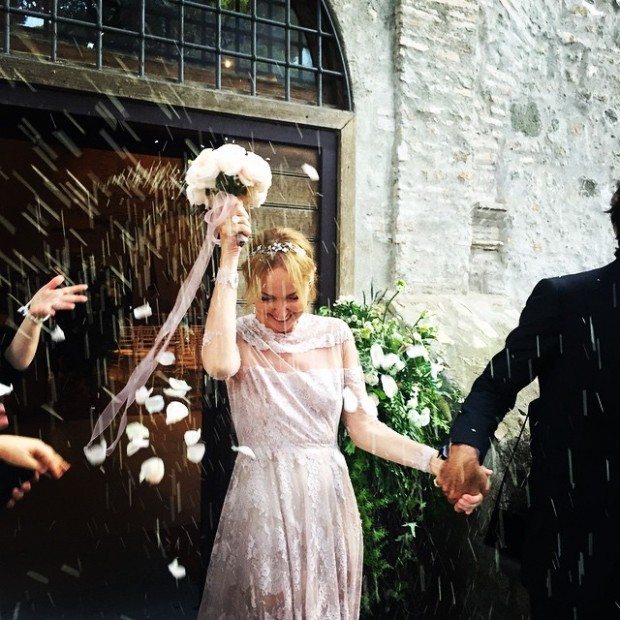 In March 2013, Frida gave birth to their daughter, Greta. While their personal lives were flourished, rumors swirled that Gucci sales were declining with profits dropping by 6.7 percent in 2014. After five years with Gucci, Patrizio was sacked from the company, along with Frida. Though she was to stay on and oversee the fall 2015 collection, she left earlier than intended after she was unceremoniously dismissed by new Gucci CEO Marco Bizzarri.
Before leaving, Patrizio made a dramatic speech, calling the executives at Kering "dwarves" who plotted behind his back. He closed his 3,000 memo by honoring his soon-to-be-wife. "Not because she's the best possible life partner or the best possible mother that a difficult and complicated person like me could have hoped to meet," he said. "But because in the workplace—which we both put above everything, at great personal cost—she was the best possible partner that one could have wished for."
To see photos from their wedding, click through the slideshow above!