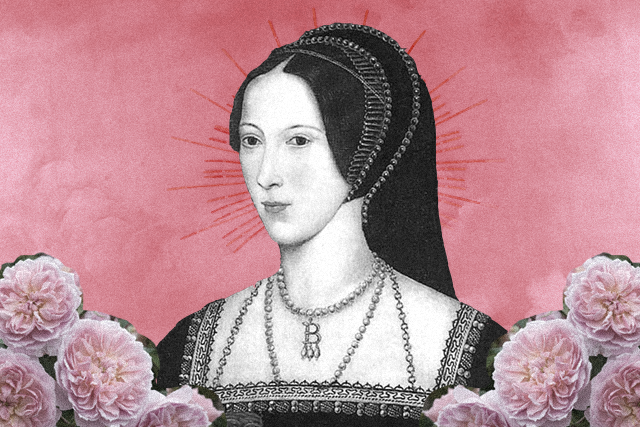 This column may contain strong language, sexual content, adult humor, and other themes that may not be suitable for minors. Parental guidance is strongly advised.
The life and wives of King Henry VIII have throughout the centuries captivated a public ravenous for scandal, intrigue and history and sex. The story of the ill-fated Anne Boleyn, the Tudor King's second wife, has been of particular fascination for many: once the king's obsession, he didn't make the ultimate sacrifice of giving up his throne for her à la Edward VIII, the Duke of Windsor, but he subverted an entire religion in order to divorce his wife and marry his mistress, effectively establishing a new church of which he became the head, and changing the course of history.
One of the Anne Boleyn's attractions to Henry was her presumed fecundity. His first wife, Katherine of Aragon, who was actually first betrothed, then married, to Henry's brother, the Crown Prince Arthur, was unable to give him the son and heir he so desperately wanted.
While the primary consideration for most marriages in Tudor England was the means to establish a household and support a family, for the likes of royalty, marriage was about ensuring the continuation of their lineage. According to the BBC's History Extra, "The nobility and royal family started planning marriages for their heirs at an early stage. The marriage of Prince Arthur and Katherine of Aragon, for example, was agreed between their parents when Arthur was aged two and Katherine three, and it took place 12 years later. But the need to use marriages to strengthen alliances and secure the survival of a dynasty did not apply to the great majority of the population."
So a male heir was of supreme importance for Henry VIII, and he was ready to go against the pope and the entire Catholic Church, to marry another woman who might give him a legitimate son.
But the machinations were not one-sided. Yes, the king was madly in love with Anne Boleyn, who, if the TV series Wolf Hall is to be believed, gave Henry major blue balls until he got his divorce, but her family also plotted behind the scenes to make sure she ensnared him and keep him interested in her, which would in turn mean social and financial benefits for them. Indeed, Thomas Boleyn was made Earl of Wiltshire, thanks to his daughter's relationship to the king. Her older sister, Mary, had in fact been the king's mistress earlier, but where Mary was just a seasonal f*ck, so to speak, Anne and her family were clearly hoping for a more lasting liaison.
(This really is nothing unusual, when one considers parents here in the Philippines have been known to sell their children to pedophiles, or have actively urged their daughters to catch the eye of a politician—even a president—and become the mistress, if not the wife. It's all about the survival of the cunning and wily.)
All this plotting, coupled with Henry's obsession, led Anne's detractors to believe that she was a sorceress who had bewitched the king. Queen Katherine, it must be remembered, was very much loved by the English people, so the king's attempts to banish her and get their marriage annulled—falsely claiming that she had slept with his brother Arthur before he died, therefore he had married someone who was not only not a virgin, but practically his sister—made her an even more sympathetic figure to her subjects.
By the way, Anne Boleyn was one of Queen Katherine's ladies-in-waiting. By all accounts, the queen was aware that her husband was infatuated with her lady-in-waiting, but was perhaps initially hopeful that this would be a mere dalliance, like many other women before Anne.
The sorcery rumors were also bolstered by the fact that Anne was apparently not what was generally accepted as beautiful. Susan Bordo, author of The Creation of Anne Boleyn, writes in The Huffington Post that the "ravishingly gorgeous Anne is a creation of cultural imagination."
There is a medal that exists from 1534, a year after she and Henry married that captures her likeness (Henry ordered all her portraits be destroyed after she was beheaded). As depicted in this medal, says Bordo, Anne was "neither gorgeous or grotesque. In coloring, her dark auburn hair and olive skin did not match the medieval and Renaissance ideal of the fair-skinned, blue-eyed blonde, an idea that managed to combine equal parts Virgin Mary and Botticelli's (1486) powerfully sexual Venus. Except for her striking eyes, Anne's facial features were rarely remarked upon, even by her admirers. 'Reasonably good-looking,' pronounced John Barlow, one of Anne's favourite clerics. 'Not one of the handsomest women in the world" reported the Venetian diplomat Francesco Sanuto, who praised her 'black and beautiful eyes' but noted her 'bosom not much raised.' Figure-wise, she was slimmer than the still-voluptuous medieval ideal.
So, she didn't conform to the ideal standards of beauty at the time, but she reportedly had a "style" all her own, a sensibility that was more French than English, having grown up on the continent when her father was ambassador to France.  And she knew how to flirt with her eyes.
Henry was a goner, and yet their marriage lasted only three years, then it was "Off with her head!"  Her main failing was her inability to give her husband a son, but all sorts of unsubstantiated criminal offenses were attributed to her, including witchcraft, incest, infidelity. As a review by Laurie Winer of Hilary Mantel's acclaimed novel Wolf Hall (full disclosure: I am currently fully engrossed in this book) in the Los Angeles Review of Books states, "her usefulness, i.e., her desirability is of a more ephemeral kind. Anne plays the first part of her rise brilliantly, but, like any ambitious person with no real power, she quickly overreaches and is unceremoniously thrown under a very sharp blade that separates her pretty head from its slender neck."
Thus was her trajectory from "the Queen's chamber to the Tower of London." Which also goes to show that, as a recent meme contrasting Donald Trump and Hillary Clinton so succinctly illustrates, people choose to overlook the worst about a man (and vote for him) while choosing to believe the worst about a woman.
Henry VIII didn't just punish Anne and invent all sorts of charges against her just because no other offspring issued from her womb after giving her husband his second legitimate daughter, Elizabeth. He also had his eye on Jane Seymour, who happened to be her predecessor Queen Anne's lady-in-waiting. Jane became his third wife, but before she could be crowned queen, she died, 12 days after giving birth to Henry's only son and heir, Edward.
As the legendary playboy and tycoon Sir James Goldsmith once said, "When you marry your mistress, you create a vacancy."
Henry went on to marry three more times, successfully annulling one marriage and beheading a second wife before finally leaving his last wife, Katherine Parr, a widow in 1547.
Anne Boleyn might have had the last laugh, however. The Tudor dynasty may have died out eventually, but her daughter, Elizabeth I, became England's greatest monarch, male or female.
B. Wiser is the author of Making Love in Spanish, a novel published by Anvil Publishing and available in National Book Store and Powerbooks, as well as online. When not assuming her Sasha Fierce alter-ego, she takes on the role of serious journalist and media consultant. 
For comments and questions, e-mail [email protected].
Disclaimer: The views expressed here are solely those of the author in her private capacity and do not in any way represent the views of Preen.ph, or any other entity of the Inquirer Group of Companies.
Art by Marian Hukom
For the latest in culture, fashion, beauty, and celebrities, subscribe to our weekly newsletter here
Follow Preen on Facebook, Instagram, Twitter, YouTube, and Viber
Related stories:
How we view cheating varies between men and women
Why you should not be proud of Hugh Hefner and what the Playboy empire represents
Mary Magdalene's story reflects how men view the women in society
Women's sexual desires were once considered a mental condition called hysteria
Tudor style meets Studio 54 in Lesley Mobo's Red Charity gala show