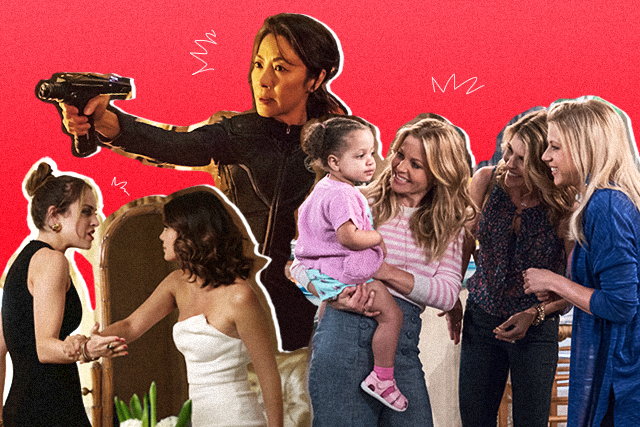 Binge-watching culture has become even more popular in the past few years and people are just obsessed with TV shows. Whether it be comedy, reality, drama, or mystery, people can't get enough of the different series available.
I'm sure you've also noticed that there's always a new show to watch. You may even have trouble keeping track because you want to see them all. But some of these shows aren't exactly new. A lot of them are actually reboots.
Some of them follow a similar plot line while others set the show either years before or after the original. Whatever the case, these reboots are treats for die-hard fans of the classic shows. It's like they get to relive what they used to watch and it gives them a sense of nostalgia. Not sure what shows you've been watching are actually reboots? Check out the list below.
Dynasty
Let me admit, one of my guilty pleasure shows is Dynasty. The original show started in 1981 and ended in 1989. The story focused on two rich families, the Carringtons and Colbys. The reboot, which aired last year has the same plot and characters. Watching the show, you will see all the elements of a classic soap opera from the cat fights to the crass one-liners. It is definitely over dramatic but I couldn't stop watching it.
Star Trek
You've probably seen the recent movies starring Chris Pine, but Star Trek originally started as a TV series. There have been a few reboots throughout the years but the original series aired from 1966 to 1969. In 1968, there was an episode entitled "Plato's Stepchildren" wherein there was a kissing scene between Captain Kirk and Uhura. This is referred to as the first interracial kiss on American television. The new series, Star Trek: Discovery has all the elements a fan would appreciate from the costumes down to the plot lines.
Will & Grace
Growing up, I remember my parents watching Will & Grace. With eight successful seasons, It would make sense for them to make more. The show originally ended in 2005 but was rebooted for a ninth season in 2017. With season 10 set to air later this year, you have a few months to binge-watch the first nine seasons. Follow the story of Will, a gay lawyer and his roommate Grace who is an interior designer.
Twin Peaks
Twin Peaks was a drama TV show filled with mystery and horror. It followed the story of an FBI agent who was investigating the murder of a homecoming queen in Twin Peaks. After two seasons it was cancelled in 1991. The reboot which aired in 2017 is set 25 years after the original series. There are multiple storylines that still focus on both mystery and horror. If those types of shows interest you, you'll enjoy this one.
Fuller House
Full House was an American sitcom that aired from 1987 to 1995. It was a show that focused on family dynamics in a lighthearted manner. You might remember seeing Mary-Kate Olsen and Ashley Olsen taking turns playing Michelle Tanner. In 2016, a reboot called Fuller House was introduced. The show revolves around D.J. Fuller who now has her own family. Actors from the original series are also part of this show, which makes it exciting for fans. However, there hasn't been an appearance from either of the Olsen twins yet.  
Queer Eye
Queer Eye has definitely become one of the most popular shows this year. Not only do they facilitate makeovers, but they tackle social issues as well. But, before the gang got together, there was an original Fab Five. It was on the air from 2003 to 2007 for five seasons. Similar to the new series, they helped men with not just makeovers but with advice as well.
American Idol
I remember when everyone was obsessed with American Idol. With originally 15 seasons, the show went through many sets of judges. In 2017, the show didn't come back but earlier this year, it returned with Katy Perry, Lionel Richie, and Luke Bryan as the judges.
Art by Marian Hukom
For the latest in culture, fashion, beauty, and celebrities, subscribe to our weekly newsletter here
Follow Preen on Facebook, Instagram, Twitter, YouTube, and Viber
Related stories:
6 all-temale TV and film groups who didn't need any man
After 17 years, Meteor Garden is still being hyped up
There were so many things wrong with Insatiable
Remember Ashlee Simpson? She has a new TV show