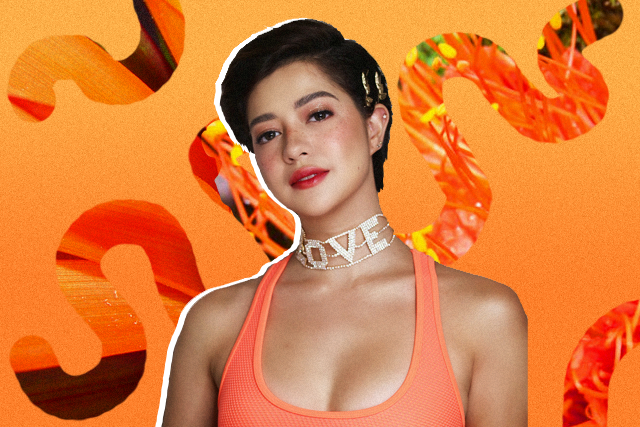 Actress Sue Ramirez braved the rush hour traffic (partly caused by the single-passenger ban) to make it to a block screening of her movie, Ang Babaeng Allergic Sa WiFi. The affair was planned by her family and she was so happy that she cried while thanking everyone who came. Sue wasn't alone though, half the cinema was sniffing and wiping their eyes after the film.
We sat down with Sue after she entertained selfies and autographs with fans. We just had to ask her about her thoughts on social media and its effects, as well as some bits and pieces from Ang Babaeng Allergic Sa WiFi. Read all of that below.
Where was the movie shot and was the Wi-Fi signal really low in those places?
Different places—the house [of Norma's grandma] was in Batangas and the cliff was in Subic. Actually, yeah, there were times na walang signal. I didn't see a lot of people on their phones.
What would you do to pass the time?
Most of the time, we were on set. But while people were setting up, we'd find time to sleep or we'd talk. Just bond with each other.
As someone who's active on social media, was it difficult for you to disconnect for a while?
I have to be active, it's part of my job so you won't disappear. But if it wasn't, I can [live without social media]. I don't think social media is that important.
When do you do social media detoxes? Do you do it to avoid harsh comments and haters as well?
When I'm at home. We barely get on our phones. [Also,] no, I don't—I don't mute or block people [who say harsh things]. You know, you either believe what people say online or you don't—true or not, it's up to you if you believe it. Whatever they say is out of my control. I'm not guilty of anything, I didn't do anything wrong, why would that affect me?
I know! I don't get offended, I'm just kinda sad because people nowadays are too quick to judge—sexuality, personality, your whole being. Like, what happened to the world? How did this happen? A person makes one change and suddenly their whole being is judged.
I think a big part of it is because of social media, they feel too entitled to an opinion even when no one's asking for it. They can say whatever they want—unsolicited, sometimes uneducated comments.
Why is your character, Norma, always wearing yellow?
It's my favorite color. [Laughs] There's no significant meaning. Actually, when we started the movie, my favorite color was green. Norma loves the color yellow and now, Sue has adapted it. I've already run out of yellow clothes because I wear it to block screenings or events. (Author's note: She was wearing all black that night.)
Do you think social media has made relationship and communicating complicated? 
I don't think so, it's just much easier because of social media. But why do we still find it difficult to talk to people? Like with birthdays: You wouldn't know that it's your friend's birthday if you didn't see it on Facebook. When it comes to personal relations, you'll remember it talaga and take details like that to heart.
Does it take more effort to build relationships now?
Of course, there's still effort. I'm not going to judge relationships that were formed on social media. I know some people who met online that are married now. If that's where they find happiness and if they appreciate each other's effort on social media, then it's fine.
What's the best way to deal with miscommunication?
Talking is always the best—wait, no, listening! Try to understand what the other person is saying and you cannot judge what their opinion is. And do not force them to believe in what you believe in. That's what I always tell [my Twitter followers] because it gets toxic sometimes. Can't we just find things that we don't have to fight over? Let's look for a common ground, find something that we can get along with instead of fighting. What's right for me may not be the same as what's right for you, but I won't force it unto you.
Which antique item from the movie that should make a comeback today?
Maybe film cameras, there aren't a lot anymore because we've gone digital now. The photo quality was different before. Now, when you print on photo paper, it can look faded. I want to bring back cameras that only have 32 shots, you have to buy film and get them developed at a Kodak store. Even in technology there are certain efforts that we don't do anymore because of digitalization.
Art by Marian Hukom
For the latest in culture, fashion, beauty, and celebrities, subscribe to our weekly newsletter here
Follow Preen on Facebook, Instagram, Twitter, YouTube, and Viber
Related stories:
Ang Babaeng Allergic Sa WiFi reminds us of social media's distractions
Sue Ramirez is done with all your questions about her haircut
Sue Ramirez asks her fans to name her new baby
Sue Ramirez loves doing this Korean beauty trick
Why you need to take time off social media