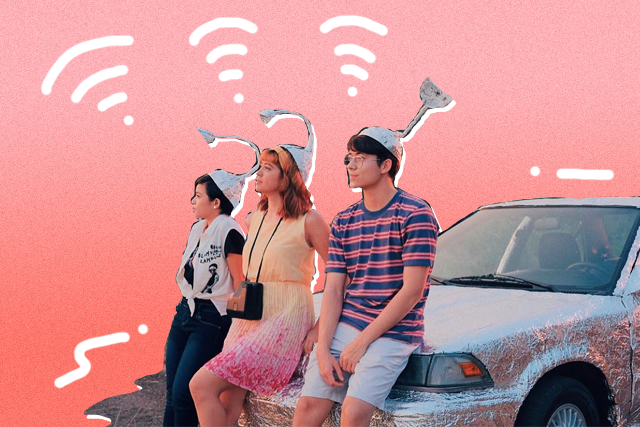 When I saw the Ang Babaeng Allergic Sa WiFi trailer, I thought it was going to solely focus on EHS Syndrome, a disease caused by exposure to Wi-Fi signals, and how Norma (played by Sue Ramirez) is going to deal with being offline to heal. But the film tackled the importance of spending time with family and friends, and actually disconnecting from the Internet.
The theme is something that our social media-savvy world needed to see. We listed down just some of the things we take for granted while we're stuck scrolling online—based on the movie, of course. If you haven't seen it yet, we suggest you click away first and catch it before it's gone.
Romantic and platonic relationships
Ang Babaeng Allergic Sa WiFi shows how social media connects everyone from friends to significant others. When Norma moves to the province, she starts worrying about who will be there for her once she goes back to school because of the lack of Internet signal. It just proves how dependent people can be on social media in keeping relationships. If you think the Internet is needed to validate your relationship with certain people, then maybe you should reevaluate how you can make your bond stronger and better.
Family time
The concept of family is a big part in Ang Babaeng Allergic Sa WiFi. Norma learns to spend more time with her mom and stepdad, especially her grandma since she lives in her provincial home, while she's getting better. Whereas a scene with Aries' family showed his mom reprimanding her husband for playing Words With Friends at the dinner table. And we all know just how Filipinos emphasize the importance of sharing a meal with the entire clan.
Health
There have been several reports on how using social media can be bad for one's physical and mental health. Recently, we reported about how people are getting cosmetic surgery to imitate their Snapchat-filtered looks. Although the movie only showed how signal waves affected Norma's health, there's also a moment where she still has her nose on her phone while in the hospital. She gets scolded by her mom because she should be resting.
Factual information
One pivotal scene involved the spreading of fake news and gossip in a group chat. Most of the students there believed stories that Norma was pregnant and went to the province to hide. This is relevant even today as on-the-go people depend on online articles for news, be it current events or updates on someone's life. The downside is that many will believe anything without verifying the information first. The world is already filled with fake news, let's not make it more difficult for everyone else.
Making the most of traveling
It can be hard not to pick up your phone and take photos of what you see when traveling. Norma and Aries (played by Jameson Blake) had a brief exchange on whether posting photos on social media is necessary to keep an archive of your memories. Aries defended that you just need to take in your surroundings and that if you forget something, then it's not worth remembering in the first place. Both of them had valid points, but it also makes you think about the times you wasted posting updates on social media than actually enjoying your trip.
Art by Marian Hukom
For the latest in culture, fashion, beauty, and celebrities, subscribe to our weekly newsletter here
Follow Preen on Facebook, Instagram, Twitter, YouTube, and Viber
Related stories:
Don't stress! Sue Ramirez can help you style your pixie cut
Check out Sue Ramirez's most liked photo to date
Stop festive FOMO by taking a social media break
When going "Instagram official" becomes the new way to validate a relationship
Jameson Blake is sorry he wanted your work for free