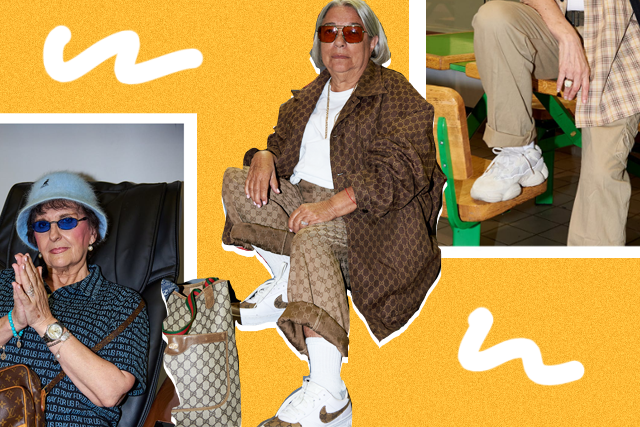 Who ever said streetwear and the latest trends are exclusively for the youth? In a project featured by L'Officiel, photographer Darby Routtenberg just made a statement on ageism in the fashion industry, proving that our elders are the real OG.
Darby shared the project started sort of accidentally, when she decided to take a photo of Carol, her grandmother whom she endearingly calls "bubby," dressed in a fur coat and Raf Simmons sneaker over a year ago, and received an unexpected overwhelming response by followers.  "At first it was more of a joke, but [bubby] started telling her friends about it and then my grandfather framed the photo and was giving people copies. It turned out to be really serious, people loved it and she was so proud."
She pushed through with the concept, this time inviting Carol's other friends, Adrian and Myriam, to be decked out in the latest streetwear too. She said she had doubts it would even push through because of the bad weather during the scheduled shoot, and how unlikely it was for the three to show up in the pouring rain "But they did, my grandfather held an umbrella over their heads when they got out of their cars and escorted them inside, we treated them like real models, I even tied their shoes," she said. (Awww!) 
The trio, dubbed as "Hypebubbies" were an instant hit. Dressed to the nines in front of a Bape store in Soho, Carol, Adrian, and Myriam looked fly in Burberry, Yeezy, Gucci, Louis Vuitton, and Supreme.
Before the shoot ended, the three ladies fell in love with their looks, expressing how comfortable and good—and cool—they felt while wearing them "I literally felt bad taking the clothes back. I wanted them to keep it," Darby said.
The shoot has opened up the eyes of the photographer on issues of ageism within the fashion industry. "Why are grandmothers all wearing aprons and dressed like nuns," she questioned. "It was an epiphany for me. You don't see any senior women wearing this stuff in magazines or anywhere in streetwear. So for older women, who are totally ignored within this trend, to love the clothes this much is amazing."
Darby's project debunks the notion that streetwear and the latest trends are meant exclusively for the young. It also indicates a lack of representation in fashion. As L'Officiel pointed out, "If they felt so confident and happy in these kinds of clothes, it begs the question as to why we expect older women to stick to a certain kind of style and why so many of these streetwear and skate brands are almost exclusively marketed to young men," stating further that while diversity is slowly being addressed within the industry by hiring more models of color and different sizes, the problem with ageism is one yet to be addressed. "Youthful beauty is still the standard, excluding a huge part of the population and making older people, and especially women, feel as though they can't be perceived as stylish or beautiful, or as in this case, trendy."
Locally, we've seen some progress. NoliSoli, for example, did a similar shoot last year, featuring grandparents in the trendiest streetwear of the season. Likewise, Tessie Singson, who goes by @lolaandrogynous in Instagram is considered a fashion icon at 65-years-old. But sadly, here and abroad, these trailblazers are still a minority.
It's a shame fashion is such an exclusive industry, and how ironic too, given it's all about pushing the boundaries and the constant reinvention of oneself. Hopefully, we see more models in the runway showing people of every form and age. At the end of the day fashion should be able to make everyone, regardless of gender, race—and age—feel better about themselves.
Art by Marian Hukom
For the latest in culture, fashion, beauty, and celebrities, subscribe to our weekly newsletter here  
Follow Preen on Facebook, Instagram, Twitter, YouTube, and Viber
Related stories:
Madonna at 60: A controversial female icon
Read between the lines: The microtrangressions In lifestyle articles
We can thank streetwear connoisseur Emily Oberg for female-driven content
Check it out: Louis Vuitton collabs with streetwear brand Supreme