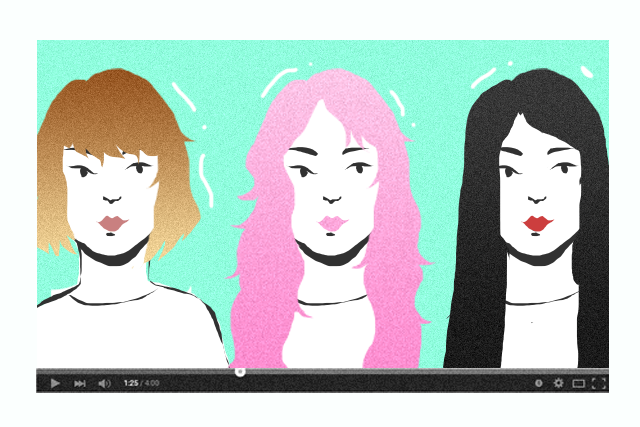 Do you ever find yourself watching vlogs or tutorials and get distracted by someone's hair? Or is that just me? Because there really are YouTube personalities that change hairstyles and color, and it's pretty distracting in the best way. Not only are you watching them create makeup looks and travel videos, you can also see their hair journey throughout the duration of their channel.
If you're looking to change your hair anytime soon and need pegs to show your hairstylist, you can check the channels below.
JKissa
JKissa is well-known for her no-foundation looks and bold eyeshadow. Just like her varying makeup looks, her hair has also changed colors as well. Right now, she has blonde, almost silver hair with her dark roots peeking. But in the past, she's done rose gold, lavender, and blue.
Atleeeey
Also known as Ash, she also does vibrant looks that match her equally bold hair colors. When you scroll through her channel or Instagram page, you'll see that she often dabbles with red and pink tones (her hair right now is neon peach). In one video, she revealed that she's changing her hair color again later this year but she has yet to reveal what it'll be. Maybe blue or purple? Who knows!
Issa Pressman
If you follow Issa Pressman on Instagram, then you'll know that she's had a couple of hair changes in the past year. On her channel, she posted a "DIY Bleach & Dye" video where she explained the steps on how she achieved her dark purple hair.
Jeffree Star
Jeffree Star is notorious for maintaining his Barbie pink hair for years. He might've let go of that now and kept his blonde locks for now, but there's still a possibility that he'll change his mind and move on to the next wild color.
Camille Co
Remember Camille Co's unicorn hair transformation? That's just one of the many hair color changes she's done in the past. She may have silvery hair now but we'll always remember her locks in purple, pink, and every color in between.
Nikita Dragun
Technically, Nikita Dragun doesn't get her hair colored (yet). She changes up her looks almost every day thanks to her personal wig collection and her actual line with Bellami Hair. Her go-to's are her blonde, jet black, and pink wigs. But she's not afraid to put on a red, green, or purple one wherever she goes.
Guy Tang
I'm adding hairstylist Guy Tang here as a bonus because he's well-known for coloring YouTubers' hair and documenting them for his channel. You can spend hours watching how he dyes someone's hair from brunette to purple, or how long it'll take to lighten someone's hair. But if you really must know, Guy has also changed his hair color a couple of times, too.
Art by Marian Hukom
For the latest in culture, fashion, beauty, and celebrities, subscribe to our weekly newsletter here
Follow Preen on Facebook, Instagram, Twitter, YouTube, and Viber
Related stories:
Cop Arci Muñoz and Glaiza De Castro's bright pink hair minus the commitment
Keep your dyed blonde hair soft and vibrant with these products
The beauty vloggers of color that every morena should follow
Jeffree Star accused Filipina vlogger Michelle Dy of stealing his copyrighted series
You won't be breaking the rules with these work-appropriate hair colors