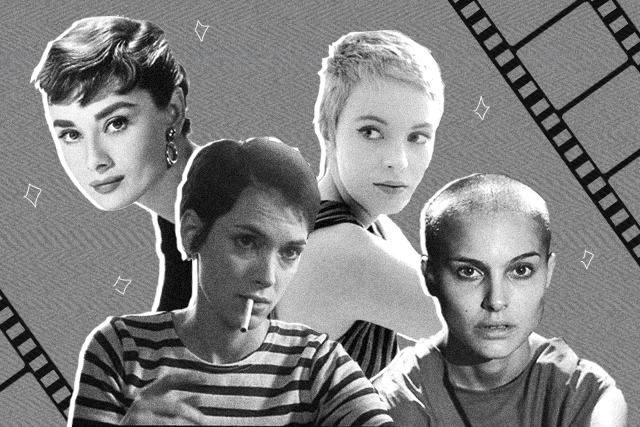 The pixie is one of the most intimidating haircuts. This may be due to how society relates femininity with having long locks. Around two months ago, I finally decided to have my hair cut to the iconic style. Like most people, I was worried I'd look like a boy, but decided to push through with it— and I'm so glad I did. I don't know why, but there's something highly empowering about having my nape and shoulders exposed. Instead of beauty trends, I was actually inspired by characters from some of my favorite films.
Contrary to what you might think, the pixie is very versatile and can be classy or edgy, depending on how you style it. If you're planning on getting a pixie haircut, let these movie characters be your hairspiration too.
 Jean Seberg in Breathless
Jean Segerd in Breathless by the great Jean-Luc Godard was one of my very first inspirations for going pixie. She just looked effortlessly chic and edgy, in her striped shirt and flats, strolling through the streets of Paris selling newspapers and casually dropping deep, emo lines to her sort-of criminal lover
Audrey Hepburn in Roman Holiday
Audrey Hepburn and her pixie cut is a dream. In Roman Holiday, the beauty icon plays a princess who ditched her daily routine for a taste of the commoner life. One of the things she decided to do during her unofficial leave was cut her long hair off—a gesture of liberation from her strict royal duties.
Emma Watson in The Perks of Being a Wallflower
While Emma will forever be associated with her role in the Harry Potter series, she did manage to break out of that box by playing more mature roles. We first saw her ditch Hermione's "unruly curls" for a pixie cut in The Perks of Being a Wallflower. In an interview with Glamour she said if she had it her way, she would keep it like that forever: "I've never felt so confident as I did with short hair—I felt really good in my own skin."
Winona Ryder in Girl, Interrupted
Winona Ryder is widely considered a cult figure for the movies she starred in. Girl, Interrupted, in particular, was a classic for talking about taboo issues like mental health. To this day, her influence remains. More recently, castmate Millie Bobby Brown named the actress as one of her inspirations for chopping off her locks for the role of Eleven on Stranger Things. She told ENews: "Winona looked cool back in the day with the pixie cut and I thought maybe I could bring it back!"
Natalie Portman in V for Vendetta
Speaking of Millie Bobby Brown, there's another actress people compare her with—Natalie Portman. Natalie in her role as Evey in V for Vendetta is iconic for so many reasons. Alright, her hair was more of a buzz cut rather than a pixie cut. But it's impossible not to include her in this list. That scene where she got her hair shaved off is powerful, and the part where she redeems herself is hella empowering.
Art by Marian Hukom
For the latest in culture, fashion, beauty, and celebrities, subscribe to our weekly newsletter here  
Follow Preen on Facebook, Instagram, Twitter, YouTube, and Viber
Related stories:
Don't stress! Sue Ramirez can help you style your pixie cut
6 hair products to style your pixie cut and short curls
Sue Ramirez is done with all your questions about her haircut
I'm going to speed up my hair growth process with these products