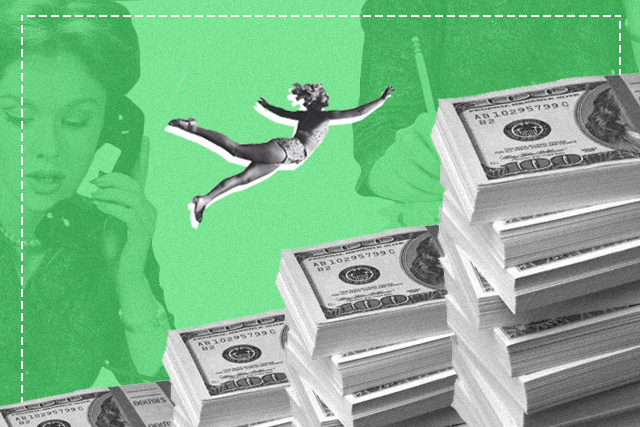 Every week, Preen tackles motherhood sans the rose-tinted glasses. Our columnists L. Juliano, Marla Darwin, Monica Eleazar-Manzano, Rossana Unson, Chrina Cuna-Henson, and Ronna Capili-Bonifacio tell their personal experiences like it is—at times frustrating, oftentimes confusing, but always enlightening.
I've been trying this new thing for my graphic design studio where we make the effort to forge connection and community with other studios. I expanded my team this year and I have been utilizing the energy that comes with it to pursue collaboration, knowledge, and kinship.
When we were invited to a studio visit-slash-intern graduation, we finished our show and tell with an informal Q&A. One of the questions that was floated my way was this:
"Did you have any help when you started your studio?"
The implication was financial help, of course. I felt a rush of relief to be asked this question and said so.
"No," was what I said. My husband and I had to build the graphic design business from scratch. But in the interest of full disclosure, his parents did front our initial business registration fees. We didn't have much of a safety net (no gifted property, no trust funds, spawn of middle-class families) and that has informed how much we were able to risk to get a business up and running. I shared that my husband holding down a day job was our main safety net and we waited a couple of years until he finally came onboard full-time.
I did not grow up comfortable talking about money. Even with the advantage of having an Ilocano mother, I was only familiar with the basics. I was not to spend money I did not have. I am to take care of my own retirement. I need to have actual money in the bank stashed aside for emergencies. These are all useful but I didn't develop the reflex to ask who has the money and ask WHY and HOW do they have that money.
These are important things to ask because it will determine the extent of your capabilities and to honor your pace. You learn what is within your control and what's out of your hands. With any luck, you also begin to question why something is out of your hands and you figure out ways to break the systems that enable this.
I felt relief at being asked this because I'm looking forward to a time where we can freely discuss money and not have to feel guilt and shame. It's a radical thing to propose because money is up there along with religion and politics as things we don't bring up at the dinner table. There is a way to talk about these things out in the open, but it will involve deconstructing all the judgments and moral weights we've placed.
I fixate on money these days because it's uncomfortable realizing that I won't be able to give my child a very wide safety net. We do not have the money that can give her ample cushioning if she's drawn to a mercurial industry like theater, fashion, or publishing. We feel anxiety at the idea of having to plan out our finances if she's dreaming of a profession that requires extended years of schooling like law or medicine.
I began to have an understanding on why my own parents kept pointing me to the direction of careers with more stability. I always saw the part of them not understanding my talents. Now I see the part where they are not capable to support me struggling and untethered, simply because they don't have the means to sustainably do so.
All of these things come into play when I start communicating dreams of the future to my child. This is the advantage my middle class background can give me. We can learn how to stack our dreams next to the stack of our reach. Then we learn how to push and pull the dreams and the reach, balancing the tension.
I pray every day that balance will be there when we start needing it the most. Until then, I'm going to learn it enough that I'll be able to pass it on.
My studio is growing alongside my daughter. With a clear understanding of our limitations, I'm also on the path of trying to grow our borders as big as I can imagine it. We're doing it with the help of mentors, peers who have walked farther along, and the thrill of overcoming things we're afraid of.
It looks a lot like parenting.
Disclaimer: The views expressed here are solely those of the author in her private capacity and do not in any way represent the views of Preen.ph, or any other entity of the Inquirer Group of Companies.
Art by Marian Hukom
For the latest in culture, fashion, beauty, and celebrities, subscribe to our weekly newsletter here
Follow Preen on Facebook, Instagram, Twitter, YouTube, and Viber
Related stories:
My creative process as a graphic designer helped me as a mother
It only takes two simple steps to manage your budget
How Loralee Baron-Soong makes fashion her business
How motherhood taught me to be more productive