If you've ever dined at Gallery Vask Modern Tapas & Gastronomic Cuisine, you may have come across their Alamat menu, which features some of their most innovative dishes from various degustación menus over the years: Sizzling, a take on sisig made with Jamón Ibérico and wagyu beef; Algae, their version of tinola made with lobsters and Ilocos seaweed; and Buro, which is traditional fermented rice served with steamed maya-maya and grilled mustasa leaves.
He first discovered buro while dining at Chef Claude Tayag's restaurant Bale Dutung in Pampanga. The fermented rice meal was served to him with catfish and mustasa leaves. "Without fermentation, we don't have a lot of things that are in the house everyday. Tuba is fermented. If you want coffee, you ferment it. You want cacao, chocolate, you ferment it," he observes. "So I found [the buro] very interesting."
He enjoyed it so much that he journeyed back to Pampanga to ask Chef Claude to teach him how to make it. At Vask, he prepared the dish 40 times before he felt confident enough to ask Chef Claude to give it a try. "I respect what I learned from him, but I wanted to do it in my own way," says the maverick chef who once worked at Ferran Adrià's El Bulli in Spain. "My biggest challenge was being honest when I made this dish. Because we don't want to be arrogant, we want to show respect. Second, we [wanted to make] something that is part of Filipino culture, so we had to please the Filipino."
In the end, despite Chef Chele's reservations—"I was scared," he admits— Chef Claude and his wife loved his take on buro. It has also become one of the most successful dishes at Vask since it was first introduced eight months ago.
In time for Independence Day, Chef Chele shares with us his recipe for making his famous buro. "Without the Philippines, I wouldn't be successful so I try to say 'thank you' to the Philippines in every way possible," he says.
Ingredients
Ifugao Tinawon rice
Maya-maya
Mustasa leaves
Onions
Tomatoes
Garlic
Ginger
Lemongrass
Tomato juice
Olive oil
Sea salt, to taste
Additional materials
Ziploc bags
Japanese paper
Banana leaves
Torch
Preparation
For the buro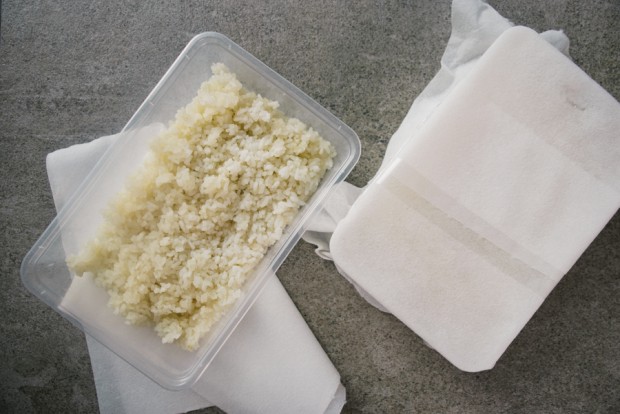 Boil the rice for five minutes and let simmer for 20 minutes. Transfer to glass or plastic container and evenly sprinkle salt to control the fermentation. Cover the rice with Japanese paper so that it can still breathe while keeping bugs out. Let it sit for three to four days. After, chill it in the fridge to halt the fermentation.
For the maya-maya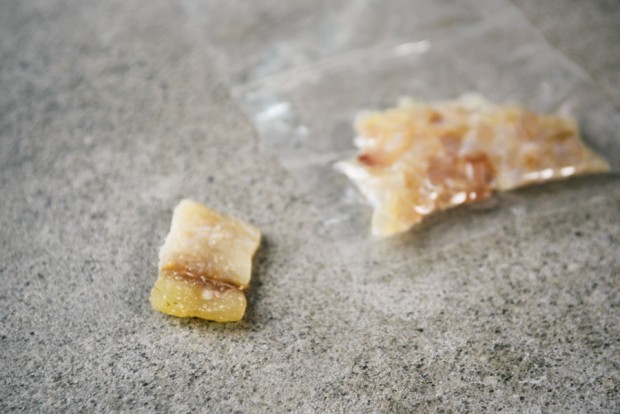 "I really like lapu-lapu, but the problem is by now it's no longer good to fish for them; [it does] a lot of damage to the environment," Chef Chele says. "So the good alternative is maya-maya. It's also called red snapper. In America, when you say 'red snapper,' people will pay good money for it. But here, you say 'maya-maya,' and people don't give it the same value. For us, we give it the value it deserves."
First, separate the skin from the fish. Next, fillet the fish and wrap them in banana leaves. For all remaining portions of the fish, instead of throwing them away, cover it with salt, and let it ferment for a day or two in an airtight container, like a Ziploc bag. Do the same with the fish skins.
For the picked onions: Slice your onions, add water and vinegar, then keep it in a Ziploc bag overnight.
For the tomato juice: Simply place your tomatoes in a blender, then strain.
After going through all these steps, you are now ready to prepare your buro.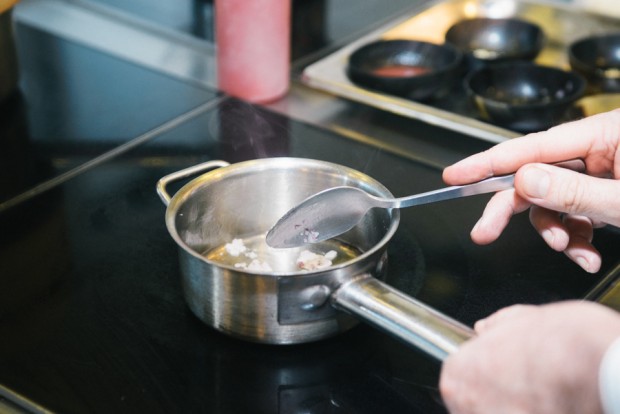 1. Brunoise your garlic, ginger, tomatoes, onions, and garlic. Sauté them in a pot using olive oil.
2. Cut up and crumble your fermented maya-maya and add to the pot.
3. Add your fermented rice and continue sautéing.
4. To add acidity to your rice, add the fresh tomato juice. Pour enough just to add moisture.
5. After cooking your buro, take your fish fillets wrapped in banana leaves and torch them slightly to create a smoky flavor.
6. To create a juice fish fillet, unwrap the fillets and steam them in water with lemongrass for less then four minutes. The lemongrass will balance the acidity of the tomato juice.
7. Take your fermented fish skins and deep-fry them to create chicharron. The crispiness will add the crunch of fried fish, minus all the oil.
8. Take some of your mustasa leaves and grill them. They will add a nice bitter flavor to the dish.
9. To plate your buro, scoop your rice, then place the steamed fillet on top. Drizzle with olive oil, then top with your fish skin chicharron. Add your picked onions, grilled mustasa leaves, and fresh mustasa leaves.
10. Serve to an eager table.
To see how to do it step by step, click through the slideshow above!
In time for Independence Day, Gallery Vask will be introducing their Tanaw menu, a seasonal short course of five dishes, for P2,500.
Gallery Vask. 5/F Clipp Center, 11th Avenue corner 39th Street, Bonifacio Global City. Open from Tuesdays to Saturdays from 11:00 a.m. to 6:00 p.m. For reservations, call (0917) 546-1673. For more information, visit their website.
Photos by Patrick Segovia