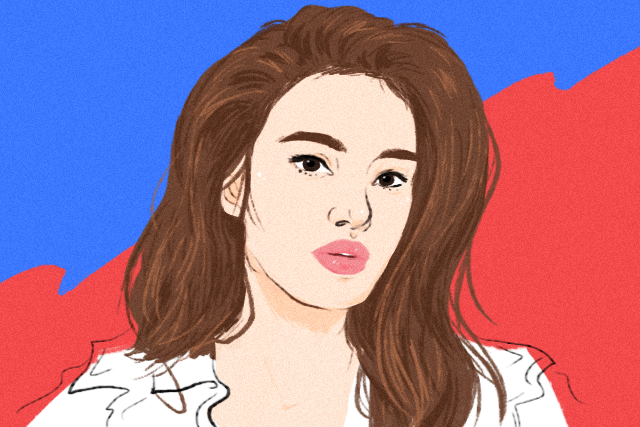 Kelsey Merritt, who has been modeling since she was studying, recently announced that she's walking the Victoria's Secret Fashion Show runway. The half-Filipino, half-American model naturally expressed her joy and excitement for the opportunity, and even dedicated this success to everyone supporting her in the Philippines.
View this post on Instagram
While many congratulated her, there were also skeptics who questioned if she's Filipino enough to even be considered a Filipino model. "She looks too American/Eurocentric/white to be Filipino," many would say. This raised several eyebrows from people—including us—and also prompted Kelsey to respond to her critics on Twitter. (In fluent Filipino, no less.)
Pinanganak ako sa Pilipinas at lumaki ako sa Pampanga. Tinapos ko ang pagaaral ko sa Manila bago ako lumipat sa US last year. Mas pinoy pa dugo ko kesa sa mga "pure" na hindi pa nakatapak sa Pilinipas. I love my country and I'm proud of where I came from. ❤️

— Kelsey Merritt (@kelsmerritt) September 9, 2018
Personally, this argument that her looks isn't a representation of her race boggles my mind because, as Kelsey said, she was born and raised here in the Philippines. It just so happened that her father is American and moved to New York to pursue her modeling career. Her features and her lighter skin tone aren't something that she can change in a snap, and it doesn't really define her "Filipino-ness" just because she looks slightly different than the traditional (whatever that means these days) Filipino.
So, what constitutes as a Filipino anyway? Okay, we have brown (kayumanggi) skin, flat and rounded noses, and we're not considered tall—that's what we've been taught since we were younger. But because of 333 years of colonization and people just marrying other races, the "Filipino look" has expanded. It's not really unique here anymore to see someone of mixed races—from European (Spanish mestizo) to Chinese. Heck, mixed races are common across the globe, period.
And just imagine how confusing it must be to tell someone "You're not Filipino because you don't look like one" when they practically grew up here. On another spectrum, we also have Filipinos who bash these features, calling them ugly, and putting Eurocentric features on a pedestal. I've observed that even in my own family when they would comment on my nose for not looking too pango (flat) thanks to our Spanish genes from a great great grandparent.
This is a different tangent but this kinda reminds me of biracial rapper Logic's struggles while growing up because both his white and black families saw him as an outcast at some point.
Now that Kelsey, the first Filipina to walk the VS Fashion Show runway, is getting the spotlight, you're still not satisfied? But when another famous foreign person is found to have Filipino blood or have any connection to the Philippines, they get branded with the "Pinoy Pride" stamp of approval and you'll applaud them to no end.
We understand the need for representation in media and the fashion world, and that is still a work in progress. But it's quite unfair to put that burden on Kelsey's shoulders because she just went to the audition as part of her job and because it's her dream to become a VS model. To quote filmmaker and photographer Maqui Castelo, "[Kelsey] got in a fashion show. Not a film where she plays a Filipina, nor a pageant as "Ms. Philippines"—AND YET, she dedicated the achievement to her home country. What more do you want?"
People are clamoring for representation in a realm where it's not necessary.@kelsmerritt got in a fashion show. Not a film where she plays a Filipina, nor a pageant as "Ms. Philippines"— AND YET, she dedicated the achievement to her home country. What more do you want?

— Maqui Castelo (@CaliforniaMaqui) September 9, 2018
Here's a Filipino model who worked hard to get where she is, and she's proud of her roots. She didn't ask for anyone's validation to join, she did it at her own accord. Just be happy for her and don't let your crab mentality ruin the moment for her.
Art by Marian Hukom
For the latest in culture, fashion, beauty, and celebrities, subscribe to our weekly newsletter here  
Follow Preen on Facebook, Instagram, Twitter, YouTube, and Viber
Related stories:
Kelsey Merritt looks every bit the supermodel even when she's off-duty
The exact moment Kelsey Merritt found out she' walking the VS Fashion Show
Kelsey Merritt is so close to walking the Victoria's Secret Fashion Show runway
All the things you need to know about Kelsey Merritt