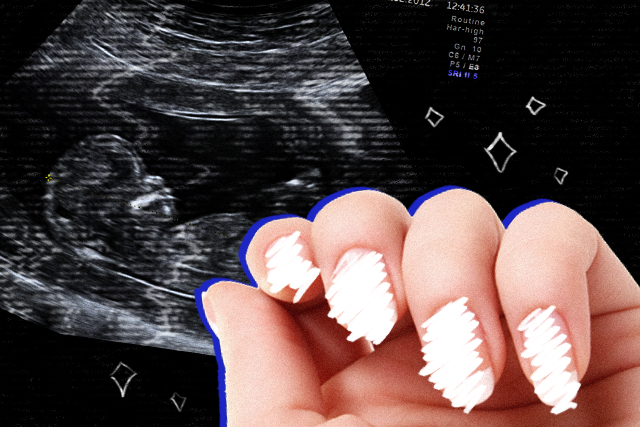 Knowing you're going to be a mom soon is pretty exciting news. We understand if for the next few weeks, all you wanna do is go around and show off your baby's ultrasound image to your friends or even to random strangers. We get it. That photo represents the miracle growing inside of you. Well, no need to carry around that everywhere you go, because now, you can simply show the world through your nails. Yup, you read that right.
Ultrasound nails is a thing, and it's the latest one to take over Instagram. It's true nail art trends can be very polarizing as it can go from weird to stunning. Putting an image of your unborn baby on your nails may sound creepy, but give this trend a chance, it's actually super cute.
This design first went viral in April. It started when one customer's baby scan nail, done by nail artist Sarah Clarke, was posted on Facebook. Requests soon came flying in, with Sarah revealing that she has had to seek the assistance of other nail technicians as her number of clients has become too overwhelming.
According to Independent UK, "the process for producing the nails is fairly simple, with customers simply sending over a copy of their scans and Clarke recreating them on a single acrylic nail using paint and a fine brush. Customers can then either glue the nail on as one would with a normal acrylic, or frame it as a keepsake."
People expect moms to be all about their babies, but it's actually really important for them to pamper themselves, especially before the baby comes out. This particular nail art trend does that in a meaningful way.
View this post on Instagram
View this post on Instagram
View this post on Instagram
While this new trend is a way to celebrate pregnancy, others have also used it to remember their babies, lost through miscarriage or premature births. One woman shared on Instagram: "This manicure has been a long time coming. After three years and numerous fertility treatments, my hubby and I finally conceived in April. On May 30, my heart was broken when I found out my baby was no longer living and growing, and he was taken from me the next day." She added, "I lost all inspiration as I struggled with the grief. I learned how to love him and his brief life and move forward with renewed hope. I love you jelly bean, and seeing you on my nails makes me smile."
Though most dismiss it as just trivial, nail art is art, and thus is a form of expression. For mothers, having (or losing) a baby is an emotional process, so make sure to express yourself in any way you can. While this nail art isn't exactly therapy, if it helps you process what you're feeling, then why not, right?
Art by Marian Hukom
For the latest in culture, fashion, beauty, and celebrities, subscribe to our weekly newsletter here  
Follow Preen on Facebook, Instagram, Twitter, YouTube, and Viber
Related stories:
These nail art prove you don't need long talons to have cool-looking nails
KC Concepcion shares her secret to healthy nails
Your nails need serums and moisturizers too
This insane tutorial shows a pooping butt nail art