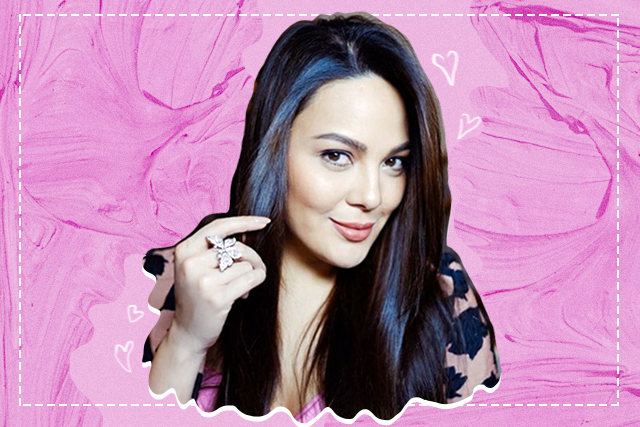 If you've been following KC Concepcion for a long time, you will know that she takes good care of her hands and nails. They're always perfectly painted and presentable. But, did you ever wonder how she achieves it? Or why she does it? Well, we were lucky enough to sit down with her and ask her a few questions about beauty and women empowerment.
She shared her secret that makes her hands and nails healthy. "I really make sure I put coconut oil. I do my nails regularly so I don't have hangnails. I make sure that when I wash my hands, I clean under the nail. If you're dressing up, nails are also part of the beauty routine." KC was also inspired to take extra care of her nails because of her grandmother Elaine Gamboa. "She said, if your nails are dirty it means your whole body is dirty. So, it's hygiene. It's just [about] being presentable. She said, If you think of what shoes to wear, you might as well think of your nails. If you think of what lipstick to wear, you might as well think of your nails. If you think of your hair color so much, why not think of your nails? So, it stuck [with] me."
Because of her love for nail polish, she also decided to launch her own collection with Happy Skin. There are two shades available. Power is a cherry red hue, while Beauty is a nude color with a hint of apricot. KC shared that she came up with these names because she felt they embodied women empowerment. "[There are] so many things that women can actually do to to cope and to be okay and I think people forget that about women. Especially in the Philippines I think it's important for women to feel empowered." She also feels empowered when she is able to choose products that are good for her. "I will make that decision for myself to choose products that don't harm my body." Even if they cost a little bit more.
Aside from her own collection, she also regularly has her nails done but what colors does she go for? "I'll use reds and nudes." Although these are classic shades, she has also tried something out of her comfort zone. "I tried blue, it was okay lang. I felt like a bird. The, I tried yellow and it lasted for a day." For KC, she's more about the timeless options.
However, aside from beauty on the outside, KC thinks it's our actions that speak volumes. "I think too many people focus on the outer beauty, but it's also what kind of person you are. Do you step on people to get where you are? Do you hurt people to be successful? For me, beauty is if people can actually carve their own path without being mean to others or without putting others down."
Art by Marian Hukom
Follow Preen on Facebook, Instagram, Twitter, YouTube, and Viber
Related stories:
How KC Concepcion still enjoys coffee and cake while staying fit
This is where Ellen Adarna and Alex Gonzaga get their IG-worthy nails done
Here's how you can make sunscreen with coconut oil
Candy-colored nail polish that look good enough to eat