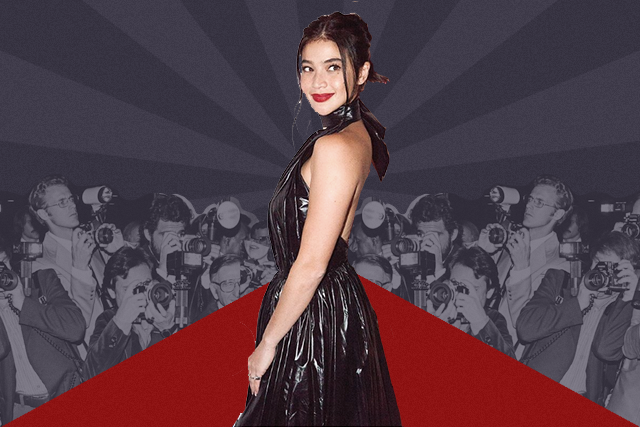 Anne Curtis has been busy traveling around the globe and also the Philippines for the premiere of her movie Buy Bust. Based on reviews from the New York Asian Film Festival, it's a promising film and we can't wait to see it ourselves once it premieres here on Aug. 1.
What also caught our eye was how Anne dressed up for her promotional tours and red carpet events. Her outfits ranged from edgy—to match the Buy Bust's gritty theme—to glam. For tips on how you can be fashionably ready like Anne, keep scrolling!
Incorporate the movie's theme
Anne wore an olive green MSGM set during a local promo tour that has strips of fabric to make it look rugged. The ensemble matches the camo outfit she wears in the film. It's a good strategy to promote the film and show how badass her character is. Not to mention that she sported a makeup look that highlighted her cheekbones for a tough look.
One brand from head to toe
During the New York Asian Film Festival premiere of Sid & Aya (Not a Love Story), Anne wore head-to-toe Gucci. She did it in Seoul again for the Buy Bust premiere at the Bucheon International Fantastic Film Festival but with Louis Vuitton.
It's an easy way to dress up since you don't have to source from one brand to another. Just check out one store and get everything you need like the dress, bag, and shoes.
Have a long gown ready
You never know when this piece will come in handy. Anne wore a red gown in Seoul. For this outfit, Anne opted for a nude makeup look to complement the striking color of her gown. It's possible that she's wearing red to still stay on-theme with the film.
Keep it semi-casual
There are times when Anne isn't wearing something too glam. She once wore a plaid bralette and pants combo during a mall tour. When they went to Cebu to promote the film, she wore a tie-dyed denim jacket over a spaghetti-strap top. This is a reminder that not every event requires an over-the-top outfit. You need to be comfy too!
Let your makeup do the talking
If you watched the full trailer or seen the poster, you'll know that the film will get violent. Of course, Anne couldn't flaunt blood smears on her face so she opted for a bright red lipstick to go with her black Calvin Klein dress. This is also a great option to liven up any makeup look, especially if you have neutral eyeshadow on.
She did a bold lip and black dress combo again during the Buy Bust screening last night at TriNoma Mall.
Art by Marian Hukom
Follow Preen on Facebook, Instagram, Twitter, YouTube, and Viber
Related stories:
Anne Curtis dressed in head-to-toe Gucci at New York Asian Film Festival
Buy Bust receives a positive review at the New York Asian Film Festival
WATCH: Anne Curtis shows off martial arts skills in Buy Bust short
Anne Curtis handles weapons with a sassy haircut in new trailer