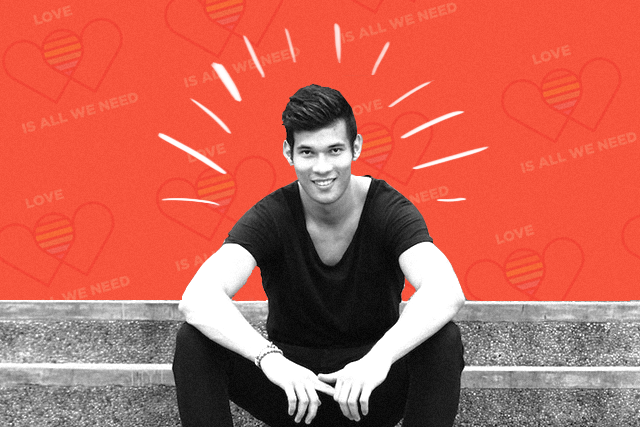 The #LoveIsAllWeNeed campaign has found itself another ally in PBA Player Arnold Van Opstal, who recently took to Instagram to show his support for the SOGIE Bill. Almost immediately, it became a trending post—for the wrong reasons.
The post was of a photo of him and his brother (yes, that's his brother) with the Pride filter, which the basketball player captioned, "We are all born equal and our laws should be a reflection of that equality. We have come so far, now let's go even further and start a new age for us and the generations to come in love, peace, unity, and happiness." and even tagged Senators Manny Pacquiao, Joel Villanueva, and Tito sotto, the prime opponents of the SOGIE bill.
The post garnered several reactions and made headlines, not for its message, but for his "coming-out."
To clarify, he didn't actually come out. In an IG story, he said that that he is in fact, straight, but that he thinks "labeling sexuality is a joke." He also opened up about how he believes there is still much to be done to address "homophobia that is very apparent in sports due to fear of judgment set by [the athletes'] peers and coaches."
Homophobia has been a long standing issue, and though not enough, we've seen more and more people talk about it. But this conversation is still considered new in the sports industry. Most notably, during the recent World Cup.
The issue has been considered as taboo by athletes, mostly because it goes against the macho image they're branded with. As Arnold pointed out, coming out or even just expressing support invites heavy judgment from the sports community, which includes not just fellow athletes and coaches, but also the fans—especially here in our country. The fact that the internet made such a big fuss about the post, and focused on questioning Arnold's sexuality instead of his message, is indication of how new this is. Even Vice Ganda lauded Arnold's post in his own account, stating that it's the first time he "encountered a Filipino athlete boldly [speak] about LGBTQ+ and homophobia."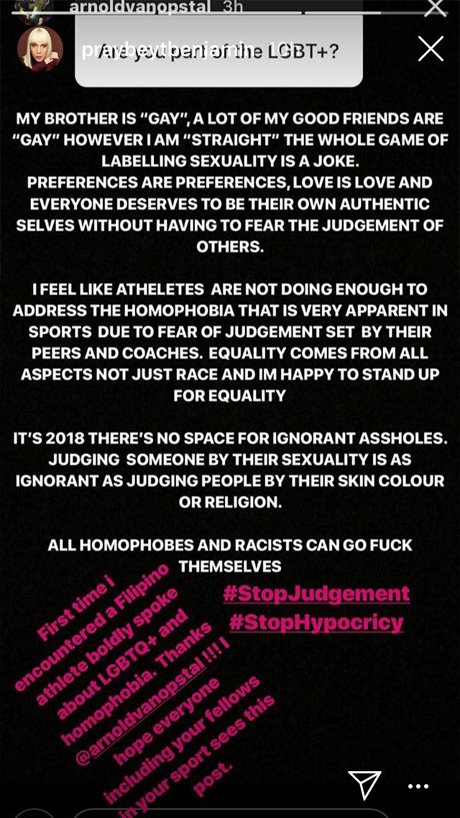 We've already covered how being gay doesn't make anyone less of a man — the same goes for supporting them. It actually makes them better men, because it shows that they're brave enough to voice out an unpopular opinion and stand up for their beliefs despite the judgment. Hopefully, many others in the industry will follow suit and take the step towards supporting equality for all.

As Arnold mentioned in his IG story, "It's 2018. There's no space for ignorant assholes. Judging someone by their sexuality is as ignorant as judging people by their skin colour or religion."

Preach.

[Pep.ph]

Photo courtesy of ABS-CBN Sports collaged by Marian Hukom

Follow Preen on Facebook, Instagram, Twitter, YouTube, and Viber

Related stories:
Let's continue to show that #LoveIsAllWeNeed for the SOGIE bill
Debunking some misconceptions about the SOGIE Equality Bills
The best way to support the LGBT community? Be a good ally
Stop it already: Words and statements the LGBT Community are tired of hearing
Duterte's silence on the SOGIE Bill sends a clear message