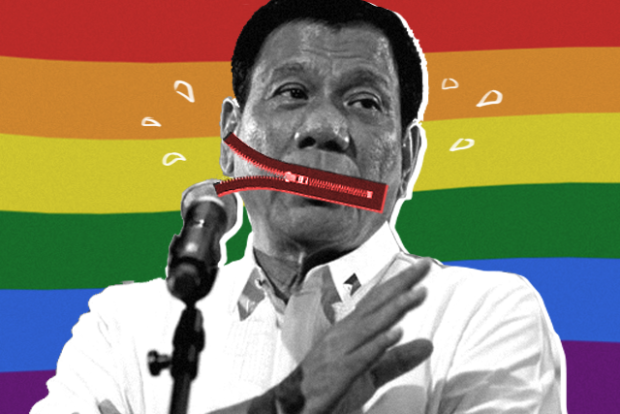 In the president's shortest SONA to date, he failed to mention anything about the SOGIE Bill. Possibly, a future justification or excuse will be released after this (maybe he was making up for lost time?) but frankly, it seems like a clear indication on where his priorities lie—or, more accurately, where it doesn't.
The SOGIE Equality Bill, also known as the Anti-Discrimination Bill, was arguably one of the most awaited topics to be discussed during this year's SONA.
There was quite a buildup on the issue, with a lot of people talking about the bill on social media prior to the SONA. Posts on the #LoveIsAllWeNeed campaign have also dominated our timelines, with celebrities such as Joey Mead King joining the movement.
Understandably, a lot were expectant, with personalities like Heart Evangelista and Tootsy Angara readily showing their support for the bill's passing during the event.
Considered as one of the longest running bills in the country's history, with an initial campaign that can be traced as far back as 2000 filed by then Sen. Miriam Santiago and Akbayan Representative Eta Rosales, the bill which seeks to end discrimination on members of the LGBTQ+ community was finally passed on its final reading in the House of Representatives last year.
Pres. Duterte has had a record for changing his opinion about this bill. He has initially expressed favor towards it, but then changed his tune in a speech in Myanmar. He since revoked that opinion and once again pledged support to the cause, even expressing the possibility of creating an LGBT commission last year.
Were you as disappointed as we were in the lack of discussion? Let us know.
Art by Marian Hukom
Follow Preen on Facebook, Instagram, Twitter, YouTube, and Viber
Related stories:
Debunking Some Misconceptions About the SOGIE Equality Bill
What does Heart Evangelista and Tootsy Angara's accessory mean? 
Roundup: The outfits at SONA 2018
Duterte's SONA 2018 statements that made us go, "Huh?"
Spotted: Modern interpretations of Filipiniana at SONA 2018