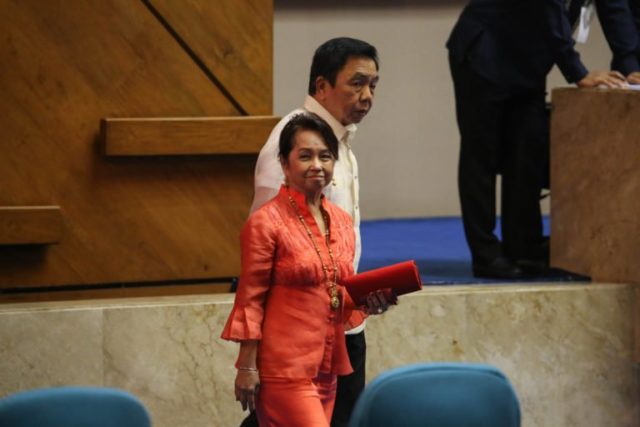 The third State of the Nation Address hasn't even started but everyone's already shaken up by what happened in the House of Representatives. Speaker Pantaleon Alvarez was ousted by his colleagues and Pampanga Rep. Gloria Macapagal-Arroyo took his place.
It apparently happened so suddenly as the media witnessed Arroyo go up the rostrum. According to Inquirer.net, her microphone was turned off as she was taking an oath. Meanwhile, Alvarez met Pres. Duterte when he arrived at the House. Sources said that he was "surprised" that 186 members of Congress voted to oust him and that he was being replaced.
Alvarez was "surpised". Sources said. #SONA2018 | @denmacaranas @dzIQ990

Watch: https://t.co/Xd4SBEbTLQ

— Inquirer (@inquirerdotnet) July 23, 2018
Inquirer obtained a copy of the "voting sheet" used, showing those who abstained, and it was only written on a piece of paper. It wasn't even printed, just handwritten and looked like it was ripped from somewhere.
LOOK: List of Reps who abstained from voting on the speakership. #SONA2018 | @VinceNonatoINQ Photo from @MiroQuimbo pic.twitter.com/M57TxXY0sM

— Inquirer (@inquirerdotnet) July 23, 2018
This fiasco with Arroyo and Alvarez raised questions as to who will sit on the right side of Duterte. This is also why the SONA was delayed for an hour as the three met in private to talk about what happened. As of writing, Alvarez remains House speaker for now.
It appears Alvarez remains Speaker for now. He takes the Speaker's seat, now with Senate President Sotto #SONA2018 | @deejayapINQ

Watch: https://t.co/Xd4SBEbTLQ pic.twitter.com/xZiFzvEoJN

— Inquirer (@inquirerdotnet) July 23, 2018
Now that this drama is done, we're now watching the next one, AKA the actual SONA.
Photo courtesy of Inquirer.net
Follow Preen on Facebook, Instagram, Twitter, YouTube, and Viber
Related stories:
Roundup: The outfits at SONA 2018
What does Heart Evangelista and Tootsy Angara's accessory mean?
This is the only SONA-related makeup tutorial that you should watch
What's wrong with appointing another female Ombudsman?