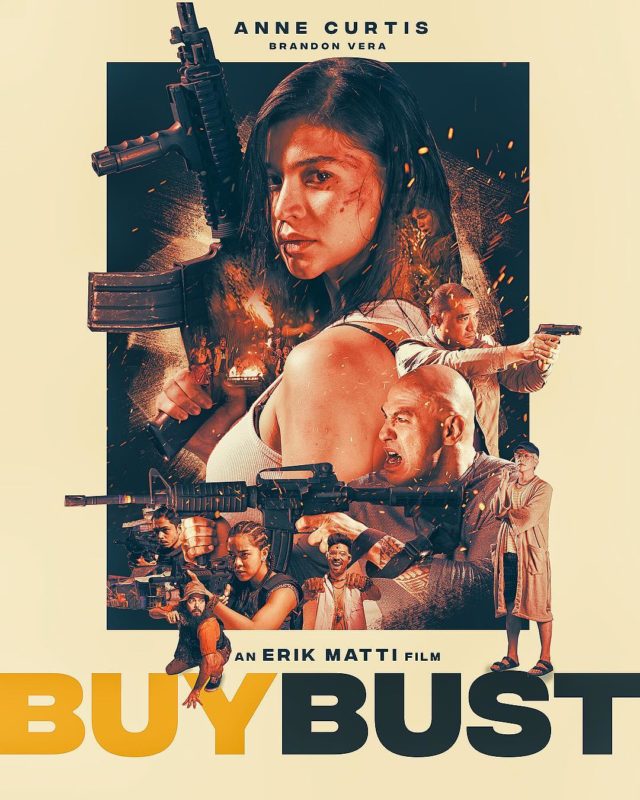 Yesterday, Anne Curtis attended the screening of her new film Buy Bust at the New York Asian Film Festival. While we wait for the Aug. 1 premiere locally, those who went to the event had good things to say about it.
According to ABS CBN News, a review was released on Screen Daily, a magazine and online platform that covers "the international film business." The writer didn't just praise the movie but the director and actors as well. "Using this streamlined premise as the basis for a searing take on President Rodrigo Duterte's merciless war on drugs, Filipino genre pioneer Erik Matti has delivered one of the most blistering action pictures since Mad Max: Fury Road (2015)."
The review also commends Anne for her acting chops. "Seizing an opportunity for career reinvention, Curtis anchors the mayhem with great charisma, forming a terrific partnership with the stoic [Brandon] Vera, whose towering frame and tank-like indestructibility are offset by a resolutely calm manner. Their resolute performances give a vital human quality to a film that is otherwise as brazenly cynical as it is brilliantly executed."
On Instagram Stories, Anne also shared a review from Variety. "Director and co-writer Erik Matti has delivered an explosive exercise in kinetic cinema of the Philippine government's war on drugs. Following its world premiere at New York Asian Film Festival, Buy Bust will become a must-see item for genre fans." The article also touched on the action scenes of the film. "Beneath thunder and torrential rain, most of Nina's colleagues are slaughtered in some of the most spectacularly choreographed combat sequences in recent memory."
Okay, now we really can't wait to catch the film next month and again on Netflix starting Nov. 1.
Congratulations, everyone on the success of the film so far.
Photo courtesy of Anne Curtis' Instagram account
Follow Preen on Facebook, Instagram, Twitter, YouTube, and Viber
Related stories:
WATCH: Anne Curtis shows off martial arts skills in Buy Bust short
Anne Curtis dressed up in head-to-toe Gucci for New York Asian Film Festival
This is how Anne Curtis got through the London Marathon
Anne Curtis handles weapons with a sassy haircut in new Trailet