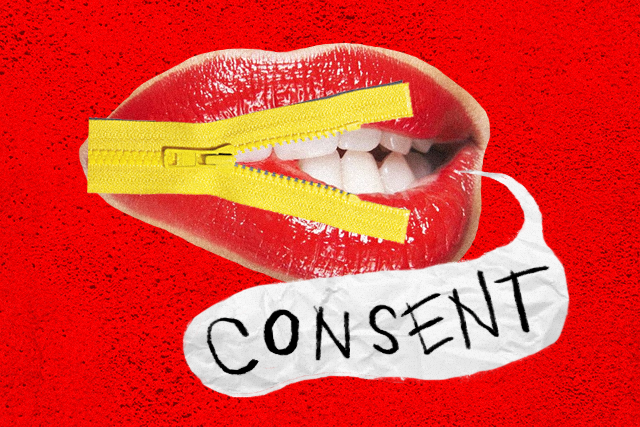 This column may contain strong language, sexual content, adult humor, and other themes that may not be suitable for minors. Parental guidance is strongly advised.
Just the other night on MSNBC, Joy Reid, standing in for Chris Hayes, described the current atmosphere in which we live quite accurately, calling this "an age of man's fury at women's insolence."
And she is right. Ever since the #MeToo movement gained momentum, women have been finding their voices and speaking out against sexual assault. And they are being heard.
Men, on the other hand, have chosen to feel angry, threatened, aggrieved and victimized. Or scared and paranoid. Of course, #NotAllMen, as some have pointed out, again playing the victim card.
What a lot of men have chosen not to be, however, is accountable.
The refusal of men to take responsibility for their actions found its boorish mascot in Judge Brett Kavanaugh, the recently confirmed Associate Justice of the Supreme Court of the United States, who lied brazenly about his excessive drinking as a student, who tearfully extolled his own respect for women, reciting his roster of female friends like he was reciting a nursery rhyme, who, apoplectic with rage, railed against the perceived assault on his character and reputation while all the while denying and minimizing the very real sexual assault Christine Blasey Ford credibly testified to while literally pinned down by his body at a party when they were 15 and 17, respectively.
While Dr. Ford bravely spoke out about her attempted rape and ended up being mocked by the president of the United States, the self-styled choirboy who claimed to like beer but apparently never to the point of blacking out was rewarded with a seat on the bench, thanks to the "yes" votes from the Republican Party and one Democrat. This was notwithstanding the fact that not only was he not truthful in his testimony before the Senate Judiciary Committee, he had also displayed enough of his character and partisan mindset to disqualify him from ever being a Supreme Court justice.
In many ways, it wasn't that much of a surprise that frat boys—in this case the fraternity of privileged, entitled white men who affect being under siege—look after their own, and despite acknowledging the power of Dr. Ford's testimony, choose to believe that perhaps she was mistaken in identifying Kavanaugh as her assailant, even if they would not deny that she had been assaulted.
It wasn't much of a surprise either that many men, in solidarity with Kavanaugh, bristled at the indignity of being falsely accused of rape or sexual assault, once more putting forward that oft-repeated narrative as limp as their d*cks that women make up all these allegations of rape to destroy men's lives.
False rape accusations do happen but are extremely rare. According to statistics, out of every 100 reported rapes, only two percent are false. The remaining 98 percent?  Credible. And we're only referring to reported rapes. How many cases of rape and sexual assault are unreported because women are afraid they will be mocked, vilified, ostracized, or simply not believed?  
Just a cursory look at the women in the Philippines who have dared to identify their rapist or assaulter in public—the brave Kat Alano among them—shows that women are looked upon as the villains for speaking out, victimizing the poor, beleaguered upstanding paragons of society who touched them without their consent. Obviously it should be the other way around: there would be no rapes if men didn't rape. It's really that simple.
It's bad enough that men choose to believe other men who say they are being falsely accused. But the worst is other women choosing to believe these same men, who could be their husbands, sons, brothers, fathers, nephews, friends, and co-workers. Or the president of a country.  
Instead of ensuring the safety of all women, they—such as @lauraloomer—exhort other mothers who have sons to "buy him a note pad, a body camera, and a recording device.  Get him a battery pack too so he can protect himself with video evidence of every single encounter he has with a woman."
Because men "aren't safe in America anymore."
Because Kavanaugh's strident, if histrionic, denials of Dr. Ford's "mistaken" allegations was about a man fighting back against the "war" declared on men.
It's baffling and dispiriting, yet sadly not at all surprising that a significant number of women reacted this way. Misogyny is so internalized that these women's first instinct is to uphold the patriarchy, preserve the status quo, and protect their sons and husbands—never mind if they themselves might have been a victim of sexual harassment or assault at some point in their lives, perhaps even during their marriage.
Instead of defending their sons, and in a roundabout way raising suspicion that these boys may indeed be capable of sexual assault should the opportunity present itself—say, a party where everyone is drinking and there is no parental supervision—they should be teaching their sons about consent, that no means no, and that if the other party is too inebriated to say yes, then it's rape.  
Why bother arming sons with recording devices and the like to guard against false accusations when it's easier, saner, and cheaper to just raise them to respect women? As @billprady says, "Fewer things to buy."
A woman (@astrarchi) who thankfully was not as stupid as Laura Loomer responded: "just teach your kids about consent and shut the f*ck up."
Indeed, is it so hard to teach sons not to rape? Is driving home to them—and to everyone, really—the importance of consent not worth upending the patriarchy and creating a more equal, more humane society in which the dignity of all is valued and respected?  And that there are real consequences for one's actions, whether committed during youth or later in life because actions demand accountability?
And for all this specious prattle about accusations ruining a man's life, men, with the complicity of many women, manage to emerge unscathed from these same accusations while their accusers are shamed and shunned. And even laughed at. Uproariously.
B. Wiser is the author of Making Love in Spanish, a novel published by Anvil Publishing and available in National Book Store and Powerbooks, as well as online. When not assuming her Sasha Fierce alter-ego, she takes on the role of serious journalist and media consultant. 
For comments and questions, e-mail [email protected].
Disclaimer: The views expressed here are solely those of the author in her private capacity and do not in any way represent the views of Preen.ph, or any other entity of the Inquirer Group of Companies.
Art by Marian Hukom
For the latest in culture, fashion, beauty, and celebrities, subscribe to our weekly newsletter here  
Follow Preen on Facebook, Instagram, Twitter, YouTube, and Viber
Related stories:
Yes, sexual assault happens even when victims choose not to report it
The rise of sexual harassment accusations is not a witch hunt
We need to stop praising men for not sexually harassing women
You don't need to be a mind reader to know what consent is
Boys will be boys—and Brett Kavanaugh will always be a disgraced judge in our eyes