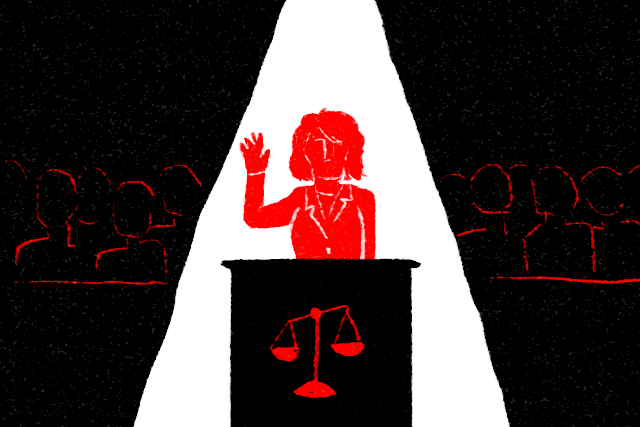 If you follow international news, you might notice one name keeps coming up on headlines: Brett Kavanaugh.  So let's talk about him. Who is he? Brett Kavanaugh is an American attorney and jurist. He was nominated by US President  Donald Trump to be their Supreme Court's 114th justice. Trump said of him: "Judge Kavanaugh has impeccable credentials, unsurpassed qualifications, and a proven commitment to equal justice under the law. There is no one in America more qualified for this position and no one more deserving." Now, let's be real, Trump's words have no bearing whatsoever on another's character (if anything, it was a red flag). Still, on paper, no one can argue he is indeed the perfect candidate so his appointment was pretty much cemented for the position– that is, until an anonymous letter was sent to a senior lawmaker, accusing him of sexual assault. Eventually, the sender made herself known. She is Dr. Christine Blasey Ford, a professor at Palo Alto University, who teaches in a consortium with Stanford University, training graduate students in clinical psychology. Her work has been widely published in academic journals.
Dr. Ford alleged that "sometime in 1982, at a friend's house, Kavanaugh pinned her on a bed, drunkenly groped her, tried to take off her clothes and put his hand over her mouth when she tried to scream." She added that a friend of his, Mark Judge, was also in the room." Kavanaugh, a republican, denied allegations, citing that this was nothing but a move by democrats. Trump threw a similar accusation, saying that if what happened was "as bad as she says," then she "or her loving parents" should have filed a charge immediately.
I have no doubt that, if the attack on Dr. Ford was as bad as she says, charges would have been immediately filed with local Law Enforcement Authorities by either her or her loving parents. I ask that she bring those filings forward so that we can learn date, time, and place!

— Donald J. Trump (@realDonaldTrump) September 21, 2018
To assert her claims, Dr. Ford wanted the FBI to conduct an investigation, which the FBI duly declined. To this, Trump questioned again why she would involve authorities only now, almost 4 decades after it happened.
The radical left lawyers want the FBI to get involved NOW. Why didn't someone call the FBI 36 years ago?

— Donald J. Trump (@realDonaldTrump) September 21, 2018
On Twitter, #WhyIDidntReport posts, where women shared their own stories and what stopped them from filing a report, poured out.
This has been a difficult morning for me but here goes. #WhyIDidntReport Because I was a child, because I was ashamed, because I was scared, because I was threatened, because I was convinced no one would believe me, because I wanted to pretend it never happened #BelieveSurviviors

— Helen Zbihlyj ??❤️ (@HelenAngel) September 27, 2018
I was raped at 5 and didn't tell anyone till i was 18 & was raped again when i was 19 by some guy and tried to report it but the cop told me that i was just a tranny prostitute, then i was raped 4 more times & didnt report cuz didnt believe me so whats the point. #WhyIDidntReport

— Matea (@OfficialMatea) September 26, 2018
Because I was in a foreign country. Because I had been drinking and people said I should have been more careful. Because I didn't see their faces so what did I have to tell anyway. Because I was ashamed. #WhyIDidntReport

— Brokengirl (@SarcasticSadOne) September 28, 2018
#WhyIDidntReport I was six years old. I thought I was "the bad kid" and that it was my fault. He threatened to hurt me if I told or tried to get away and if I didn't do what he told me to do. He always hurt me anyway. It took me 32 yrs before I could tell anyone.

— Danielle Kirkpatrick (@dkcodes) September 28, 2018
Stars who bravely supported Dr. Ford with their own stories included Padma Lakshmi who penned an essay recounting her own traumatic experience, Cara Delevingne, Sarah Hyland, and Ashley Judd, among others.
Because I felt ashamed of what happened and didn't want to publicly ruin someone's life, even though they privately ruined mine #WhyIDidntReport

— Cara Delevingne (@Caradelevingne) September 27, 2018
To people saying "Why didn't he/she report it?" When something so evil happens to you it takes a long time to process it. In our victim-blaming culture it takes incredible courage to come forward. The victim is treated like the perpetrator.

— Padma Lakshmi (@PadmaLakshmi) September 22, 2018
#WhyIDidntReport. The first time it happened, I was 7. I told the first adults I came upon. They said "Oh, he's a nice old man, that's not what he meant." So when I was raped at 15, I only told my diary. When an adult read it, she accused me of having sex with an adult man.

— ashley judd (@AshleyJudd) September 21, 2018
Sarah Hyland gives her #WhyIDidntReport. https://t.co/1Ajq4aGMFM pic.twitter.com/vaObQpHP4u

— E! News (@enews) September 27, 2018
I salute these women who have up-ended their lives in the effort to save the rest of us.

He was 23 and rich. I was 15 and poor. He was white. I was brown. His father was a well-known lawyer. My father was an artist. #WhyIDidntReport

— Karen Olivo (@Karenolivo) September 27, 2018
At first hesitant, Dr. Ford finally agreed to a hearing by the Senate Judiciary Committee. This would lead to a votation by the members as to whether Kavanaugh is fit for the position he was nominated for. According to BBC, "Judges are appointed for their lifetime, and as Mr. Kavanaugh is relatively young at the age of 53, he could serve for decades to come. The US Supreme Court is the ultimate arbiter on contentious laws and disputes between states and the federal government, and rules on such issues as abortion, the death penalty, voter rights and immigration policy."
The momentous hearing happened yesterday. In her testimony, Dr Ford said: "I am here today not because I want to be. I am terrified. I am here because I believe it is my civic duty to tell you what happened to me while Brett Kavanaugh and I were in high school." Throughout the whole testimony, she remained a class act. Showing vulnerability at times when her voice would crack– she still managed to regain composure, even as men tried to discredit her. She said her most vivid memory was "the laughter between the two and their having fun at my expense… they were laughing with each other – two friends having a really good time with one another."
Let a woman stand before the country & lose all composure, lose control over her emotions, lose her cool by behaving defiantly & at some points, rudely, and lose ALL credibility with every self-aggrandizing line. Watch #Kavanaugh do it & win over more than half of public opinion.

— Elaine Welteroth (@ElaineWelteroth) September 27, 2018
Rachel Mitchell questioning Christine Blasey Ford about her mental health is one of the ugliest and most shameful things I've ever seen. Women deserve better, crime victims deserve better, and a prosecutor should know better.

— Pamela Colloff (@pamelacolloff) September 27, 2018
her gentle voice, earnestness, efforts to lighten, smiling. this is how we're socialized to be. to prove we aren't difficult, lying, deserving of pain. dr. christine blasey ford is all of us. what you're watching is a portrait of how women must behave in every aspect of our lives

— talia jane (spooky) (@itsa_talia) September 27, 2018
it is unbelievably unconscionable how we make survivors flay themselves again and again for public consumption

— Hannah Giorgis (@ethiopienne) September 27, 2018
It was a heartbreaking scene to watch. It's enough to make you shake with both indignation and anger. Why didn't she report it? Exactly because of what's happening to her right now. Because of a f*cked up justice system, where victims have to prove their innocence, instead of the other way around. Because for the longest time, we were told, it's normal; that "boys will be boys." As The Atlantic noted, "The allegations against Kavanaugh are particularly painful due to their familiarity. The Weinstein stories had such an effect in part because they were so baroque and exaggerated in their horror. Very few of us have been film stars, but nearly everyone has gone to high school. And the boisterous cruelty of teenage boys and young men, desperate to prove themselves to one another, is one of the foundational components of American education."
Besides, what has she to gain by coming forward? She would have kept silent all her life if Kavanaugh was never nominated. By stepping forward, she knew her life will be open for public scrutiny; she even received death threats. Meanwhile, composed dominantly of republicans, the senate committee will most likely still appoint Brett Kavanaugh as a justice, one of the most influential positions in their government, regardless of the allegations against him. And in a few years, maybe even months, no one will remember this ruckus affair and Kavanaugh will continue being regarded as an esteemed man by society's powerful social circles. Because that's where we are now: Misogynist men sit as judges, senators, presidents.
The hate and violent threats that Dr. Christine Blasey Ford faced after coming forward goes to show why so few sexual assaults get reported pic.twitter.com/OaM18a45Ge

— NowThis (@nowthisnews) September 27, 2018
When it comes to sexual violence, survivors bear the labor of bending the arc of justice forward. #KavanaughHearings #ThankYouChristine

— Nicola Pardy (@nicolawpardy) September 27, 2018
A genuine question: were men out there brought to tears or shaking visceral response by that? Because the messages I have from women, and what's happening in my own apartment, suggest that many many women were.

— Rebecca Traister (@rtraister) September 27, 2018
But this won't always be the case. At least, we hope not. A silver lining has appeared at least, as Republican Sen. Flake called for the delay of the vote after sexual assault victims cornered him in an elevator. An FBI investigation is reportedly underway, so there's still a chance Kavanaugh won't be appointed. For now, we will hold our breaths and pray for things to turn out the way they should. No matter the final ruling on Kavanaugh, Dr. Ford is a hero in our eyes
Art by Marian Hukom
For the latest in culture, fashion, beauty, and celebrities, subscribe to our weekly newsletter here  
Follow Preen on Facebook, Instagram, Twitter, YouTube, and Viber
Related stories:
Former gymnastics doctor found guilty for sexual assault
What are the effects on women who come forward about sexual assault?
The double standard in the Hollywood sexual assault catastrophe
The court finally did us right when it comes to Brock Turner