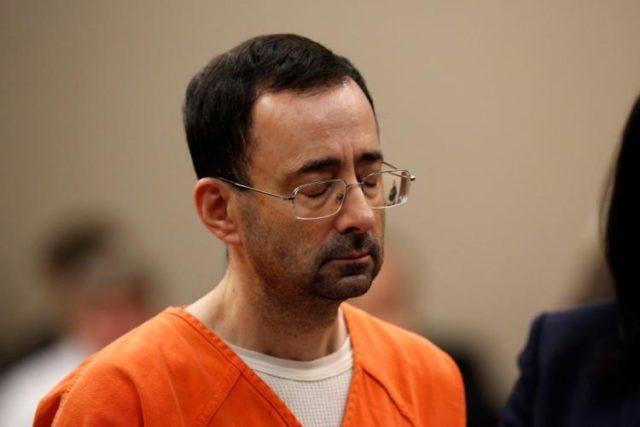 In light of sexual assault allegations, one man will be spending the rest of his life in prison. Former doctor Lawrence G. Nassar was sentenced to 40 to 175 years for sex crimes. He was the doctor for the American Gymnastics team and was accused of molesting girls as young as six while giving them examinations or medical treatment, which has been going on for decades.
In November 2017, he was also found guilty of sexually abusing seven girls and was sentenced to 60 years in prison for child pornography.
During the course of the seven-day hearing, over 150 women came forward about the abuse including Olympic gold medalist Aly Raisman, Gabby Douglas, and Simone Biles. According to The New York Times, Aly had this to say, "Imagine feeling like you have no power or voice. Well, you know what, Larry? I have both power and voice, and I am only just beginning to use them. All these brave women have power, and we will use our voices to make sure you get what you deserve: a life of suffering spent replaying the words delivered by this powerful army of survivors."
Larry was also given the chance to address the court where he said, "Your words these past several days have had a significant effect on myself and have shaken me to my core. I will carry your words with me for the rest of my days."
During the hearing, Judge Rosemarie Aquilina fully supported those women. When it was all over she said, "Your decision to assault was precise, calculated, manipulative, devious, despicable. I don't have to add words because your survivors have said all of that and I don't want to repeat it. You can't give them back their innocence, their youth."
This GIF of Judge Aquilina throwing away the letter Larry Nassar wrote the court about how hard it is for him to listen to victim testimonies PRETTY MUCH SAYS IT ALL. pic.twitter.com/5HB9WMaPqU

— Ellie Hall (@ellievhall) January 24, 2018
In a video showing the sentencing, Judge Rosemarie tells Larry, "I just signed your death warrant." He is 54 and will most likely die serving his sentence.
Photo courtesy of NY Daily News
Follow Preen on Facebook, Instagram, Twitter, and Viber
Related stories:
James Franco Accused of Sexual Misconduct by His Students
Stan Lee is Being Accused of Sexual Misconduct
The Rise of Sexual Assault Accusations Is Not a Witch Hunt
Finally, Here's How You Can Silence the Cat Calls and Wolf Whistles