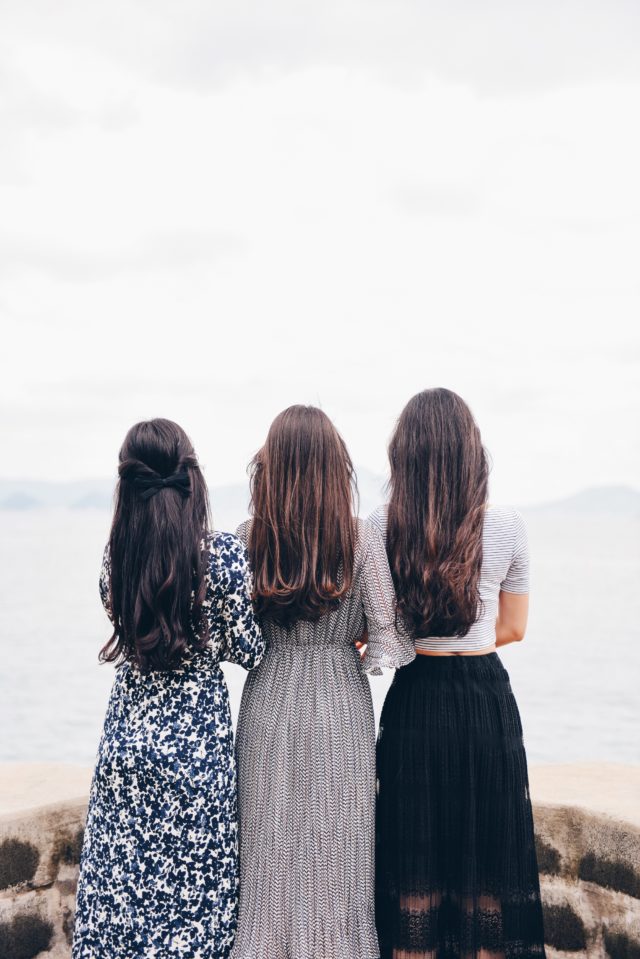 This column may contain strong language, sexual content, adult humor, and other themes that may not be suitable for minors. Parental guidance is strongly advised.
Recently, a cousin asked me if her father had ever made unwanted advances towards me. No, I told her, the creepy uncle who wanted me to lift my shirt so he could see my bra was from the other side of the family, and he was dead, and I felt no sorrow at his passing.
I once wrote about the father of a good friend who forced his way into my hotel room in Europe many years ago when I was living in Paris. It amused and saddened me that friends who'd read the article were more concerned about who that "tito" might have been, instead of the harrowing experience I'd been through some 30 years before.
Statistics have shown that in most sexual harassment and assault cases, the perpetrator is known to the victim. But naming the perpetrator once a woman goes public with her ordeal opens a whole Pandora's box of horrors, as one of Harvey Weinstein's victims, Asia Argento, discovered in her own native Italy.
Personally, I was fortunate to extricate myself from these deeply unnerving situations physically unscathed for the most part, despite being manhandled—excuse the pun—to a certain degree. But at my core I was shaken, rattled, fearful yet aware that I needed to compose myself and suppress the unpleasantness of the episode and continue with my life.
The strangers were easy to dismiss; the likelihood that I would ever bump into them again was virtually non-existent. It was the ones who fancied themselves my "friends" or "titos," or who were lamentably related to me one way or another, that made me want to throw up every time I'd see them. How many times would I roll my eyes when a girlfriend rhapsodized about how wonderful her husband was, the very same husband who tried to jam his hands inside my pants before they got married? Or when my friends would extol their tycoon father's sterling character, the very same father who tried to press his disgusting lips upon mine? As for my creepy now-deceased uncle? Perhaps my cousins considered him to be a good father. But he was always scum to me.
I don't care to name these men, in part because I don't care to rehash the unpleasant experience of being pawed by their disgusting hands, but also because, to quote Annabella Sciorra, who spoke to Ronan Farrow in The New Yorker about being raped by Harvey Weinstein, "Now when I go to a restaurant or to an event, people are going to know that this happened to me. They're gonna look at me and they're gonna know. I'm an intensely private person, and this is the most unprivate thing you can do."
Another woman, preferring to remain anonymous, told Farrow, "I want to be braver. I really do. I want to be able to put my name to this and talk through what happened, but I am surrounded by people who, the first thing they'll do is read this article, and I'll be working three desks from them, and they'll know details of my life I haven't even told my family."
And yet, as difficult as it has been for many women to come forward, their bravery in speaking out has emboldened other women, too, as the #MeToo campaign has proved. And, it has resulted in real consequences for serial offenders who cloaked themselves in the specious security of financial settlements and non-disclosure agreements. Harvey Weinstein, it has been said, is just the tip of the iceberg when it comes to the film industry. In fashion, Terry Richardson, the fashion photographer with a penchant for waving his penis in model's faces while shooting them, is the latest to feel the backlash, with the likes of Conde Nast, Hearst and Porter, not to mention fashion houses such as Valentino, Bulgari, and Diesel, blacklisting him. This, despite the fact that allegations of sexual harassment—corroborated at that—came to light already in 2014, which did result in Richardson losing several plum assignments, only to crawl back into favor by 2017.
It was no secret in the fashion industry that Richardson was a disgusting pervert who pestered models with unwanted sexual advances. Yet it is only now that he is finally getting the industry-wide Harvey Weinstein treatment. Why now and not before, despite the evidence and the growing chorus of voices denouncing him? A former co-director of a modeling agency, Carolyn Kramer, acknowledged in The New York Times that the complicity was industry-wide, too. "It all came back to the money. If an agency sees potential in a 15-year-old girl, then it doesn't matter to them what may be happening behind the scenes if the girl can get a campaign. I give myself a C- for what I was able to accomplish to protect my girls. We all sold our souls to the devil so the model could become famous."
Asia Argento, who has been painfully candid about her relationship with Harvey Weinstein, knew that her ensuing consensual sexual relationship with him despite the initial assault could be construed as complicating the issue, painting her as a slut who "asked for it" instead of a victim whose plangent "no" was ignored repeatedly. And indeed, that seems to have been the case in Italy, where her compatriots, the majority of them women, have taken with rather unabashed glee, to pillorying the actress.
But Asia's actions are not in themselves unusual. Jessica Knoll, speaking to The Cut as part of the #MeToo campaign, remarked:
"That I fraternized with my attackers for the remainder of high school and even into college does not make my account suspect, it makes it textbook.
"And yet, while this behavior is hardly abnormal for so many women, it is behavior that is consistent with how we think a 'victim' of violent crime should behave; broken and bedridden, shrinking like a violet whenever she encounters her assailant by chance, never by her own design."
I may not have been able to avoid seeing the creepy uncle or the grasping "tito" at family gatherings or social events, but there was no damn way I was ever going to greet them with a kiss.
B. Wiser is the author of Making Love in Spanish, a novel published by Anvil Publishing and available in National Book Store and Powerbooks, as well as online. When not assuming her Sasha Fierce alter-ego, she takes on the role of serious journalist and media consultant. 
For comments and questions, e-mail [email protected].
Disclaimer: The views expressed here are solely those of the author in her private capacity and do not in any way represent the views of Preen.ph, or any other entity of the Inquirer Group of Companies.
Photo courtesy of Unsplash
Follow Preen on Facebook, Instagram, Twitter, Snapchat, and Viber
Related stories:
Rape Culture Has Nothing to Do With Desire and Everything to Do With Power
Does Girth and Length Depend on Race?
What's the New Nickname for the 21st Century Sugar Daddy?
A Fact We Should Know by Now: Being Gay Does Not Make Anyone Less of a Man