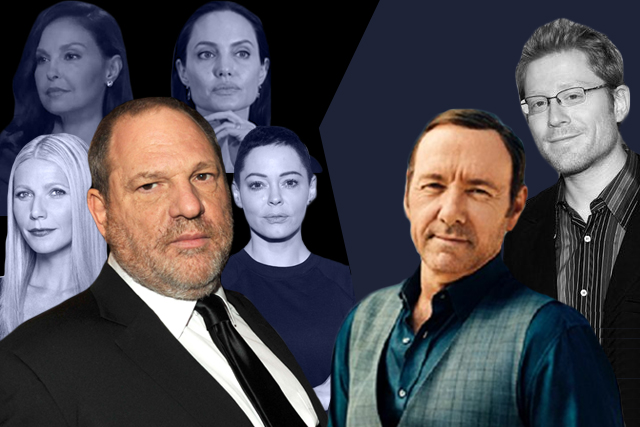 This column may contain strong language, sexual content, adult humor, and other themes that may not be suitable for minors. Parental guidance is strongly advised.
So the pebble thrown into the ocean of sexual harassment and assault has swelled into a tidal wave, drowning a veritable who's who of Hollywood's most powerful men, from Harvey Weinstein and Brett Ratner to Louis C.K. and Kevin Spacey, under the exhaustively investigated and corroborated accusations brought forth by other industries, including fashion and media, have also been engulfed in this tidal wave, and rightly so. For the longest time, each pebble thrown in barely even caused a ripple. In the case of Bill Cosby, more than 60 women have been throwing pebbles in that ocean for 40 years, and a jury still believed, in the case of one of Cosby's accusers, that she had "asked for it."
Harvey Weinstein's predatory career continues to be exhaustively documented, as scores of women have come forward after decades of keeping fearfully silent, revealing a disconcertingly consistent modus operandi of what Ashley Judd called "coercive bargaining." Everyone in the film industry, it seemed, knew about Harvey Weinstein, but no one did anything to stop him—until now.
And recently, it was revealed that Weinstein had hired ex-Mossad spies to dig dirt on his would-be accusers, with some befriending the women and posing as "potential collaborators on women's empowerment issues," in order to extract information that could strengthen his arsenal in a "negative campaign" that would destroy any woman who dared to accuse him publicly. Rose McGowan was the target of one such covert operation.
Apart from revealing that Weinstein was a far more disgusting and arrogant pig than was previously imagined, paying operatives particularly known for their ruthlessness shows that he knew exactly what he was doing when he invited actresses and models and female crew members and employees to his hotel room. He knew exactly what he was doing when he asked them if they wanted a massage. He knew exactly what he was doing when he forced them to watch him shower or masturbate into a potted plant.
And yet many of these women, for years, believed that no one would believe them if they came forward with their stories, because Harvey Weinstein was too powerful and made too much money for Hollywood and Hollywood had a reputation for coddling power and money and turning a blind eye to sexual harassment and assault.
Countless women had to tell their stories to The New York Times and The New Yorker, two of the most respected publications in the world today, hailed for their journalistic comprehensiveness and integrity, before the public took serious notice.
Which is great, if a long time coming. The once powerful Harvey Weinstein is now a pariah in the town he once lorded over, and may soon be facing criminal charges.
Yet it took SO MANY WOMEN to come forward. Compare that to accusations against Kevin Spacey, another tidal wave in the making. All it took was ONE MAN to come forward with his story of how, in 1986, the then-closeted actor made unwanted sexual advances towards him, a 14-year-old boy performing on Broadway.
Anthony Rapp has thanked the women who have come forward with accounts of their own experiences at the hands of sexual predators for empowering him to speak out. It must have been difficult for Rapp, I can imagine, because of the stigma attached to male-on-male sexual assault, which happens, perhaps not at the same frequency as sexual violence against women, and the trauma is just as real, and deep and lasting.
Yet there is a marked difference in the way Rapp's allegations were greeted by the public. Yes, the repercussions were swift. Spacey immediately issued an apology, and took the opportunity to announce that he was gay. Netflix cancelled the next season of House of Cards, effectively firing Spacey. Ridley Scott decided to re-shoot all of the Kevin Spacey scenes in the soon-to-be released movie, All The Money in the World, replacing him with Christopher Plummer, whom
Scott now claims was his first choice all along. And more accusations have come to light, lending credence to a pattern of predatory behavior on the part of Spacey.
But did anyone stop to ask what Rapp was wearing at the time of the incident? Did anyone wonder if he was drunk when it happened? Or indeed, why he let it happen? If he was coming on to Spacey and "asking for it?"
NO ONE did. Because it didn't have any bearing on the issue. Rapp accused Spacey and he was believed immediately.
As @alisongrippo pointed out on Twitter, "It took one man to topple Kevin Spacey. 100s of women have come forward about countless men and still we 'wonder'."
Are we still going to wonder when the next woman comes forward to accuse another powerful, high-profile man of sexually assaulting her? Are we still going to wonder when allegations of sexual harassment are brought forth by a female employee against her male superior in the workplace? Are we still going to wonder when a young woman found unconscious by a dumpster after a college party claims to be have been raped by a rich, entitled, and white Olympic hopeful studying at an Ivy League university?
Or will we listen to her story and believe her?
B. Wiser is the author of Making Love in Spanish, a novel published by Anvil Publishing and available in National Book Store and Powerbooks, as well as online. When not assuming her Sasha Fierce alter-ego, she takes on the role of serious journalist and media consultant. 
For comments and questions, e-mail [email protected].
Disclaimer: The views expressed here are solely those of the author in her private capacity and do not in any way represent the views of Preen.ph, or any other entity of the Inquirer Group of Companies.
Art by Lara Intong
Follow Preen on Facebook, Instagram, Twitter, Snapchat, and Viber
Related stories:
Comedian Louis C.K. Admits to Sexual Misconduct
See Ed Westwick's Response to Rape Allegations Against Him
What Are the Effects on Women Who Come Forward About Sexual Assault
The Importance of Teaching Feminism at a Young Age