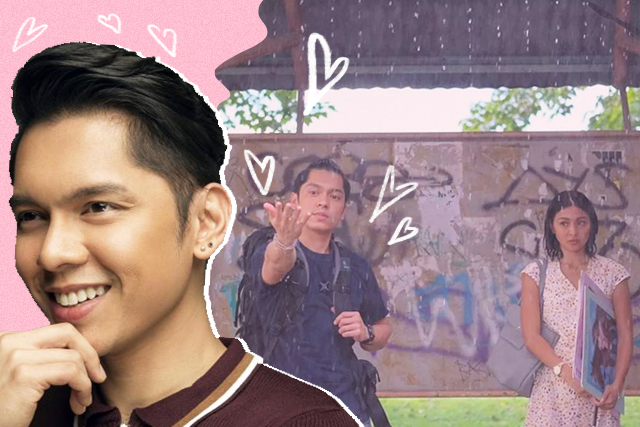 I'm sure you've heard, Nadine Lustre and Carlo Aquino are starring together in a film titled Ulan. Now, the Ulan teaser—or lack of it—has gotten fans running off with their wild imagination. Since at the moment we don't have anything to go on, except behind-the-scene shots from the film's official IG account, and the photo Carlo posted on his IG of him and Nadine standing in a waiting shed while it's raining, which he captioned "Uy si Peter nga pala." We assume that Peter is his character. But forget about Peter. For us, this photo of him with his backpack and college get-up is all about Carlo Aquino and how he's exactly that one guy we have encountered at some point in or lives. These ladies know.  
Carlo Aquino as the funny and lovable dude who made you fall but won't even fight for you
Ugh Carlo Aquino looks like that dude I fell in love with because he was just so down to earth and jologs kind of funny (my type) and simple lang ang buhay at mahal na mahal yung mama niya pero in the end di niya pala ako kayang panindigan kasi duwag siya ANO BA https://t.co/kNw4ubDoxT

— locus xandi (@xandicheeks) October 16, 2018
Carlo Aquino as the cute and super friendly guy who's secretly flirty
Very apt yung mga Paolo Avelino at Carlo Aquino as UP student characters 'no. Sila yung mga upperclass mong laging may smiley pag nagchat tapos cooperative sa group works tapos pag party puta minimum of 3 yung nakaka-momol pic.twitter.com/ThLnnTjJqB

— Seth (@sethlucena) October 16, 2018

Carlo Aquino as the softboi you fell for
Carlo Aquino is that cute GE classmate that sparks your interest and always says the right things and is always endearingly charming but surprise he's like that to everyone and umasa kang special ka so sinong tanga ngayon

— clara (@irresolutemind) October 15, 2018

Carlo Aquino as the guy who ghosted you
Si Carlo Aquino yung classmate mo sa GE na ang bait sayo tas lagi ka sinasamahan maglakad tapos sabay kayo maglunch tapos sasabayan ka mag-aral sa lib kahit di naman sya mag-aacads tapos ililibre ka ng canton tapos after ng sem di ka na papansinin pakshet sya https://t.co/vP10lUdhaV

— Snore-lex (@claribabes) October 16, 2018
That one photo of them on the waiting shed has also given birth to fan theories and fanfiction. And they're gold.
Carlo Aquino as the Prof?
he's that prof taking up MA that always passes off as an undergrad but surprise he's actually the teacher

lives in some nearby dorming (knl probably) and hangs out in up even during the weekends

who knows you might even encounter him at an inuman place

— clara (@irresolutemind) October 16, 2018
Carlo Aquino as the ~typical~ UP Engineering-to-Fine Arts shiftee?
Carlo Aquino entered UP in 2012 and spent three years in geodetic engg before he realized he wanted to study three-dimensional art so he shifted to art stud and met Nadine, an FA girl, when she took a Sofie Guillermo class as an elective and they spend lunches eating in Vinzons https://t.co/2nGwGScMxZ

— Lakan (@immanuellakant) October 16, 2018
Carlo Aquino as Nadine's tutor turned lover?
carlo aquino is that ChE student who managed to pass ChE 122 after 4 takes, was classmates with nadine on his third take and started dating her from there https://t.co/LKoAebg0of

— Jared (@Jurerd) October 16, 2018
Carlo Aquino as the peddler ???
Carlo Aquino is actually a peddler going from classroom to classroom to sell his goods. If you open his bag, you'll find his stash of dried mangos, otap and barquillos. He frequents AS, Engg and is often seen near the Vanguard Bldg walking to Commonwealth.

— Kupal Sa Gig (@KupalSaGig) October 17, 2018
Art by Marian Hukom
For the latest in culture, fashion, beauty, and celebrities, subscribe to our weekly newsletter here  
Follow Preen on Facebook, Instagram, Twitter, YouTube, and Viber
Related stories:
Is Carlo Aquino getting paired up with Nadine Lustre in a new film?
LOOK: Angelica Panganiban's touching birthday message for Carlo Aquino
Angelica Panganiban and Carlo Aquino revisit the past in new teaser
Another reason why #CarGel should date again: this kiss