View this post on Instagram
It's important to set boundaries with people, especially with our friends. Jessy Mendiola emphasized this in an Instagram Story, saying that she wasn't happy about how some of her male friends would treat her.
"Hello, male friends. Next time you ask for a picture, please do not touch my waist without my permission. It's inappropriate," Jessy said in her post yesterday.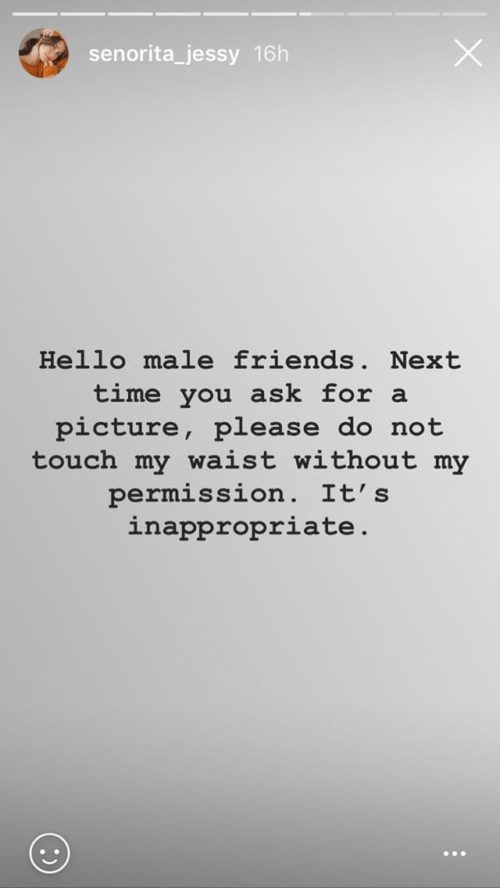 Before some of you preach that it was probably an innocent gesture on her friends' parts, let's not discredit the fact that something like this can be uncomfortable for some, if not many, women. I personally encountered guys who would ask for permission before putting their arm around someone's shoulder or giving them a friendly hug when they're meeting new people. It's not that hard to ask, and if women say no, you just back off and don't do anything they didn't consent to.

Good on Jessy for bringing this to light. It's also a reminder that just because she's a public figure, it doesn't mean that she should just stomach all the inappropriate touching. So if there are guys reading this right now, please take note!

[Inquirer.net]

Photo courtesy of Jessy Mendiola's Instagram account

For the latest in culture, fashion, beauty, and celebrities, subscribe to our weekly newsletter here  

Follow Preen on Facebook, Instagram, Twitter, YouTube, and Viber

Related stories:
Is Jessy Mendiola picking between these two designers for the ABS-CBN Ball?
Bela Padilla and Jessy Mendiola are not here for your body shaming
Teaching men about consent is easier than defending accusations
Atty. Harry Roque admits Duterte does inappropriate things and still defends them