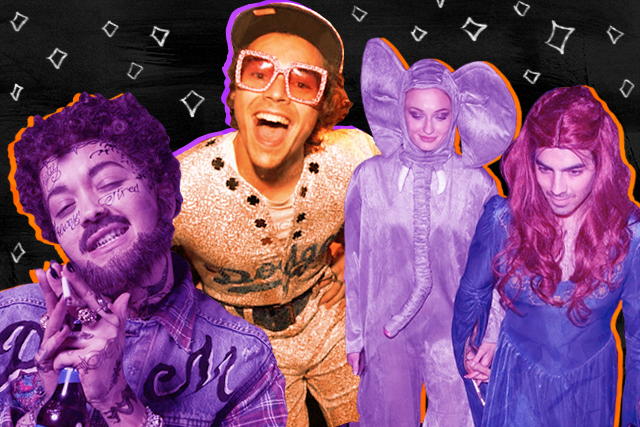 Halloween is here! Of course, we're watching out for the best costumes. We love being surprised by the creativity of Halloween-goers—celebrities, particularly, 'cause you just know they're going all out and unafraid to be extra. Judging from our feeds, so far, we're not disappointed. Noah Centineo's Gaston costume, for instance, gets a thumbs up from us. Aside from fictional characters, it's always fun to see how celebs pull of imitating real-life characters and fellow celebrities. Here are some that have caught our eyes.
Joe Jonas as Sansa Stark
They say couples who stay together eventually look alike, or in some cases, partner tends to dress like his/her SO. Joe Jonas took that to a whole 'nother level when he dressed up like his fiancee Sophie Turner for Halloween. Well, not her exactly, but her most known role to date—Sansa Stark in Game of Thrones.
https://www.instagram.com/p/Bpfez_XgZcz/
Nicky Hilton as Paris Hilton
Sisters always borrow clothes, which usually ends in some kind of disagreement. For Halloween this year, Nicky Hilton borrowed her sister Paris' iconic 21st birthday look. Giving us some serious 2000's nostalgia, Nicky rocked the deep cowl neckline dress, diamond choker, and even the tiara. Paris is far from furious though, and even commented "That's hot" on the photo.
Olivia Munn as Awkwafina
Olivia paid homage to her fellow Asian sis Peik Lin aka Awkwafina in her role in Crazy Rich Asians. She wore the recognizable red top—the bunny prints replaced by Hello Kitty—over a white, long sleeved, button-up polo and striped trousers, plus a short blond hair. She posted the outfit on Twitter with the shoutout: "Happy Halloween to everyone, but especially to all you crazy rich Asians!!"
Happy Halloween to everyone, but especially to all you crazy rich Asians!! #peiklin #crazyrichasians 💁🏻‍♀️🎃 pic.twitter.com/cUOBsKIAkM

— o l i v i a (@oliviamunn) October 27, 2018
Harry Styles as Elton John
Singer Harry Styles paid homage to another great musician, Elton John. Elton has had numerous iconic outfits, but Harry went for his 1975 Dodgers concert, complete with the crystal-covered baseball cap and sleeves, and of course, the oversized, embellished sunglasses. He pulled this off nicely, we would've loved it if he performed some of his songs, too.
https://twitter.com/annaleszkie/status/1056096784286662656
Rita Ora as Post Malone
Yeah, the others are good, but we think Rita takes the cake for this one. She went all out to recreate Post Malone's look, and it paid off. With the tattoos—including his face tattoos—the curly hair and beard, the bling, plus props like a bottle of Bud Light and a stick of cigarette, she was barely recognizable and could seriously pass as the rapper's double. Post has yet to comment on the actress' tribute, but netizens have already given her the crown for this year's Halloween.
https://www.instagram.com/p/BpaOD76HQS8/?utm_source=ig_embed