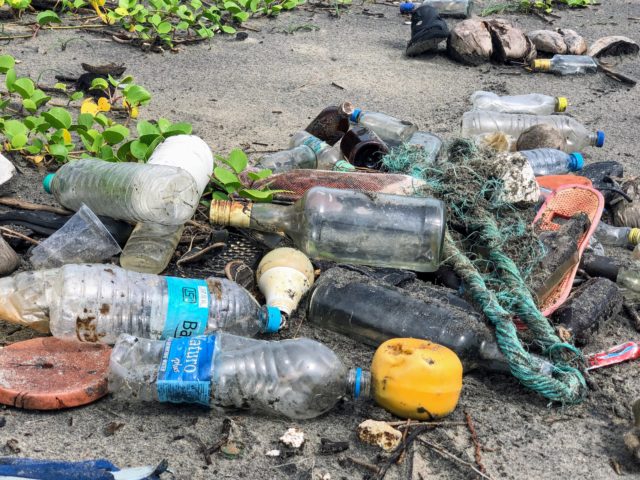 Ah, La Union. I haven't been there in a couple of years but I remember going to two surf breaks in 2015 and 2016. This was only a few years ago but I can already see the difference in how the beach is treated. In 2015, there was definitely a crowd but not enough that it was uncomfortable for anyone. That weekend felt like a bunch of friends getting together to hang out by the beach with great music and food.
Fast forward to the next year and so much has changed. First, it was insanely traffic. It took us twice the amount of time to get there as compared to the year before. Once we arrived, I was surprised to see how chaotic it was, both on the street and the beach. I'm all for people having fun but there's a way to do it without harming the environment. We stayed an extra day and once the holiday crowd had gone, La Union was left with their trash.
Now, in 2018 it seems that things have not gotten any better. If you look through social media, you will probably only see the good side like beautiful sunsets and great surfing waves. But, what people fail to see is the bad side. On Facebook, a netizen wanted to give us all a reality check and posted this photo.
https://www.facebook.com/fitdotcom/posts/10156839247952430
It was a picture showing the beach crowded with people and their trash. In the caption he said, "Welcome to our little surf town where the waters and turtles chew trash in just [a] few minutes. So sit back and just leave your trash. They will do the 'janitoring.' Enjoy!"
For those just visiting this little town, please think of the people who actually live there. Once you leave, there are those who will wake up to the empty bottles you left on the beach. Don't leave it to them to clean it up, you should be able to do it yourselves. And, for the trash that doesn't get cleaned, it will end up in the water eventually harming even more of the environment.
As someone who has been there for both the good and bad, it is disheartening to see how much has changed in such a short amount of time. But, I'm trying to stay positive because there is still so much we can do to turn things around.
Clean it up
If you're drinking or eating on the beach, don't forget to clean up after yourself. Pack everything up and dispose of it once you leave. Oh, and don't forget to segregate your trash accordingly too.
Go zero-waste
As much as possible try to go zero-waste. Bring your own reusable straws, utensils, and cups to lessen the trash accumulated by everyone there.
Order what you can consume
When it comes to ordering drinks and food, make sure to only order what you can finish. So many times I have seen half full beer bottles and half eaten burgers in the trash.
If we follow these easy steps, places like La Union and the rest of the world might just have a fighting chance.
Photo courtesy of Unsplash
For the latest in culture, fashion, beauty, and celebrities, subscribe to our weekly newsletter here  
Follow Preen on Facebook, Instagram, Twitter, YouTube, and Viber
Related Stories:
Battle the smells of pollution with a quick hair fix
Brushing your teeth shouldn't harm the environment
Joking about food delivery hotlines as "emergency hotlines" during a storm isn't funny
Here's how you can start to live a zero waste lifestyle