Ariana Grande is on fire. Both the track and accompanying video for "Thank u, Next" has been breaking records here and there. Ari has been teasing about the video of her smash hit the previous weeks so it's no surprise the release of the actual video broke the Internet. We're sure you've watched it on loop for the whole weekend. Not gonna lie, I did, too. Even so, there's a lot to take in with this video overloaded with pop culture references, so we don't blame you if you missed out on some things. There's actually more to it than the chick flicks and rom-coms it was inspired by. Check out Ari's sneaky easter eggs below.
Ari is sorry
The sudden news of Ari and Pete calling off their engagement took us by storm. We had so many questions, one of which was: Who called it off? While netizens had a hunch, the couple never really confirmed anything. But this video seems to have finally addressed it. The start of the video was already full of revelations. As Ari was singing about Pete, we see her writing in the Burn Book "sry I dipped" on Pete's page, which pretty much confirms the Internet's theory.
And for Pete, she's so thankful. #ThankUNextVideo pic.twitter.com/1r76RhcTyc

— E! News (@enews) November 30, 2018
Teaser on upcoming album
This isn't the first time Ari teased upcoming music in her music videos. She did it in the music video for "Breathin'" so we were definitely on the lookout while watching this one. During the Mean Girls scene when the Plastics are walking down the hall, instead of Regina's shirt which read "A little bit dramatic," Ari was wearing a shirt that says "A little bit needy," a reference to the song "Needy" off her upcoming album.
tell me how good it feels to be needed pic.twitter.com/myoGc788uV

— Ariana Grande (@ArianaGrande) October 5, 2018
mhmm @tbhits https://t.co/aQI6vjnP9X

— Ariana Grande (@ArianaGrande) December 1, 2018
That's not all. Later, in a Legally Blonde-inspired scene, we can see Ari riding the pink convertible as she makes her grand entrance at Harvard. Look closer and you'll notice her vanity license plate reads "7 Rings"—another track off her new album.
Lastly—the one you most probably missed—is the word "Imagine," which appeared during the Bring it On scene, when two of the cheerleaders were thrown in the air. "Imagine" is rumored to be another song on her album.
https://twitter.com/onlyagr/status/1068878010273677312
Frankie Grande cameo
It's no secret Ariana and her brother Frankie are close, so fans freaked out when they noticed he made an appearance (well, sort of) in this music video—not once, but twice. The first one was when Ari was dancing on her bed. Pause that, and look at the wall behind her. Yup, that's a signed poster of an ice skater who is actually Frankie! The second time he appeared was at the 13 Going on 30 dollhouse where his ice skater poster was again hung up.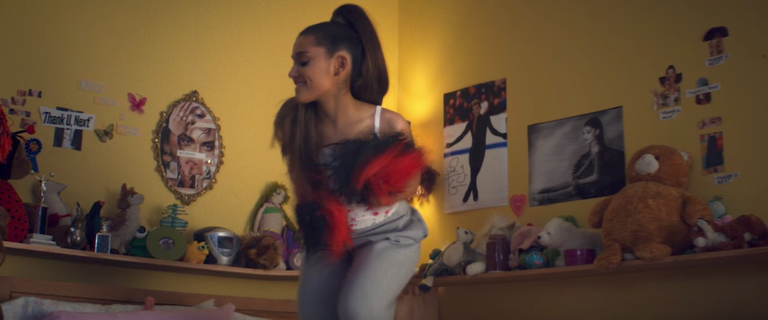 The Burn Cookbook
One of the things that made the music video such a delight to watch was seeing some of the original cast members of the movies join Ariana. Jonathan Bennett, who played Aaron Samuels in Mean Girls, was one of them. What many may not know is that he actually co-wrote a cookbook, aptly called The Burn Cookbook: An Unofficial Unauthorized Cookbook for Mean Girls Fans and he's holding it in the video.
If you want to know more about the book, Refinery29 reports that it's divided into eight different pun-tastic sections: "Whore d'Oeuvres," "Regina's All-Carb Diet," "I Really Want to Lose Three Pounds," "On Wednesdays We Eat, Drink, and Wear Pink," "Cramming for Finals," "Mean Grills (She Doesn't Even Grill Here)," "Happy Hour Is from Four to Six," and "Get In, Loser, It's Desserts."
IT'S THE BURN COOKBOOK!! #thankUnextMusicvideo pic.twitter.com/4tWwdVnqnq

— DorothyWonderland (@LlamaPallooza) November 30, 2018
Trump diss
Elle Woods is one of the baddest females in the chick flick universe, and Ari channels that in the music video. If you zoom in on the book she's reading while lounging-slash-studying, you'll see the title is Immigration and Refugee Policy. It was enough to set the Internet talking about how this is a timely statement on the current immigration crisis in the US.
Just watched #ThankUNextVideo and, of course, the one frame this public defender paused was @ArianaGrande with law school textbooks. *She's woke folks.* She's reading "Immigration and Refugee Law and Policy" with "Search and Seizure" & "Immigration & Naturalization Law" on deck. pic.twitter.com/shionNiSh0

— Scott Hechinger (@ScottHech) December 2, 2018
Art by Marian Hukom
For the latest in culture, fashion, beauty, and celebrities, subscribe to our weekly newsletter here  
Follow Preen on Facebook, Instagram, Twitter, YouTube, and Viber
Related stories:
How many chick flicks and rom-coms did you spot in Ariana Grande's new MV?
One time Ariana Grande dropped an MV teaser, and it was awesome
This is why Mac Miller's photo isn't in the "Thank u, next" music video
Will Ariana Grande feature her exes in the "Thank U, Next" video?