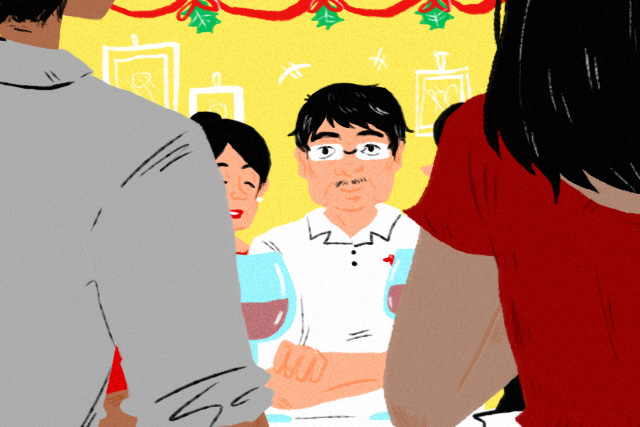 My boyfriend and I have been dating for a little over three years now. We've been through a lot, except for one thing: we both haven't met each other's families. Sure, we've met each other's parents, siblings, and close titos and titas, but not the whole lot. Some of you might think it's not a big deal but in Filipino culture, it's a little different. Many of us have big families with cousins in the double digits. You might not all be that close but during the holidays, everyone gets together.
This year, we decided that each of us will introduce the other to their respective families on New Year's Eve. Now, I think this is kind of a big deal so I'm mentally preparing myself. I'm a little nervous for him to meet some of my relatives—that's for another story—but excited to meet his. Personally, I'm a very anxious and worrisome person and I tend to overthink pretty much everything, including this. If you're going through the same thing, here's what I'm doing to mentally prepare myself.
Talk about it
One way to stay calm is by talking about it. For me, I first talked to my boyfriend. He helped me manage my expectations and I did the same. We also started talking about a little family history to better understand each other's relatives.
Prepare
Not everyone does it, but I think it's always best to bring something when you meet the family. Food is always good so weigh your options. Depending on what they like, you can bring pastries, alcohol, or an appetizer everyone can share before waiting for the full meal to be served.
Be yourself
Some people are so obsessed with making a good impression that they start to become someone they're not. They try to exude perfection but, let's be real, you don't have to be. Just stay calm and be yourself. Make jokes, tell stories, and just have fun.
So far, these are the ways I'm preparing myself for the big day. If you have any other suggestions, leave it in the comments section below.
Art by Marian Hukom
For the latest in culture, fashion, beauty, and celebrities, subscribe to our weekly newsletter here  
Follow Preen on Facebook, Instagram, Twitter, YouTube, and Viber
Related stories:
Martine and Cliff Ho open up about their long distance relationship
Camille Co celebrated her engagement in a Family Mart and a ramen place
Your zodiac isn't to blame for your failed relationships
My "live-in" relationship experience