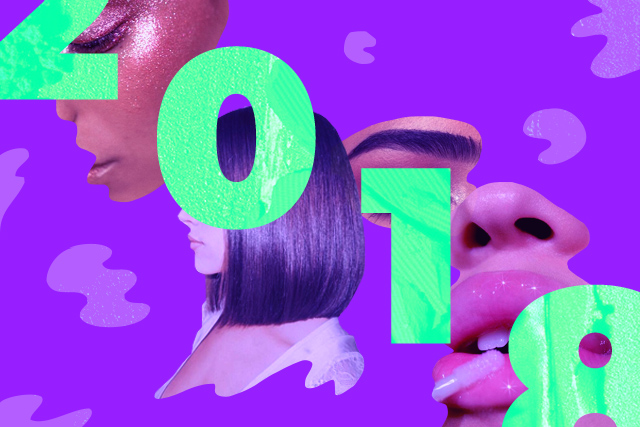 2018 was crazy. While it's different for everyone, I'm sure many would agree a lot of unexpected things happened this year. In terms of beauty, before the start of the year, gurus and experts had their own predictions. While they were spot-on for some, a lot of surprising beauty trends also turned up. Here are just some of the biggest, and most unexpected this year.
Glitter
As Vogue Australia noted, "This was the year of the 'Kira Kira' sparkle filter, which influenced beauty trends from the catwalk to our makeup bags." The glitter trend was officially given the nod by the fashion gods, when the look took over fashion shows. There was the Giambattista Valli fall runways in Paris where models' faces were literally covered in duo-chrome glitter. Gucci SS18 also saw models' inner eyelids in turquoise glitter. And at Anna Sui SS18, silver glitter were painted across in a vertical line from the centre of their lower lashline.
Beauty brands have made a way to incorporate it into their product thus making glitter much more wearable for ordinary mortals like us.
Year of yellow
Yellow highlighter may sound icky in theory, but it turned out to be one of the most beautiful trends of the year. Who knew it actually looks fresh and flattering on every skin tone? Thanks at large to Fenty's Killawatt Freestyle Highlighter in Trophy Wife for showing women how they can add a vibrant dimension to their cheekbones. Chanel also gave us a similar look at the runway for AW1, thus, officially heralding the new era in contouring.
The bold color transcended highlights too. The look created by Pati Dubroff on Margot Robbie is also credited for the surge of yellow makeup looks this year.
Glass hair
While there's also a movement towards the messy hair look, the immaculately sleek, straight hair called "glass hair" was also a big trend this year. It was hairstylist Chris Appleton, who created the look on his trendsetter clients, Kim Kardashian, Jennifer Lopez, Kylie Jenner, and Ariana Grande, who was credited for coining the term. He shared, "The inspiration was '90s swishy glass hair. I wanted to create a really intense shine and for the hair. "
Old-school gloss
The matte lips slowly gave way to this throwback trend this year. Vogue Australia notes that though glossy lips never really completely went away, it was Pat McGrath's LUST Gloss, with its "unapologetically glittery, thick, and shiny" look that ultimately signalled its official return "with the best lip gloss we've seen since the year 1998." It also complements the natural, dewy look that's also a big beauty trend this year.
Eyebrow-mania
https://www.instagram.com/p/Bh4JpdGgNDp/?utm_source=ig_embed
This year got particularly inventive about eyebrow looks. Not content with just the bushy eyebrows, many trends were born. Granted, a lot of them were too out-there. Like the garden-brows, halo-brows, fishtail-brows, tiger-brows, or the pencil-brows, which isn't what you might initially think. Basically, it makes your eyebrows look like actual pencils.
Colored Lashes
The eyebrows isn't the only thing people got experimental with. This year also saw women matching the color of their lashes to their eye shadow. Lili Reinhart even pulled this off at the 2018 Teen Choice Awards where she took "all-pink" to a whole 'nother level.
Art by Marian Hukom
For the latest in culture, fashion, beauty, and celebrities, subscribe to our weekly newsletter here  
Follow Preen on Facebook, Instagram, Twitter, YouTube, and Viber
Related stories:
High shine gloss is the beauty trend we're bringing with us to 2018
Here's when you can get Fenty Beauty's new highlighters
Let your lashes take center stage with these colored mascaras
This makeup trend lets you draw an IG window on your face