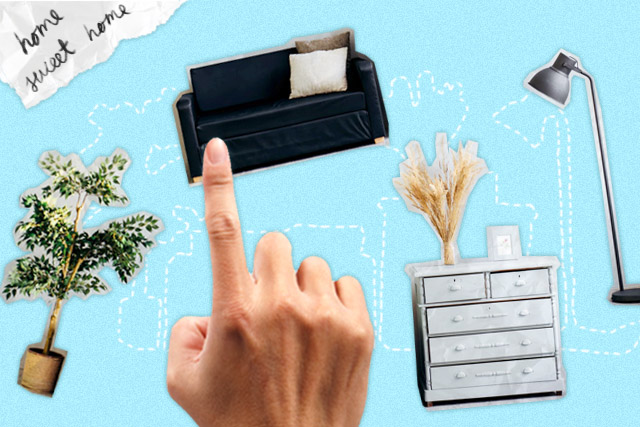 Every week, Preen tackles motherhood sans the rose-tinted glasses. Our columnists L. Juliano, Marla Darwin, Monica Eleazar-Manzano, Rossana Unson, Ronna Capili-Bonifacio, and Chrina Cuna-Henson tell their personal experiences like it is—at times frustrating, oftentimes confusing, but always enlightening.
Moving into a new home can be a very stressful transition for any family. I should know because I must have done it every year on average since meeting my husband over 12 years ago. Though it seems that each time we do it, we get better at it. I used to be very sentimental and would hoard every single item that would remind me of good times (i.e. sacks filled with handwritten letters and doodles from high school). I still am sentimental but I'm probably 80 percent better at letting go of physical stuff. You could say at this point that I have a PhD in moving homes. All the world's getting into a minimalist attitude and it surely does help in the big family department as I have absolutely no added space for any frills beyond the survival for three children and two adults. If there is one thing I thank modern technology for, it is this cloud space for storage of thousands of photos of my kids. Try explaining that one to very young children or the elderly—it is mind-blowing stuff.
On the contrary, I am now transitioning into full-root mode. After being vagabonds, we finally bought land in El Nido, built a proper three-bedroom home and are in the process of truly settling down. At the moment, we live, sleep, and work on the floors sans furniture, but all that is going to change real soon because I bought a ton of furniture online—yet another technological win for a newbie probinsyana like me. We blew a fortune on getting the proper key interiors to make our house a home. Instead of spending on a grand European vacation (my ultimate dream!), we chose to be responsible adults and parents and directed our funds towards making our living space more comfortable for us and the kids.
Here are my recommendations for furniture suppliers I have ordered from if you ever need to fill up a home without actually leaving your house:
Homestore Philippines
On the top of my furniture priority list was a vintage style, claw foot, freestanding bathtub. One of my friends recommended Homestore Philippines to me when I posted a shout out to Facebook over a year ago. I checked out their Instagram for their styles and models and made an order almost immediately. They are very accommodating and even arranged for the careful packaging and logistics of my shipping from Manila to El Nido. Highly recommended! For more information, visit their Instagram account.

Raw Tura
For furniture pieces that truly stand out, I like to support small local businesses. I randomly found Raw Tura (aka Not Your Ordinary Carpenters) on Instagram over the course of a few furniture obsessive nights and contacted them for a piece I wanted for my home. Custom-made pieces take awhile, but it is worth the wait. For more information, visit their Instagram account.

Rc Woodworks
I am a fan of the perfect fusion of form and function. This local Filipino wood artisan from Laguna makes a local version of the cajon, a box shaped percussion musical instrument originally from Peru. This piece is music to my ears! The frustrated drummer dreams from my childhood just had to have it custom-made for my home. Oh, and yes, I do plan to sit on it and make some music with my kids. For more information, visit their Instagram account.

Good Wood Manila
I am a mother so I had to find furniture pieces for my children and their homeschooling co-op classroom. Good Wood Manila has a collection of beautiful wooden pieces for your little ones. I requested for a piece to be made, and it was produced and delivered within a few weeks. If you are looking for special Christmas presents for your children, check them out. For more information, visit their Instagram account.
Metro Furne
Furniture pieces that are multi-purpose are so fantastic! I found Metro Furne on Instagram and loved that their pieces can be used in a multitude of ways. I bought the rocking boat which turns into a platform and a kitchen learning tower, which also can be used as a table and chair. I also find that small business owners are the perfect retailers to buy from because they promptly answer your questions. For more information, visit their Instagram account.
KLM Furniture
When I asked mothers for their local carpenter suppliers for pikler sets, one of my contacts online recommended KLM Furniture. They are a Cebu-based furniture company so ordering from them was a logistic nightmare (for me, at least) because they had to first ship product to Manila before another shipment came through to Puerto Princesa where I had to arrange pick up from to get to El Nido. I would think twice ordering from them again because of this very long process but if you are Cebu-based, they do a wonderful job at custom orders! For more information, visit their Facebook page.
Mandaue Foam
If there was a grand prize winner for best customer service, I would give it to Mandaue Foam's Facebook manager. For someone like me who relies heavily on online channels, I was very much pleased with their lightning speed responses to my queries. I was surprised to find out that you can basically order furnitures online via their website and then choose how you would like to pay. I just needed to check with them on which branches had all my orders so that I could schedule the pick up on their designated pick up point. For more information, visit their website.

All Home
Yet another super easy supplier to work with. I checked for their website on furniture pieces that I liked, contacted their mobile number and a representative got in touch with me right away via Viber. I absolutely loved that their staff was very tech-savvy and would easily send me photos of actual furniture pieces that I ordered. When I asked other suppliers to do the same, they did it via email or it took awhile before  actually sending it via Viber. For more information, visit their website.
Our Home
At first, I couldn't get through any of their online or social media channels but soon enough, I got their attention and the help I needed and their Megamall branch manager was very helpful in assisting with my orders. I think they have the most comprehensive line of updated furniture styles. For more information, visit their website.
Furniture Source Manila
Even if Ikea opening its largest store in the Philippines soon, some of us simply cannot wait two years. Furniture Source Manila has the most Ikea furnitures available already in Manila. They update their website and post regularly on Instagram. A customer service agent will communicate with you via Viber for your orders. For more information, visit their website.

Conner Furniture
When Furniture Source was too busy with their Anniversary Sale transactions (I can imagine that there were probably a looooot of people purchasing at one point!) I obsessed over at Instagram and found other online suppliers. Conner Furniture was one of them. They had instant replies and a very easy online transaction. Highly recommended if you just want a few key Ikea pieces for your home. For more information, visit their Instagram account.
Sourcing and buying the furnitures was just the first few steps. I had to find a third party to pick up the pieces at different stops in Manila (over the Christmas season traffic madness!) and get them all to the pier where actual shipping is done from Manila to El Nido. Transportify can get this service done for you. Because of the multiple stops over the holiday traffic, the driver was not able to get to the pier on time and had to bring all our precious furnitures worth a fortune back to their warehouse. You can imagine our worry about this set up. The next day, morning light graced us all when we found out that the truck driver finally was able to deliver the whole lot at the pier where San Nicholas shipping delivers direct to El Nido within a week.
Mercury Retrograde still found a way to bite me a second time, though! When my shipment finally arrived, the local crane here in El Nido broke and our batch was in the unloaded shipping cargos. We will check in a few days when the crane works again.
Tip: Think twice about buying big during Mercury Retrograde.
Disclaimer: The views expressed here are solely those of the author in her private capacity and do not in any way represent the views of Preen.ph, or any other entity of the Inquirer Group of Companies.
Art by Marian Hukom
For the latest in culture, fashion, beauty, and celebrities, subscribe to our weekly newsletter here
Follow Preen on Facebook, Instagram, Twitter, YouTube, and Viber
Related stories:
Kenneth Cobonpue furniture for each room in your space
Shop local fashion and furniture all under one roof this weekend
Solenn Heussaff goes into home decor
Here's how to redecorate your place just like Laureen Uy's renovated apartment