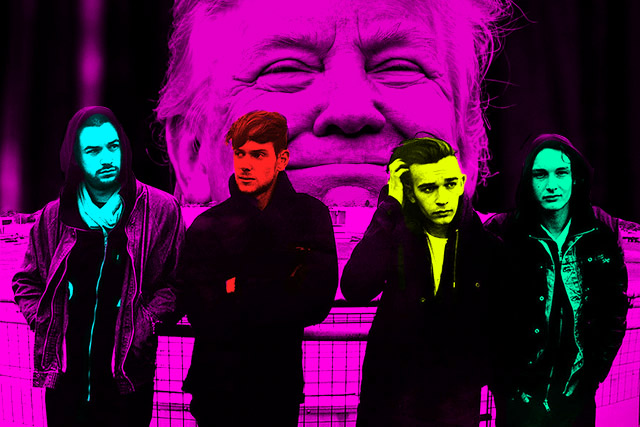 If you were to ask me what album I've been listening to nonstop for the past week, it'd be The 1975's A Brief Inquiry Into Online Relationships. Not kidding, I just finished listening to it again before I started this article.
The band, more notably their vocalist Matty Healy, has always played songs that tackled topics on drug use, relationships, and other experiences from their travels. In their latest album, it got a bit meta as the songs had themes on online dating, call-out culture, and the weaponization of social media.
That said, I'm here to talk about their song, "Love It If We Made It," which mentions a plethora of controversies in four minutes. It has a series of lyrics directed at US President Donald Trump, and they're not subtle either: "'I moved on her like a b*tch' / Excited to be indicted / Unrequited house with seven pools / 'Thank you Kanye, very cool' / The war has been incited and guess what? / You're all invited / And you're famous."
In interviews with Genius and Pitchfork, Matty shared how his bandmates noted the swear word in the lyrics above and possibly getting censored on-air. "That's a direct quote from the sitting president of the United States, and that's a weird reality," he said. "When the radio plays your songs, they don't play swear words. I would have to be censored for literally quoting the leader of the free world."
Matty's not wrong, though. Trump was recorded saying that inside the Access Hollywood bus with Billy Bush. In the same breath, he admitted to grabbing a woman by the p*ssy. Matty also made an excellent point at how Trump would rather play golf and acting like a crass character than be an actual leader—but I digress.
Back to the topic at hand. Being censored for an actual quote reminds me of how the Philippine Daily Inquirer was criticized for putting the F-word on the front page. But the question is: Was the newspaper indecent for making it their headline, for people of all ages to see? Or did you forget to look at a certain Philippine president who said the word in the first place?
It's the same with people who try to stop criticism of Duterte or Trump's comments, especially ones that are indecent and disrespectful. They say we're focusing too much on the negative, "they did good things for the country, too." Also, the golden statement, "It's just locker room/boy talk."
Yeah, sure, you can have your opinion. Here's some crappy news for you, though: We're still not going to ignore the fact that Duterte has a potty mouth and uses it to instill fear onto citizens. And also the fact Trump admitted to sexual assault like it's nothing.
Anyway, these are themes I could relate to "Love It If We Made It." It's also a testament to how intelligent The 1975's lyrics are when you find out the real meanings behind them. If you haven't listened to the full song, check out the music video then share your own observations after.
Art by Marian Hukom
For the latest in culture, fashion, beauty, and celebrities, subscribe to our weekly newsletter here
Follow Preen on Facebook, Instagram, Twitter, YouTube, and Viber
Related stories:
Donald Trump sexually assaulted women and it's on tape
Power and fame can't save sexual predators anymore
Female-fronted bands that flip off gender stereotypes in music
Hold your tears (or not): Music videos that'll make you feel all the feels