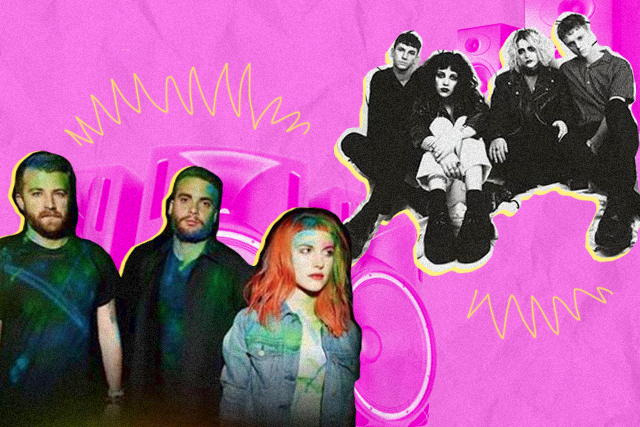 As I've mentioned in my essay on Paramore and their music, female-fronted bands have always fascinated me because of how the vocalists are holding their own in a male-dominated industry. There have been several across various genres in the past five decades or so, all trying to break gender stereotypes and standing up for their fellow ladies. 
Refinery29 did an in-depth look at how all-female band members were discouraged to pick up guitars and drumsticks. The automatic responses to seeing women in a band is that they're unladylike, whores, and other demeaning descriptors to undermine them and their musical talents because of their gender. But, as bassist Catherine Popper said, "We sing like angels, but we tell d*ck jokes, and we get gassy, and we talk sh*t about dudes. It's nice to group up and remember what it is we really do. That we're not angels, and we're not whores. We're just musicians."
That said, we listed down some female-fronted bands ranging from chill indie tunes to rock. Add them to your playlists if you like their music.
Pale Waves
Pale Waves is touted for their "'80s goth pop" sound inspired by icons like Prince and Madonna. Their vocalist Heather Baron-Gracie gets candid about personal issues like mental health and insecurities in "Noises," as well as youthful experiences in songs like "Eighteen" and "Kiss." Half of the band's members are female—aside from Heather, there's drummer Ciara Doran—which made them a target of misogynistic comments from both men and women. But what also saddens them is the blatant sexualization thrown at them and their labelmates The 1975. "Feminism isn't just about girls getting more power. We saw that a lot with The 1975. [The crowd] would just shout ridiculous, disgusting things. That was the only downfall [of the tour]," Ciara told Slug Magazine.
Flying Ipis
This local all-female band is known for their grungy sound and honest lyrics on sex, love, and everything in between. I once attended a talk featuring vocalist Deng Garcia where she recounted how they formed the band in high school and didn't care about the negative things people said about the band. Likewise, guitarist Ymi Castel is an advocate for LGBT and women's rights, and works for social consciousness NGO Dakila. She also plays for feminist band The Male Gaze.
The Male Gaze
As mentioned above, The Male Gaze is a feminist band with that's, according to Ozy, "out to flick a polished middle finger at gender stereotypes and 'perverts.'" It consists of Mich Dulce (vocals), Ymi Castel (guitar), Mariah Reodica (guitar), and Ristalle Bautista (drums). Their songs are said to be a combination of punk and grunge which can relay political messaging, especially living in a country where the president is fond of saying misogynistic things like shooting women in the vagina.
CHVRCHES
Synth-pop band CHVRCHES is led by vocalist Lauren Mayberry. Since their 2011 debut, the band has stood its own in the genre. Their music is fun and many people seem to enjoy them, but behind the scenes, Lauren has had to deal with sexist comments from online trolls. She opened up about her experiences in a The Guardian essay, saying that she received rape threats in the past. She's also openly supported the #MeToo movement in the music industry. "The film world feels like a smaller world than music," Lauren said. "And it's unionized in a way that music isn't, and everyone knows each other—actors will be going up for the same jobs. In music, everyone's working on their own separate projects. Who's the person you complain to?"
The Pretty Reckless
When The Pretty Reckless came into the scene, many in the metal world would argue if their music fit the genre. The band was also questioned for how they've "exploited" vocalist Taylor Momsen's (you might know her as Jenny from Gossip Girl) body in past music videos. (She was 17 when TPR released their first single and video "Make Me Wanna Die," but she hardly ever showed any private body parts there.) But really, Taylor has always owned her sexuality and made it clear that she didn't want to be part of the "teenage celebrity went wild" narrative because of her decisions and how people—mostly paparazzis—have framed her. And when it came to sexism in rock music, she simply told Billboard, "I don't really think about it as gender-separate—if you can write a good song, you can write a good song."
HAIM
Ah, the HAIM sisters—a lot of people just want to be part of their brood, including Brie Larson. The all-female band have been playing music since 2006 and have two albums under their sleeves. Their music has been compared to '70s soft rock band Fleetwood Mac with R&B influences at times. Aside from selling out shows, HAIM uses their voice to speak out about inequality in hiring women for studio work, as well as their personal experiences at festivals including one incident where they were mistaken as another band's entourage. "I got on a golf cart this one time and the guy said, 'Miss, get off.' I said, 'I play in Haim.' He said, 'Never heard of you, please get off.' Is that how you look at me, for real? I couldn't possibly be playing—I must be someone's girlfriend," Alana Haim told Rolling Stone.
Art by Marian Hukom
For the latest in culture, fashion, beauty, and celebrities, subscribe to our weekly newsletter here
Follow Preen on Facebook, Instagram, Twitter, YouTube, and Viber
Related stories:
Paramore and thoughts on outgrowing their music
This is how Stephen Curry fights gender inequality for his daughters
Press play: 5 empowering female musicians
Dance to this playlist at your upcoming weekend party
WATCH: Brie Larson troll Haim as their 'fourth sister'