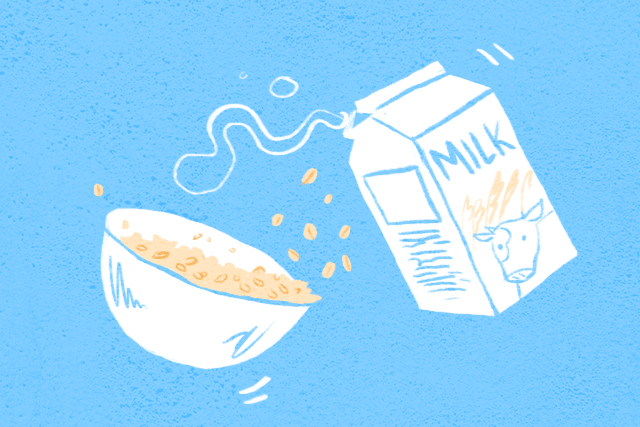 Soy and almond, move over. This 2019, your lactose intolerant or vegan buddies will most probably be asking for "oat millk" to go with their coffee or even cereal. Along with malunggay or moringa, oat milk is among the top food trends predicted to take over this year.
What exactly makes oat milk poised to be the leader of the non-dairy aisle? According to USA Today, aside from being completely vegan, it's also nut-free, and possibly gluten-free. (Though all oats are naturally gluten-free, it still depends on where the oats are processed.) It's also "creamier than most of its counterparts, has more protein than nut milks, and more fiber than any milk substitute." Business Insider additionally notes that "oat milk is a more sustainable and less water-intensive milk alternative than almond milk, and it's often less expensive.
According to The Alternative Daily, the smooth, creamy oat milk not only helps you avoid the most common allergens, reduce the risk of anemia, boost immunity, and lower cholesterol. It also boosts skin health, provides relief from shaving, itchy scalps and dry hair. Here are some oat milk beauty products you can check out.
Klorane Ultra-Gentle Shampoo with Oat Milk
Klorane's Ultra-Gentle Shampoo with Oat Milk deeply cleanses, while promising to preserve the natural balance of all hair types and scalp, even the most fragile and sensitive. It has a gentle yet rich formula, which detangles and protects your hair, while keeping it soft, shiny, and healthy. Available online.
Lush King of Skin body butter
You have to try Lush's King of Skin if your skin is in some desperate need of nourishment. Or if you just want to pamper yourself. Its blend of oat milk, bananas, avocados, and butter give it a scent's that's almost good enough to eat. The oat milk's antihistamine, complemented by the avocado's nourishing unsaturated oils and the banana's natural emollients will surely give you soothed and hydrated skin. Available at Glorietta 4.
The Happy Organic Strawberry Milk and Oats body scrub
The Strawberry Milk & Oat Scrub is a sweet, strawberry-scented exfoliating scrub made with milk powder, sea salt, organic oats, and fruit extracts. Its formula works to lift away dead skin cells, dirt, and excess sebum, as well as treat acne, eczema, rashes, and rosacea—all while giving you softer and more radiant skin. Available online.
Kahilom Coconut Milk and Oatmeal soap
This local shop which champions mindful living is known for their sustainability efforts. The Coconut Milk and Oatmeal Soap, homemade by Daniela Calumba, is one of the best products they carry. It gently exfoliates and soothes dry, irritated skin while deeply moisturizing. Daniela says it can be used as a shampoo bar too. Available at The Hub, Escolta.
Archipelago Gentle Oat Proteins body lotion
Archipelago Botanicals' Gentle Oat Proteins lotion is blended with dried milk solids and enriched with natural jojoba esters to keep skin looking and feeling soft and supple. It also has a non-greasy formula and is not heavily scented, and safe for those with sensitive skin. Available online.
Snoe Ot's Oat-K! It's Alright! Foaming Cleansing Oil
This 3-in-1 It's Oat-K! It's Alright! Foaming Cleansing oil from the cult-favorite, local beauty brand acts as a makeup remover. facial crème wash, and face Conditioner. It contains goat's milk, oat extract, pili nut oil, and acerola cherry that removes stubborn dirt and excess oil while helping calm and soothe skin. According to their site, "This non-irritating cleanser conditions to help reduce the appearance of redness and relieves tightness." Available on Zalora PH.
Art by Marian Hukom
For the latest in culture, fashion, beauty, and celebrities, subscribe to our weekly newsletter here  
Follow Preen on Facebook, Instagram, Twitter, YouTube, and Viber
Related stories:
Malunggay is apparently 2019's "new matcha"
The literal cherry on top for your beauty routine
Let the pumpkin spice obsession make its way to your beauty routine
Catch up on the cannabis beauty trend, minus the high