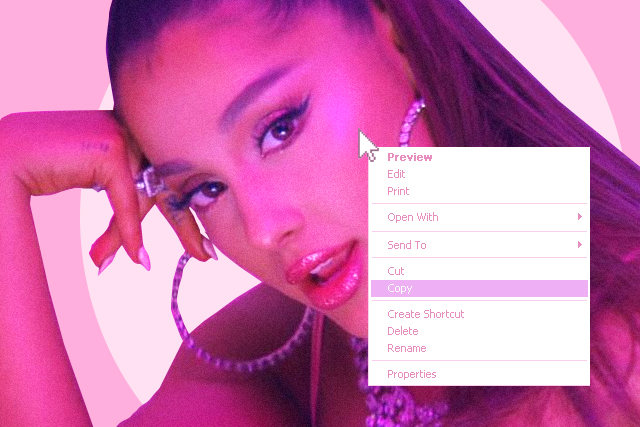 Ariana Grande just released her new song with the accompanying music video to boot, and as expected, it broke records. It has also launched a thousand hilarious memes. But that isn't the only thing it gave birth to. After the initial buzz died down, some people began to point out that "7 Rings" sounds like other artists' works. Now, you know this is a serious allegation. On top of that, she's being accused of culture appropriation. As one of the biggest and most influential artists today, her actions weigh harder than most, so this too should not easily be disregarded.
Before you make any quick judgements, let me walk you through the controversy surrounding "7 Rings." Here's everything you need to know about them:
Soulja Boy
In the video, after Ari sings her own version of "My Favorite Things" from The Sound Of Music, she smoothly transitioned to "7 Rings." Some fans were quick to notice this opening bares a striking resemblance to "Pretty Boy Swag," a song by rapper Soulja Boy. Interestingly, prior to this, Soulja also recently made headlines for a similar issue. In an interview with The Breakfast Club, he accused Drake of stealing his lyrics and flow. Though it has been the subject of many memes, many agree he has "never received the appropriate accolades for his work, or even the basic respect he deserves for launching the career of one of pop's biggest names," as HelloGiggles noted. "For Grande to use his cadence with no credit is not only a slap in the face, but an especially bad business move as well. Soulja Boy is clearly very open when it comes to popping off about unauthorized uses of his material," the outlet added.
True enough, once he got wind of the situation, Soulja's response was direct and savage. He tweeted the singer multiple times, even writing "You're a thief."
Give me my credit. Period https://t.co/Akhp2BXcuY

— Soulja Boy (Draco) (@souljaboy) January 19, 2019
Lol stop stealing my swag. Word https://t.co/jIMnD5m5U8

— Soulja Boy (Draco) (@souljaboy) January 19, 2019
You're a thief https://t.co/PyVaP69Jzu

— Soulja Boy (Draco) (@souljaboy) January 19, 2019
Maybe Ari's team should have taken a cue from Beyoncé, who legally sampled "Pretty Boy Swag" for her 2016 track, "Hold Up."
Princess Nokia
Meanwhile, Princess Nokia directly accused Ari of copying her own song before fans did. In a since deleted Instagram post, the singer pointed out that her song, "Mine," which was released in 2017, sounds too much like "7 Rings" and she's visibly annoyed. "Does that sound familiar to you? 'Cause that sounds really familiar to me," she said in the short clip which shows her listening side by side to the two songs. "Ain't that the little song I made about brown women and their hair? Hmmm, sounds about right."
If you listen closely, you'll notice that not just the beat, but the lyrics have similarities too. While Ari sings, "You like my hair?/Gee thanks, just bought it/ I want it, I got it/I want it, I got it," the lyrics to Princess Nokia's "Mine" goes like this: "Hair blowing in the hummer/Flip the weave, I am a stunner/ It's mine, I bought it/It's mine, I bought it."
While the songs are peculiarly alike, the two have very different messages. Elle noted, "'Mine' celebrates the hair traditions of women of color and touches upon the insensitive treatment of their hair that they often receive from non-minority groups. '7 Rings,' on the other hand, is a rich girl anthem with an underlying message about friendship, in which Grande mostly talks about having the luxury of buying what she wants, when she wants it, sometimes for her friends, too."
Ari's team have yet to answer to Princess Nokia's allegations. While stans are defending the popstar, saying, "locals don't even know [who Nokia is]," fans of Nokia are encouraging her to push for legal action.
2 Chainz
Rapper 2 Chainz is the latest artist to throw accusations of copying against Ari's team. He claims that "7 Rings" chorus sounds awfully like the chorus of his 2011 song "Spend It."
Fans of 2 Chainz also stressed that the the setting of the "7 Rings" music video,  featuring a hot pink trap house, has similar visuals to the rapper's 2017 "Door Swangin'" music video.
Am I the only one who noticed that Ariana's new song is just a rip off of the sound of music tune / 2 chainz trap house lol pic.twitter.com/0zNw6yTpwP

— trap mami.jpg (@samanfraaa) January 18, 2019
On cultural appropriation
In addition to these copying allegations, netizens are also accusing Ariana of culture appropriation. They pointed out her "recent and frequent use of Japanese characters and aesthetics in her promotional imagery," even though no Asians are present in the video. But the Black community are more outraged for her alleged black appropriation.
One thing they noted is her use of the Trap House. According to HelloGiggles, 2 CHainz' "famous Pink Trap House in Atlanta was a safe space for Black people that he used as a free HIV-testing center and a family-friendly haunted house. Grande tried to recreate the energy he ushered in with this innovative space by incorporating a house of her own into '7 Rings,' but it came off as gimmicky. If you know what really happens in trap houses, then you know that they're much more than party locations for champagne-inspired fantasies."
The second is her lyrics which alludes to her weave. Though now deleted, Ari posted an Instagram story that read, "White women talking about their weaves is how we're gonna solve racism." The Shade Room got a receipt of this and wrote, "fans are upset because they feel she's missing the point of the backlash." To this, Ariana quickly responded and apologized. She explained, "I think her intention was to be like… yay a white person disassociating the negative [stereotype] that is paired with the word 'weave'… however I'm so sorry if my response was out of pocket or if it came across the wrong way."
Fox News also noted that Ariana has "come into question recently for her use of African-American vernacular English (AAVE) as well her copious amounts of self-tanner, which the Italian American singer has been accused of using to seem racially ambiguous."
Ariana Grande (gran•dee)making trap music isn't surprising given that she's already doing brown face and speaking in subtle AAVE. But u kno the woman is talented so y'all—even me give her a pass

— bruno bucciarati stan account (@mudgirl1991) January 17, 2019
https://twitter.com/Loku_kika/status/1086927526843232257
alright…i. Love ariana grande with my whole soul…….but i know we've all known for a LONG time that she's profiting off of appropriating black culture and she uses AAVE with more excess each song that comes out and….its just. time we start addressing this :/

— smellie ellie (@delliemeats) January 18, 2019
ariana grande getting darker every time I see her is a sus as her frequent usage of black aesthetics and aave… but 7 r*ngs goes off tbh

— ariannie, arianka (@immoralcookies) January 18, 2019
It is important to point out that Ariana Grande's team comprise of Black artists, including songwriters Victoria Monét and Tayla Parx. She's also known for cosigning with Black celebrities like Pharrell, which, as Refinery29 points out, "makes it seem that Grande's ties to Blackness are legitimate." Still if proven true that she and her team are "lifting from the works of lesser known Black rappers without giving them credit," that's a whole 'nother issue altogether.
Speaking to HelloGiggles, writers Erin McLaughlin and Wanna Thompson gave their two-cents on this: "Black American culture is the most popular phenomenon in the world to be honest, so everyone thinks it's always up for grabs. It's always been the norm to expect ANYTHING from black people—whether it's our time, labor, or creativity. [Grande] being white makes it even worse…How do you look as a white girl with a team full of Black people doing a video like this?" Erin noted.
Meanwhile, Wanna stressed, "Various artists have experimented with this in the past, and it's still a formula that white women continue to utilize. From Gwen Stefani to Fergie to Miley Cyrus, Iggy Azalea…the list goes on and on. This tactic will never die, as long as you have an industry supporting the BS." She added, "We all know white women are afforded privilege…Ariana is able to hide behind her 'cute, quirky' image without much backlash because she's still viewed as that innocent kid from Nickelodeon," Thompson continued, revealing that she in fact called the singer out various times before but was met with backlash. Erin added, "She's white. She's a cute, petite white girl with a clean track record as far as being problematic goes. But also, stan culture has prevented people from being able to separate the art from the artist."
Maybe this will make stans stop supporting artists blindly. Meanwhile, we'll wait for Ariana's response. She has proven herself a good role model in the past, especially in feminist causes and the advocacy for mental health awareness. Hopefully, she'll redeem herself from this one. But if not, hopefully stans will think long and hard about remaining loyal to her.
Art by Marian Hukom
For the latest in culture, fashion, beauty, and celebrities, subscribe to our weekly newsletter here  
Follow Preen on Facebook, Instagram, Twitter, YouTube, and Viber
Related stories:
Ariana Grande's "7 Rings" is the #treatyourself anthem you need to hear
Getting to know Ariana Grande through her tattoos
How many chick flicks and rom-coms did you spot in Ariana Grande's new MV?
Ariana Grande teaches Piers Morgan a lesson on women's sexuality and nudity