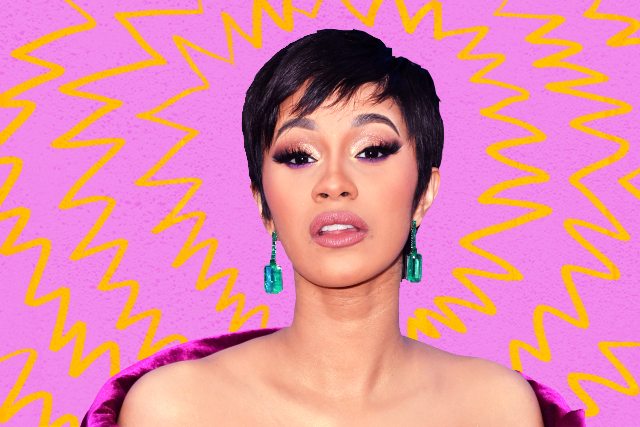 Fact: there is so much misconception surrounding feminism. And not everyone is comfortable with being labeled as a feminist. Over the years, we've seen a lot of names come up that have effortlessly become the face of the movement. While the true meaning of feminism eludes some people, one person seem to have a clear grasp of it though not a lot of people initially expected it from her: Cardi B. In an interview with i-D magazine, the stripper-turned-rapper talked about it. "Being a feminist is such a great thing and some people feel like someone like me can't be as great as that," she said. "But then some people are smart but they don't have no common sense. They think feminism is great and only a woman that can speak properly, that has a degree, who is a boss, a businessperson… they think only Michelle Obama can be a feminist."
Expressing what the concept ultimately means for her, she said, "But being a feminist is real simple; it's that a woman can do things the same as a man. I'm equal to a n—. Anything a man can do, I can do. I can finesse, I can hustle. We have the same freedom. I was top of the charts. I'm a woman and I did that. I do feel equal to a man."
While a lot of groups still see Cardi as a problematic face for feminism, the rapper continuously proves her doubters wrong. Not convinced? Here are some of the reasons why Cardi B is a true modern feminist.
Real about her roots
Before making waves in the music industry, Cardi worked as a stripper after dropping out of college. It's something she's openly talked about. Even though she's aware of the stigma, she knew she had to do whatever it takes to make ends meet. She admitted, "The first time I stripped I was really embarrassed. I felt like I could hear my parents in the back of my mind." She also shared how unsure she was of herself and how disgusted she felt when men would touch her. "After a while I didn't even care anymore," she added. "I'm not gonna lie and I'm not gonna ever hate on the game, but it paid my bills. It also lifted my spirits when I needed some lifting. Yes, went through a lot of sh*t. But I made a lot of money doing it, and there were times when being at the strip club was better than the alternative."
She has also previously spoken out about being a victim of domestic violence. Clearly, she has undergone a lot of challenges, even as a young girl. To be able to overcome them and reach the success she has now is nothing short of impressive. You have to give her props for rising through all that and making a name for herself.
Now, she also advocates for sex workers to be treated with respect.
Sex-positive
According to Insider, Cardi has gained a large Instagram following, and one of the biggest reason is her unfiltered attitude about sex. "It's something that's natural to me. I really don't care… At the end of the day, before I was an artist I was a human being who paid attention to society." she told Dazed.
Naturally, this unapologetic realness ruffled some feathers. While the "locker room" talk is deemed normal among men, women are expected to keep mum about these matters. Cardi defies all that social norm imposed on women. She's real as can be, and if that leads to the public calling her "loud" or "unladylike," well I'm sure Cardi doesn't give a damn.
Gets real about representation
Since her meteoric rise to fame, Cardi B also became the voice of women largely underrepresented in the #MeToo movement. In an interview with Cosmopolitan US, Cardi righteously pointed out how the movement largely excludes women in hip-hop. "It's no secret that women of color, sex workers, and trans people are at a higher risk of experiencing sexual violence yet are largely ignored or discredited by society at large," Nylon points out.
In the interview, the rapper shared that "while she was glad to see the public outcry against sexual harassment and abuse in Hollywood come to fruition, she doesn't think that moment will come for women in the rap industry anytime soon."
She also called out fake "woke" men whom she believes don't have any business to call themselves allies of the movement."These producers and directors [are] not woke, they're scared," she said.  Adding that, "A lot of video vixens have spoke about this and nobody gives a f"ck." She even revealed, "When I was trying to be a vixen, people were like, 'You want to be on the cover of this magazine?' Then they pull their dicks out. I bet if one of these women stands up and talks about it, people are going to say, 'So what? You're a ho. It don't matter.'"
Blasted Trump's BS
Cardi is not only candid about sex. She also uses her voice to speak about other things that matters—like how effed up the ongoing US Government shutdown is. She claimed that decisions taken by Trump are "destroying" the country. In response to Fox Nation host Tomi Lahren's tweet, she said, "You're so blinded with racism that you don't even realize the decisions the president you root for is destroying the country you claim to love so much. You are a perfect example on no matter how educated or smart you think you are you still a SHEEP!"
"Now I know a lot of y'all don't care because y'all don't work for the government or y'all probably don't even have a job but this s- is really f- serious, bro. This s- is crazy. Our country is in a hell hole right now all for a f- wall and we really need to take this seriously," she further expressed.
Later, Tomi tweeted, "Looks like @iamcardib is the latest genius political mind to endorse the Democrats. HA! Keep it up, guys! #MAGA2020"
Underestimating Cardi is not a good move. The Bronx-native gave a taste on how savage she can be with a clapback so epic, even Rep. Alexandria Ocasio-Cortez had to chime in.
Leave me alone I will dog walk you . https://t.co/FjqIzpUbvp

— iamcardib (@iamcardib) January 20, 2019
Why do people think they can mess with Bronx women without getting roasted?

They act as though our borough hasn't been perfecting the clapback game since the Sugarhill Gang 🤣 y'all just found it on Twitter https://t.co/pgxUU1BDJs

— Alexandria Ocasio-Cortez (@AOC) January 20, 2019
Can school you about consent
Cardi is also known for her risque performances. The music video of her latest single "Twerk" was no exception. Clearly, not everyone loved it. In response to the video, conservative Stephanie Hamill wrote on Twitter: "In the Era of #meToo how exactly does this empower women? Leftists, @iamcardib, feel free to chime in."
Bless Cardi for patiently teaching Stephanie on the basic idea of consent. "It says to women that I can wear and not wear whatever I want. do w.e I want and that NO still means NO." Adding, "If I twerk and be half naked does that mean I deserve to get raped and molested? I want to know what a conservative woman like you thinks."
All these conservatives been harassing me and telling me the most disgusting things these past few days.Listen I'm not telling ya to turn liberal all I'm saying is to admit that your president is fuckin up this country right now! Liberal or conservative we ALL suffer as citizens.

— iamcardib (@iamcardib) January 22, 2019
That explanation deserve its place in history, because for what seems like a first time, a conservative actually conceded to her point on consent, victim-shaming, and modern feminism. "I agree, No means NO, NO MATTER what!" Stephanie wrote. Although in the end, she still insisted that "this video, & others like this sexually objectify women. I think this hurts all women & the cause. We're not sex OBJECTS!" Still, we'll take this as a win, especially since Stephanie surprisingly acknowledges that this is a debate she can't win. "Clearly we see things differently, (maybe I'm just a hater bc I can't Twerk)," she admitted. She even invited Cardi onto her show to talk about their difference in opinion. That's definitely better than flat out being close-minded. Go, Cardi!
Art by Marian Hukom
For the latest in culture, fashion, beauty, and celebrities, subscribe to our weekly newsletter here  
Follow Preen on Facebook, Instagram, Twitter, YouTube, and Viber
Related stories:
Cardi B's baby announcement involved highlighting her bump
Cardi B aced her colored eyeliner game in her latest music video
Men, your grand gestures don't matter when you're at fault
Miley Cyrus schools Santa Claus on feminist causes