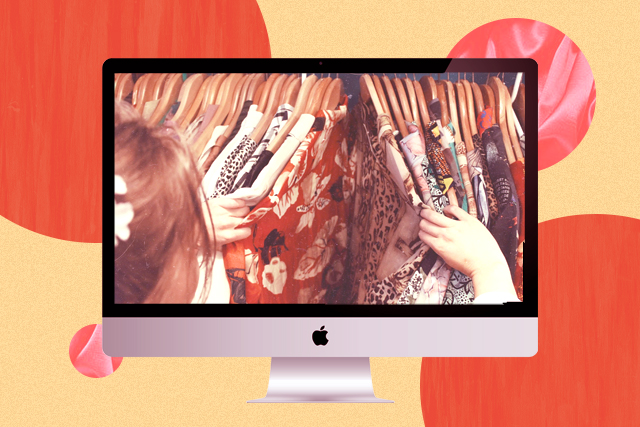 Kimi Juan may have given us tips on how to thrift shop but not everyone has the time. If you spend most of your time at work or with your family, online shopping is probably your best friend. Luckily, there are IG accounts and sites that sell thrifted clothes. But why would you choose this option? First, since these are preloved items, the price is relatively cheaper. Second, vintage clothes just have so much more charm than new clothes, in my opinion. I personally enjoy shopping at these sites, here's a list of the ones I visit frequently.
Denuo
Denuo is one of my sites to check out vintage and reclaimed items. I say items because they don't just sell clothes. They also have accessories like bags and even stuff for your home like vases and decor. They are in the middle of updating their site so not all of their sections are filled but they usually have a lot of unique pieces. They are also very thorough when it comes to listing down all of the details of each piece.
Shop by Monica Ysabel
If your style is more feminine, check out this account on Instagram. There is a mix of flowy dresses, tops, and skirts. The most dominant pieces of clothing, however, are blazers and other outerwear. The styles and designs of the blazers she find is so different from what you see in stores now. They have interesting cuts, colors, and patterns. Her next collection will be up on Sunday, so watch out for that.
Scave
Scave posts a variety of clothes from track pants to co-ord sets, and jackets. What makes this account different, is the way the pieces are presented. Each piece of clothing is presented with a full styled outfit against a plain backdrop. That way, you get to see how the clothes look like when worn. There are also additional detail shots.
Souvenir
There is just something about vintage jewelry that puts a smile on my face. The designs and materials used have a certain level of charm that I just adore. Personally, I wouldn't even know where to start looking for these pieces, but I found an account on Instagram that offers just that. Look through their collection of '80s clip-on earrings, Japanese earrings, and necklaces.
Wildflower Finds
https://www.instagram.com/p/BtCkkKyFWQa/
For more eclectic options, visit Wildflower Finds on Instagram. Every time a new collection is posted, I want to buy pretty much everything. I especially appreciate the heavily printed pieces. I live for them. Another special thing they have? Vintage Filipiniana clothes.
Mellon Collie
Have you ever wanted to go thrift shopping in Japan? It is a dream but not everyone has access. Mellon Collie makes that easier for those living in the Philippines. It is "an assortment of vintage finds from Japan, personally hand-picked from various shops in Nagoya," where the seller lives "and locally distributed in [the] Philippines for your convenience." These range from shoes, outerwear, tops, and dresses.
Art by Marian Hukom
For the latest in culture, fashion, beauty, and celebrities, subscribe to our weekly newsletter here  
Follow Preen on Facebook, Instagram, Twitter, YouTube, and Viber
Related stories:
You've been shopping in Bangkal thrift stores wrong all along
Travel back in time in these record shops
Kimi Juan's tips to get you Ukay shopping like a pro
An etiquette guide to online buying and selling