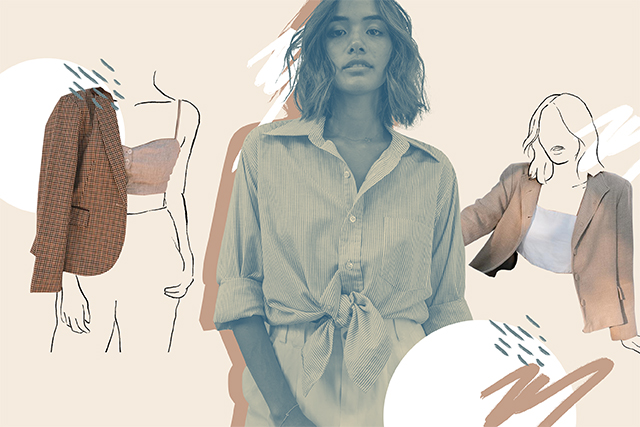 At the start of the Girlboss trailer, you'll see Sophia Amoruso (played by Britt Robinson) haggling at a thrift shop for an authentic designer jacket. This may sound too good to be true with the ukay-ukay stores here. But really, it's not impossible if you know where to look. I mean one of my friends did find a Uniqlo coat for less than P100.
One lady who's spending a lot of time at the ukay-ukay lately is photographer Kimi Juan. She's been dedicated to a no-waste lifestyle, hence, she started shopping for sustainable clothing. She even has an online store called Hunt Vintage where she sells her thrifted finds. (It's for a good cause too!)
For those who want to shop more in ukay-ukay, we've gathered tips from Kimi to help you out. Keep scrolling to read them.
Browse all the stores you can find
Regardless of where you are or where you live, it doesn't hurt to enter any ukay-ukay store and browse through the racks. For people who are wondering where Kimi shops, she says she goes to any ukay-ukay store she chances upon. "If I want to shop quickly though, I would go to Makati Cinema Square, Anonas, or Zapote Road," she tells us. "I think every ukay is different which is what makes it so exciting because you never know what you will find. Sometimes I score really cool items but other times I don't find anything at all, that's why I go to any store that says ukay."
Go for timeless pieces
Kimi tells us that she often looks for button-down shirts and high-waisted trousers because they go with anything. As for the material, she always goes for linen because it's "normally so expensive when bought brand new and it's a biodegradable and breathable fabric." So in this case, "timeless" doesn't just pertain to the appearance of the clothes. Their sustainability also matters.
Ukay shopping takes time
Ukay-ukay stores have several rows of racks and hundreds of clothes. If you want to find the right item, you really need to allot time for shopping. "I think it's really tiring to go through hundreds of pieces of clothing, and it takes me hours because I go through every single piece," Kimi says. But if you do it often enough, you'll eventually get used to it and be more knowledgable on where you'll look next time. You might even find some branded pieces in one of those racks.
How much should you pay?
"The cheapest item I got was P5 and it was an amazing rain jacket that really looked so unique and simple," Kimi shares. "But if an item reaches P200 then that's pretty expensive already for an ukay piece. Unless I love the item too much then i'll go up to P400 for it." Her advice if you want to find really affordable clothing? Stay away from the New Arrivals rack!
Always disinfect the clothes you bought
Since ukay clothes are mostly secondhand, it's important to thoroughly wash and disinfect them before wearing. Kimi's personal method is to drench the clothes (except silk) in warm to hot water, then either put them in the laundry machine or hand-wash them in detergent. After drying them, they're good as new! "It's a tedious process, really, but I think it's worth it because you get really unique pieces that only you would have," she says.
Art by Yayie Motos
Follow Preen on Facebook, Instagram, Twitter, and Viber
Related stories:
Travel Photography Tips From Kimi Juan and Martine Cajucom
How Kimi Juan's Instagram Husband Takes that Perfect Shot
You'll Never Guess Where Lauren Reid Loves to Go Shopping
Sale Season Tips for the Savvy Shopper
Young Love: Photography Duo Kimi Juan and Thomas Caja