https://www.instagram.com/p/Brj6yWaleqT/
Justice has been served. The chef who harassed Sunshine Cruz and sent a lewd message directed at her teenage daughter has been fired.
Last Wednesday, Sunshine received an update from the chef's employer, stating that they've removed him from his post after a "meeting between our manager and the [local manpower] agency." They also told the actress that the chef admitted that he was, indeed, the one who sent the messages—contrary to his initial defense that he was hacked.
The chef later apologized to Sunshine and her daughter on his Instagram account. It was straightforward and he didn't defend himself further from his faults.
***
Originally posted on Feb. 13, 2019
Sunshine Cruz wasn't having it yesterday when a male chef sent her a lewd Instagram DM that said he was fantasizing about her teenage daughter. Gross.
The actress posted the screenshot and his photos on her account, and also tagged the account so he would be put on blast for his behavior. When she visited his Instagram profile a few hours later, it read "User Not Found," indicating that he'd deactivated his account.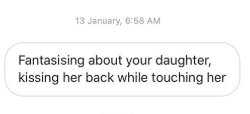 "Hindi ako madalas pumatol sa mga katulad mo pero may hangganan din ang pasensya ko… Ang anak ko na menor de edad huwag na huwag mo bastusin," (I don't usually get into fights with people like you but my patience has its limits… My daughter is a minor, don't ever disrespect her) Sunshine wrote on Instagram. She also emphasized that she'll do everything to protect her daughters.
The chef spoke out in a Facebook post, saying that his account had been hacked. Meanwhile, the chef's employer reached out to Sunshine and apologized for the incident and assured her that they'll be working with government offices, including the NBI, to investigate the matter. "We are horrified that you and your daughters were subjected to such repugnant conduct," the restaurant said via Instagram DM. "Rest assured that we will give this matter our utmost attention."
https://www.instagram.com/p/BtyBV_EFEr1/
Only time will tell if this chef was telling the truth about being hacked or he just used it as an alibi for his gross actions. Either way, let this be a lesson to all the creeps out there—regardless if you're sending lewd messages to a celebrity or not, your actions will always have consequences.
Photo courtesy of Sunshine Cruz's Instagram account
For the latest in culture, fashion, beauty, and celebrities, subscribe to our weekly newsletter here  
Follow Preen on Facebook, Instagram, Twitter, YouTube, and Viber
Related stories:
Meet Sunshine Cruz's new flame
Instagram is done with fake comments, likes, and followers
Gretchen Fullido is suing her colleagues for sexual harassment and libel
What does the law say about cyberbullying minors?