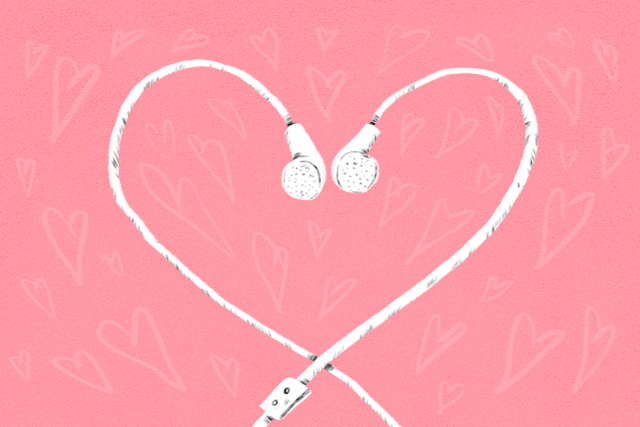 Happy almost Valentine's Day, everyone! Yes, I am one of those people who celebrates this faux holiday. But, I see it as a time for all types of love, not just for your significant other, although they are important too. To get everyone into the mood and spirit of hearts day, we wanted to put together a short playlist. I interviewed people at the office and asked them for recommendations. It's interesting to see what love songs resonate with different people. Keep reading to find out what tracks we chose.
"No One Here" by The 88
This song always, always moves me whenever I listen to it. I think the lyrics would hit hard to those facing struggles in their relationship but are trying hard to fight for it. – Bea Del Rio, Junior Content Creator, Preen.ph
"Enchanted" by Taylor Swift
It's such a sweet song about "clicking"/"getting enchanted" so much with someone you've just met spontaneously, that you're just wishing right after that it will become more. I feel like everyone can relate to it and it always makes me dramatically sing out loud whenever it comes up. – Xenia Sebial, Account Executive
"Dat Love" by Honeydripper (Subjoi Remix)
Picking just one song was actually pretty difficult for me to do. But one that has definitely stood out to me recently is this one from Honeydripper. The words you actually hear are from Lauryn Hill, when she gave a talk on unconditional love. It will seriously move you. My favorite lines are, Until you conquer the enemy within yourself, you can't deal with anyone/Love is an incredible thing/And we don't know love like we should. It's sort of a reminder as to what true and unconditional love is really about. No matter who it's for. – Tisha Ramirez, Junior Content Creator, Preen.ph
"White Ferrari" by Frank Ocean
Not that I'm a car enthusiast but Frank Ocean's "White Ferrari" reminds me of love. It's heartbreaking yet oddly comforting. – Renz Reyes, Graphic Designer for Scout
"I Believe In You" by Michael Bublé
I've always believed that love is never a 50/50 proportion, and this single gives an honest representation of that. Aside from the fact that Bublé makes everything sound extra romantic, this song is a reminder that love should not be dependent but complementary, fueled by support, honesty, and patience. And that's great straightforward advice to couples. There are days when I can only give a 20, so my boyfriend gives me an 80—and that's okay as long as we got and believe in each other. – Aanne Bulan, Junior Content Creator, Southern Living, Northern Living, NoliSoli.ph
"Make Me Feel" by Janelle Monáe
I'd recommend Janelle Monae's "Make Me Feel" because some lyrics perfectly describes how being in love feels. The song is upbeat, funky, and puts you in a good mood for Valentine's! – Marian Hukom, Junior Designer for Preen.ph and Multisport.ph
"Make It Out Alive" by Nao feat. SiR
I chose this song because it talks about the questions that we all have when it comes to "falling in love." Thoughts about commitment and the same experiences with past relationships were mentioned throughout the song which gave this relatable feeling that you still have doubts even if you feel like the relationship is "heaven" itself. Plus, I liked the fact that the initial vibe of this song was pretty chill yet the message was so heavy. It feels like containing a storm inside your head/heart (or whatever body part you think represents love) and preventing it from becoming an even bigger one.
And in the end, it is about going all out when you love, even if you have doubts. – Kyle Cayabyab, Account Executive
"Breathe Again" by Sara Bareilles
I love Sara Bareilles. I would have gone with "Love Song" but this one is just too good to pass up on—an underrated song really. It's about an all-consuming kind of love—unhealthy, if you ask me but when she sings, All I have, all I need, he's the air I would kill to breathe, I just break down and cry. To each his/her own, I guess? – Christian San Jose, Junior Content Creator, Northern Living, Southern Living, NoliSoli.ph
"All I Do Is Think of You" by Troop
I really like old school R&M when it comes to cheesy love songs, and this Troop cover of a Jackson 5 track is one of my current favorites. The original is great, but I love the extra drama on this version. Has all the OA "unrequited high school love" feels. – Giselle Barrientos, Junior Content Creator, Scout
Art by Marian Hukom
For the latest in culture, fashion, beauty, and celebrities, subscribe to our weekly newsletter here  
Follow Preen on Facebook, Instagram, Twitter, YouTube, and Viber
Related stories:
Add these new songs by Moira Dela Torre and Ben & Ben to your Valentine's playlists
Beauty products to fall head over heels for this Valentine's
Preen Picks: Movies to watch on Valentine's Day based on your relationship status
No bouquet, no problem: Smell like a rose on Valentine's Day