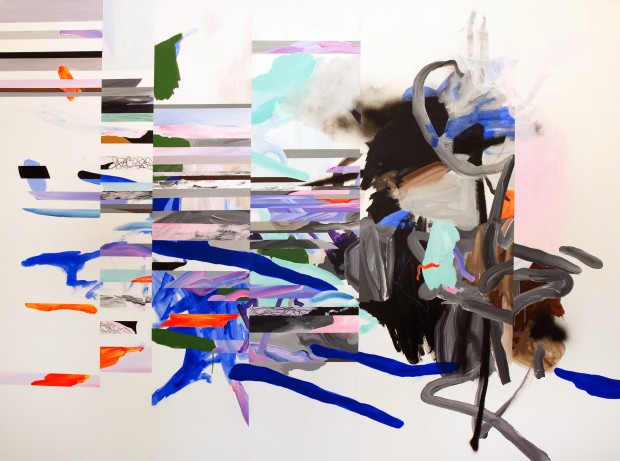 Whoever said random means rattled, let artist Luis Lopa revamp their dictionary.
Tonight at A Space Gallery, from 6 p.m. to 8 p.m., drop by the opening night of his solo exhibition Apophenia, and see what we're talking about.
Apo-what?
The word comes from apophany, a moment where someone doesn't reach enlightenment. Instead, it's a time when he or she tries to make something out of repetitive, and monotonous patterns. A moment of apophenia is when senseless nothings are made comprehensible by an average thinking brain.
Luis leads us to moments like these. Come here, and you'll find yourself navigating a room filled with work in vibrant colors and erratic shapes. There's one that reminds you of bad TV signals.
This is till you see the work evolve into milky colored squares in a color palette that's soothing to the eye. What was first random can turn to something less strange—you just have to look a little closer. That's Luis for you, my friend.
The show's main man graduated with a major in Visual Arts from the University of British Columbia. Since then, he has been experimenting with layers, textures, colors, and shapes, and turning them into cohesive collages of color. This will be his first solo exhibition, after exhibiting abroad in cities like Vancouver, Canada.
Apophenia will run from June 25 to July 16 at A Space Gallery, 5/F Aboitiz Building, 110 Legazpi Street, Makati City. (02) 846-0856. Visit their website here.