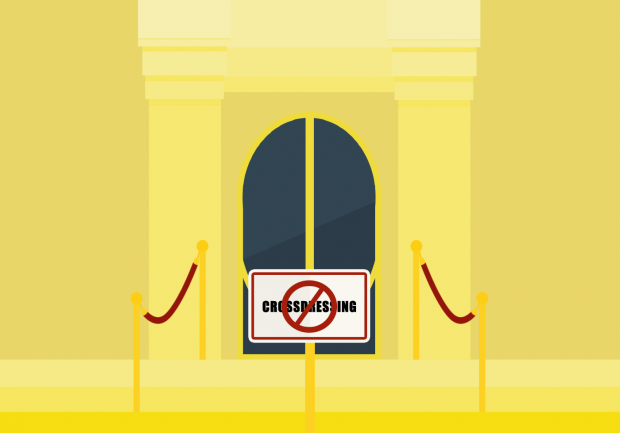 In accordance with the world over, we celebrate #PreenPrideMonth through stories that deal with the in-betweens of the letters LGBT.
Some buzzkill you are, Valkyrie.
When fashion designer Veejay Floresca was denied entry to Manila's biggest club last June 12 for dressing up like the woman she is—interpreted as crossdressing—it was time to question the policies ruling who gets to club or go home.
We understand that an upscale club like Valkyrie needs to implement rules to maintain order and an image. For Aslie Aslanian, the retired "Door Bitch" of Embassy, Republiq, and 71 Gramercy, a crossdressing policy "ward[s] off crossdressers of a certain 'persuasion.'"
The real beef with crossdressers
LGBT groups across the country are up in arms about the issue. And they have just cause.
But other critics have weighed in that this isn't just the simple case of gender bias. Others have argued gender elitism, the business of distinguishing the uncool kids from cooler cliques, and the unknown LGBT individuals from the well-connected rich.
In a statement released last Tuesday, the Valkyrie management  issued an apology to Veejay, clarifying that they do not discriminate against trans individuals. "The club does not refuse entry on the basis of an individual's sexual orientation. The club has, on many previous occasions, welcomed transgender guests into its premises."
The incident was supposedly a case of security personnel "merely adhering to safety policies and guidelines."
As Aslie mentioned: Clubs, as private entities, are able to enforce regulations regarding clientele. (Only government entities cannot, according to Atty. Rudyard Arbolado, General Counsel of The Philippine Daily Inquirer.)
"In my day, we had many complaints about crossdressers throwing themselves at our male guests, elbowing our female guests and inversely, we would have violence against this type of crossdresser when men would find out that they were not what they were portraying themselves as," recalls Aslie. She compromised with a dress code policy that she hoped  would maintain peace among genders.
Aslie adds that it isn't just transgenders who face bans. "In my career, I have turned away a much larger percentage (90 percent) of straight people than transgender people."
Gender discrimination or blatant case of elitism? 
It's a question that's crossed the minds of many people—cisgender included—who were rejected, based on the arbitrary rules of exclusivity these clubs endorse.
Denying Veejay entry on the basis of "crossdressing" validates the regressive Old Boys' club philosophy that still runs deep in many establishments today.
Trixie Maristela, Ms. Gay Manila 2015, encountered the same problem. She had to book a VIP table at The Pool Palace Club to earn her entry ticket.
Veejay brought up a valid point in an interview at  Aquino and Abunda Tonight. "[Vice Ganda] is a crossdresser. If there's such a policy [that says] no crossdressers allowed, why is he getting inside?" Veejay then alluded to Vice Ganda's position as shareholder in the club that garnered him entry.
The 'No Crossdressing Policy' in any establishment is so THIRD WORLD. If Valkyrie implements this crap i will pull out my very small share.

— jose marie viceral (@vicegandako) June 22, 2015
So what now? 
Why are we surprised that clubs like Valkyrie hold sexist policies anyway? And why are we hanging LGBT progress on the doorknob of what is clearly a non-progressive club?

Art by Dorothy Guya