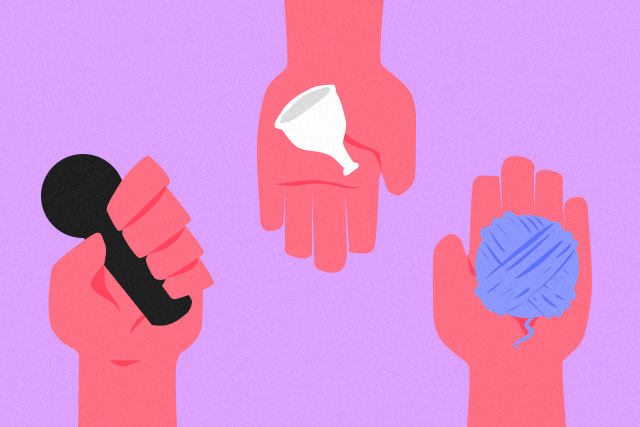 Earlier this month, all the ladies in our office received menstrual cups from Sinaya Cup. It was a huge step in normalizing periods in the workplace and we're totally here for it. But if you still don't know what a menstrual cup is, it is an eco-friendly product as it's an alternative for sanitary napkins and it lessens waste. Cool, right?
What you also may not know is that Sinaya Cup gives back to women from underprivileged communities via the CUPacity Caravan. What they do is they organize seminars in various locations to educate women on menstrual and reproductive health. They also donate cups!
Aside from buying a menstrual cup, there's another way to support this advocacy. This Saturday, Sinaya Cup is hosting "/Kiki/nang: Kababaihan," an open mic event to help fund the CUPacity Caravan, at the Racket Room Collective in Cubao, Quezon City. This will be a gathering of empowered women, including female performers and speakers who'll impart their knowledge in their respective fields. This is also Sinaya Cup's way to celebrate Earth Hour as they invited eco-friendly brands to the event.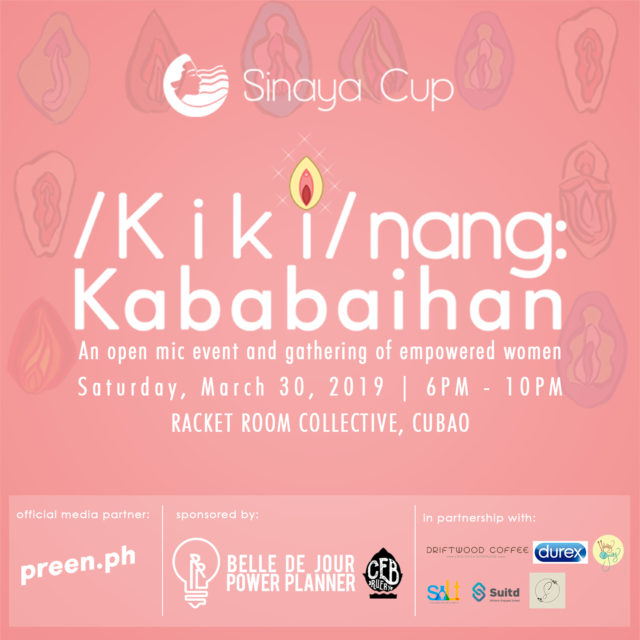 Need more motivation to go? Check out some of the ladies and brands that'll be present, and why you should pay attention to them.
Sinaya Cup
Of course, Sinaya will be present there with a booth. If you want to buy your own menstrual cup, be ready with P1,199. You can also get one of their bundle kits that are perfect for red days. Don't worry, there'll be people there who'll help you out if you feel intimidated by the product!
Chiara Manuel of Knitty Gritty
Knitty Gritty is a sustainable known for using plant-based yarn for the pieces. Founder Chiara Manuel started this in 2016 as a passion project and now it's a full-blown business. Aside from checking out her products this Saturday, you can also approach her or listen to her talk. You might just learn how to run your own business, too.
https://www.facebook.com/sinayacup/photos/pcb.614451969005338/2300232473634523/?type=3&theater
Karol Canlas-Apelo of Durex
Did you see the Durex's "Always Come Prepared" campaign? Meet the woman who helped push for this: senior product manager Karol Canlas Apelo. She's an advocate for HIV awareness, which pushed her to launch the campaign and emphasize the importance of safe sex. This is definitely something you should take note of every day.
Aisa Mijeno of SALt PH
Aisa Mijeno is the founder and CEO of SALt PH, an enterprise that sells the first salt water-powered lantern in the Philippines. This product was created to "address pain points persistent in traditional light sources for underserved communities such as kerosene lamps, candles, batter-powered lamps." (Shoutout to all the intelligent STEM ladies!)
https://www.facebook.com/sinayacup/photos/pcb.614451969005338/2300232460301191/?type=3&theater
Angela Gabrielle
If you're looking for new reads, you can check out The Sea that Beckoned by Angela Gabrielle at /Kiki/nang: Kababaihan. It's a book "exploring love and language in both America and the Philippines." It'll come out everywhere in April, but this is your chance to get advanced copies!
Max Javelino and Swell is Nell
Singers Max Javelino and Swell is Nell will be performing at the event. Max's music is perfect for people who are into indie folk and pop-rock genres. But if you prefer more relaxing, acoustic songs, Swell is Nell is for you.
***
Again, /Kiki/nang: Kababaihan will be this Saturday (March 30), 6 p.m. to 10 p.m., at the Racket Room Collective. You can get your tickets via Sinaya Cup's website—only for P150 each. For more information, check out their Facebook event page.
See you there!
Art by Marian Hukom
For the latest in culture, fashion, beauty, and celebrities, subscribe to our weekly newsletter here 
Follow Preen on Facebook, Instagram, Twitter, YouTube, and Viber
Related stories:
Our office just gave everyone menstrual cups
Access to menstrual hygiene products is a basic right, not a luxury
The day I tried a menstrual cup and my thoughts on the tampon
Care for some environment-friendly clothing designed with Parisian art?