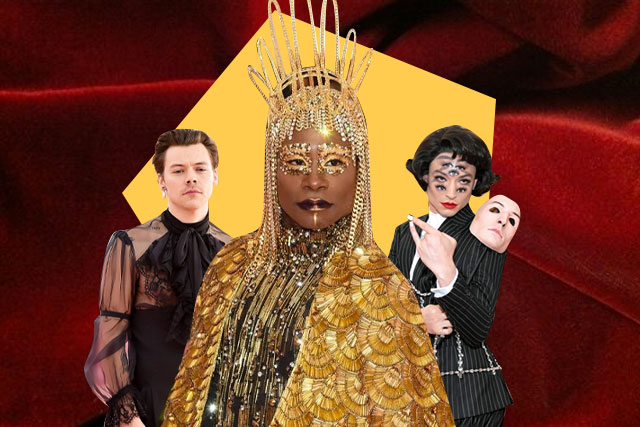 The Met Gala has just concluded and though we expected more from some people (Miley Cyrus, we're looking at you), some stars did live up to the event's Camp theme. The likes of Katy Perry, Cardi B, Tracee Ellis Ross, Cara Delevingne, Priyanka Chopra, and Janelle Monae, all brought their A-game on the pink carpet. But a trend we've been seeing in these events? The fact that men are really stepping it up and showing us they are capable of experimenting and pushing the boundaries of fashion with some androgyny realness. More male celebrities are now collaborating with designers to show us the future of fashion lies in the absence of gender stereotypes constriction. But more importantly, scrolling through social media, it's evident that people are learning to let go of their preconceived notions of the gender binary. Needless to say, we are all for it.
Harry Styles
As one of the co-hosts of the night, Harry Styles definitely stepped it up fashion-wise. Ditching the usual suit (though his "usual" suits are fire too), the singer opted for a Gucci sheer black top with black ruffling design down the centre, ruched sleeves, and a pussy bow—a look some netizens even compared with something Madonna previously wore during one of her performances.
A pearl drop earring in the shape of a bee with diamond wings, high-heeled black boots, and painted nails complimented the look. Considering he is this "male heartthrob," a title which typically invokes a more "macho" look, this whole look definitely challenges today's notion of masculinity. Let's just say Twitter is a big fan of this look.
"I think there's so much masculinity in being vulnerable and allowing yourself to be feminine, and I'm very comfortable with that" -Harry Styles#MetGala pic.twitter.com/vQZiQ6r4lJ

— Ivanna (@Ivannacaraballo) May 7, 2019
https://twitter.com/Flicker_kiwi/status/1125565011168907264
Billy Porter
Billy, Billy, Billy. We definitely expected something grand from the man who walked the Oscars red carpet in a tuxedo gown, but we were still caught off-guard and, yes, left in awe by his look at the Met Gala. Channeling an Egyptian pharaoh, Billy was dressed in a glittering gold bodysuit and robe by The Blonds—a look which he revealed to Variety was an homage to Diana Ross's character in Mahogany. Like he previously told Vogue, "My goal is to be a walking piece of political art every time I show up. To challenge expectations. What is masculinity?" With this look, he once again was able to question that outdated concept.
Oh, and of course we have to talk about his entrance. You know, how he was carried onto the carpet by a group of men dressed in gold. NBD. As if that wasn't enough, when he was finally lowered to the ground, he walked the carpet, and wait for it…spread. His. Wings. That's not even an allusion y'all. Like LITERALLY spread his wings. The Twitterverse is deceased.
https://twitter.com/jinslxps_/status/1125529489721757696
Hands down, one of my most favourite looks of the night! ❤️❤️
The level of extra, I aspire to be. 😩🤧 #MetGala #MetGala2019 #BillyPorter pic.twitter.com/i0GcJhPQWp

— Sαnѕ 🕊 (@SKmusings) May 7, 2019
Jared Leto
Jared Leto obvi did not come to play. The actor and singer went full Camp with a Gucci look which we already know will make Met Gala fashion history. A nod to the Autumn/Winter 2018 Gucci runway show, Jared recreated the buzz-worhty show by accessorizing his blood red robe with a crystal harness…. and a replica of his own head—which reportedly took six months to make.
Jared has always pushed the boundaries in fashion, and we are damn pleased he brought that same energy at this year's Met Gala. The world needs to see that being fashion-forward isn't necessarily a "feminine trait." The Internet agrees with us.
Jared Leto showing the other boys what camp is #METGala pic.twitter.com/EAS6xy7gJy

— femme fatale (@eliesaaab) May 6, 2019
#metGala Jared Leto wears Gucci, with a head accessory that took 6 months to make, by Vogue pic.twitter.com/FJC7NTfLKL

— em (@mermaidmrym) May 7, 2019
Ezra Miller
You already know our boy Ezra Miller killed it at this year's Met Gala like he does at every red carpet event, and girl, best believe he didn't disappoint. Adding yet another iconic look to his name, he turned up in a Burberry pinstriped wool suit, with an exaggerated cape detail and a crystal-studded cage corset. Of course, that alone isn't Ezra, nor Camp, enough. He effectively got our and the internet's full attention with those extra eyeballs on his face, thanks to some makeup magic. Oh, and he's holding a face… like he's No One (GOT reference, thanks for asking).
In the past, Ezra has opened up about how he identifies as gender fluid—something which shows in the way he chooses to dress. Without a doubt, this Met Gala look has made us even greater stans of his gender-bending fashion sensibilities. Again, we're left to wonder: What did we ever do to deserve this gem?
https://twitter.com/myagruntfest/status/1125634080417230848
Ezra Miller won everything #MetGala pic.twitter.com/o7zYXlYalF

— iconic (@faveslooks) May 6, 2019
Darren Criss
Darren Criss was a stunner. Going for the Harlequin character of Commedia dell'Arte, he slayed in a multicolored checkered blazer with an inner wear that features a big ass bow (yesss to more men working bows)—but I think we can all agree, his phenomenal makeup made that look. The cobalt blue bottom lash eyeliner which extends from under his eyes to a gradient triangle on each side of his face, and the single burgundy line on his lower lip is EVERYTHING.
Like Vogue pointed out, he's out there, not only taking fashion risks, but beauty risks too—yes, straight guys can do it too (!!!)
"Darren Criss was given a sweep of blue shadow from the corner of his eye up to the temple by his groomer Jessica Ortiz who was inspired by '80s rocker Adam Ant, the ultimate camp icon."https://t.co/Qwt4ZY88xK pic.twitter.com/j41dB6iIvU

— Darren Criss Army (@DarrenArmy) May 7, 2019
#ItsWizardTime
RT @paulverhoeven: If there is a single look a the #MetGala that I would kill to wear, it is this one worn by @DarrenCriss. What a shot in the arm for mens fashion. pic.twitter.com/czWl244vov

— Peter Kisner (@Firbolg) May 7, 2019
Art by Tricia Guevara
For the latest in culture, fashion, beauty, and celebrities, subscribe to our weekly newsletter here  
Follow Preen on Facebook, Instagram, Twitter, YouTube, and Viber
Related stories:
Harry Styles and Ezra Miller slayed the Met Gala pink carpet
Camp fashion 101: What you need to know about the Met Gala 2019 theme
Katy Perry changed into a burger costume at the Met Gala
Explaining the Met Gala's Camp theme through Gucci outfits