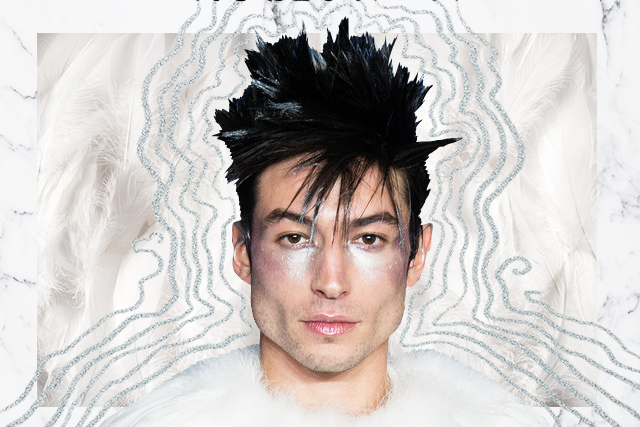 Today's the premiere of Fantastic Beasts: The Crimes of Grindelwald in the country! If you're a fan of the franchise, I implore you not to miss it. Don't worry, I'm not here to give you spoilers. What I am here to talk about is Ezra Miller, who plays Credence Barebone, in the film. It's no secret we're in love with him and his gender-bending fashion sensibilities. He has served some über fierce looks in the past years, but he's really killing it,and going all out for his red carpet appearances this year, and fans are freaking out. Understandably. I mean, just look at these looks.
Muppet realness
Let's start with something *subtle.* Ezra prepared our hearts for his next level fashion fierceness with this silver Raf Simons silk evening coat and yellow scarf combo for the film's premiere in China last month. As Esquire noted, "It's essentially high-fashion Beaker from The Muppets, and that is nothing but a compliment."
Make Ezra Miller an eccentric queer Bond villain you cowards!! pic.twitter.com/B8WPS30B78

— ᴊᴀᴄᴋ 👑 ✨ (@JackDMurphy) October 29, 2018
The patchwork coat
This wasn't an appearance for the film, but he did wear it to the red carpet for CFDA/Vogue Fashion Fund 15th Anniversary Event, in Brooklyn, New York. The patchwork coat is everything. And not just that, but the way he styled it is perfect: the high-waisted pants; the brown bow. It's a wild, eclectic mix and we are living for it.
He exudes so much sexiness, its unreal. Ezra at the CFDA / @voguemagazine Fashion Fund 15th Anniversary Event! pic.twitter.com/HDw4CCR1Pw

— Ezra Miller Fans (@ezramillerfans) November 7, 2018
Sleeping bag chic
Next is what really caught our eyes: the dementor-slash-darth vader-slash-duvet look. Whatever he was trying to channel, he owned it in the Paris premiere. His choice of black puffer coat Moncler gown, complete with black gloves and a dark lip was a mood.
Ezra Miller is the geeky queer nonbinary superhero we need right now, the kind of oddity who'd show up on a red carpet dressed as a Darth Vader Dalek sleeping bag thing and own it. pic.twitter.com/5TPrN6QL7R

— 𝕋𝕖𝕜𝕠 (@TekoOtter) November 9, 2018
Hedwig couture
Ezra makes Hedwig look like the coolest character in the franchise, with his white goose-feathered cape and white slacks–from Givenchy Haute Couture, no less. The silver face paint and spiky hair, plus "Avada Kedavra" written on both his palms in a triangular shape completes the look. Forget Harry Potter or Hermione Granger–we want to be Hedwig next Halloween.
Up until now, I never knew how much I needed to see Ezra dressed as 'Hedwig' with Avada Kedavra inked on his palm. My life just got a little bit brighter. pic.twitter.com/X6sASxmzVl

— Ezra Miller Fans (@ezramillerfans) November 13, 2018
Sexy mushroom
Technically, he didn't wear this to a red carpet event, but to Comic Con. Nonetheless, we're putting it here as a bonus anyway because, well, it's a crime not to. Our boy goes head-to-toe pink as Toadette  (yup the one from Mario Kart.) And he makes it ~sexy~ what with that silk slip dress and stockings. I mean.
If anyone wants to know what I'm "into"- it's Ezra Miller dressed as Toadette. pic.twitter.com/AZfOtpRanl

— Jinkx Monsoon (@JinkxMonsoon) July 23, 2018
Art by Marian Hukom
For the latest in culture, fashion, beauty, and celebrities, subscribe to our weekly newsletter here  
Follow Preen on Facebook, Instagram, Twitter, YouTube, and Viber
Related stories:
We're obsessed with Ezra Miller's gender-bending editorial shoot
How Ezra Miller will make LGBTQ+ History as The Flash
Celine Dion is serious about destroying the gender binary
Dakota Johnson just made baggy jeans red carpet-appropriate