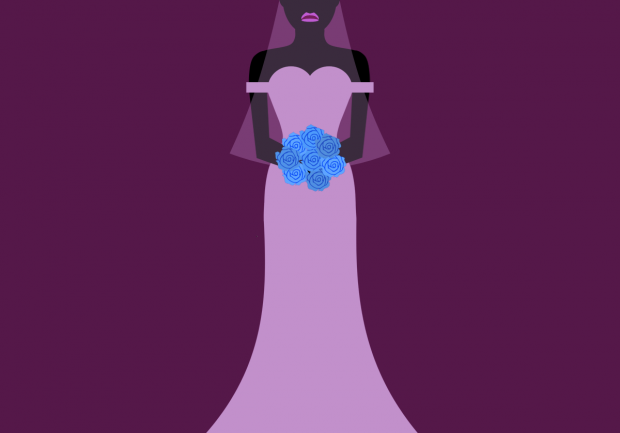 The walk down the aisle is every bride's aspired end goal. But it can also be their most dreaded day.
The same goes for bridal fashion designers. For some, the moments leading to their client's walk were full of cussing, hate text messages, and stressful fittings.
Either because of the fashion designer or the bride, a picture perfect moment could be stained with the worst bridal horror stories you can imagine. We go behind the scenes pre-wedding and got actual experiences from both parties. Most definitely, they're not for the better but for the worse.
On the designers' corner
The copycat bride
Fashion designer Frederick Peralta has been designing for more than 30 years now. Being one of the better-known bridal designers, it is expected for brides-to-be to aspire to be dressed by him. Or maybe copy a design he made.
The exact thing happened with one of his clients. Usually, upon first consultation, Frederick more or less has an idea of what the bride wants for her wedding dress. And if he's feeling a little more inspired, designs just come pouring out from him. So with this particular client, he did a preliminary sketch. It was beautiful. The bride liked it. But just like one of his many concerns about designer-bride relationships, some of them don't have the common decency to call back and let him know whether or not the transaction is going to push through. He never heard from this bride again after the initial consultation.
He let it go.
At one fine Frederick Peralta wedding at San Agustin Church—he tries to be present at each one—lo and behold, the next wedding was with the no-callback bride. Frederick noticed her dress was quite familiar. Indeed, it was his actual design during that one appointment they had. Figures. "She had it made somewhere else probably for something cheaper," says Frederick.
He just looked at her head-to-toe, with downplayed chagrin towards her, and just mouthed, "Wow." Dramatic.
This wasn't his only experience.
Same dress, different bride
Sometimes, his duties go beyond the designer-client relationship. Under the layers of tulle, Frederick had also kept secrets here and there.
He noticed this particular bride having wedding jitters. It's pretty normal. Down to their very last fitting, he could just feel her nerves seeping through her lace dress. Then, the worst thing that can happen happened: The wedding didn't push through. The perfect wedding gown, which was paid for by the husband-to-be, was finished down to its very last bead.
Just when Frederick was about to box the gown up, six months later, he got a call from the guy. He's getting remarried! But this time, to a different bride.
He let Frederick in on a tiny secret he'd like to keep. Since the he paid for it already, he asked for the same wedding gown his ex-bride-to-be was supposed to wear to be resized and worn by his new bride. Of course, without this new bride knowing.
Up to this day, the new bride, now wife, doesn't have any idea that the one wedding dress she thought was made for her was initially intended for someone else.
The no-pay bride
Young designer Michael Leyva has been brought around the world by his brides to make sure they can wear his creations on their big day. It's part of the experience, after all. But not everyone is as generous.
One of his brides just decided to not pay even after the wedding day. The normal motions of the process had been over and done with; the down payment was fulfilled, fittings were through, and the dress was delivered on time.
Usually, upon delivery, full payment has to be settled. She just made an excuse that she'll do full payment after the wedding. Being the understanding person that he is, Michael just agreed.
Weeks went by and he still hadn't heard a whisper from the bride. She finally caved in, saying she didn't like the gown, so why would she even pay?
As for Michael, "'Pag may pambayad, may paraan. 'Pag wala, madaming dahilan. [If there's a capability to pay, there's a way. If none, there will always be reasons.]"
The no-sleep bride
Just like Frederick, designer Arnold Galang does his best to make it a tradition to be present during the wedding day, too. "It's part of the job," he says.
He then promised this bride that he would be there for her wedding day to dress her up personally. But having worked late the night before, he overslept.
Safe to say, he missed his flight and couldn't book another one in time. The bride, after hundreds of calls to Arnold just ended dressing herself up. For Arnold, "It was an embarrassing learning experience."
Let's hear it from the brides
She didn't have a gown
For a bride who tirelessly planned out her wedding day down to the very last bit, one thing she'd least expect is not having a dress to wear.
This happened to Anna.* It's a usual arrangement that the wedding dress would be dropped off at the hotel on the wedding day. But what is unusual is when the dress won't arrive at all.
A well-known designer who Anna refuses to name was a no-show. After not hearing from her a few hours before walking down the aisle, she made a good call of just improvising.
She wore one of her relatives' old wedding gowns. She walked down the aisle teary-eyed about the moment and the stress she had gone through leading there.
The designer still pulled through though. She came right before the reception and her supposed church dress became a reception dress. Anna said it was an ugly dress anyone could have made in a day.
The runaway designer
If you're getting the best of the best, you know you're getting your money's worth. Well, that's if you get anything at all.
Noelle* approached this veteran fashion designer in March of 2008, who happened to be a really close family friend as well, to create her dream wedding dress. The full payment was made right off the bat and she loved the promise of the design, at least verbally.
That remained as a promise. She kept updating the designer halfway through the wedding date, which was in August of the same year. She just kept being forwarded to the assistant. When she finally got an update last week of June, there was no design, no gown, and no sketch—not even a single bead.
She demanded for at least a sketch that same day and got one but that which looked as if drawn by the assistant herself. "Even my daughter could've drawn better," Noelle says and quite sure it wasn't the designer's sketch.
Finally, a few weeks before her grand day, she went crying to Patrice Ramos-Diaz to create a last-minute dress for her. They had 15 fittings in a month and she couldn't have been more thankful.
No remorse came from the designer even though they bumped into each other during industry events. More so, she heard stories from the rumor mill that this same designer had done the same to a few other brides.
As for her full payment, just like any other brides' and bridal designers' horror stories, they just don't want anything to do with it anymore.
Art by Dorothy Guya